body { margin-left: 2%; margin-right: 0% }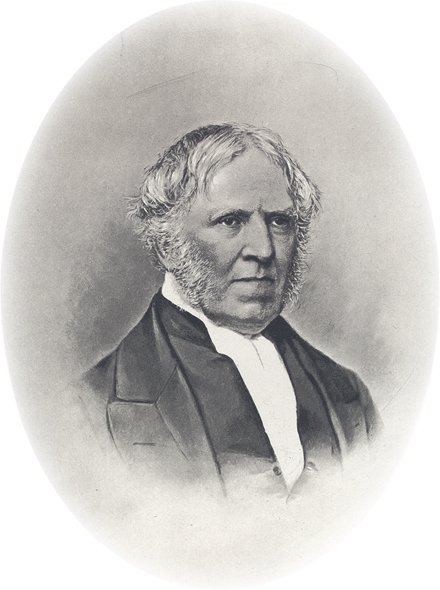 John Park Fleming
1790-1869
Born on 24 July 1790, Fleming attended the universities of Glasgow and Edinburgh before admission to the Faculty of Procurators in 1812. In 1813 he entered partnership with Colin Dunlop Donald before moving, in 1817, into partnership with Mathew Montgomerie. The pair worked together in Glasgow for 51 years, until Montgomerie died on 17 June 1868.
Their first office was at 106 Trongate. Then came a move to 182 Trongate and, in 1827 (until 1871), to 62 Miller Street. In 1839 the two men bought 462 acres in Kelvinside and resolved to make it the best residential district in Glasgow. The London architect Decimus Burton was employed to prepare a feuing plan.
After Montgomerie's death, Fleming's two sons became his partners. Fleming took an interest in the Free Church, and was politically a Tory. He was twice married, to Maria King and Elizabeth Tennent, and died on 20 July 1869.
THERE are few at all acquainted with Glasgow during the last fifty years but must have been accustomed to meet (generally in the neighbourhood of Miller Street), two elderly gentlemen, wearing always the white neckcloth that was at one time de rigueur in the legal profession, of which they were members, and few but knew these two elderly gentlemen to be Mr. Mathew Montgomerie and his partner, Mr. John Park Fleming, the latter of whom is the subject of this notice.
Though by no means a public man, and, in fact, a man shunning publicity in every form, Mr. Fleming was well known and universally respected in Glasgow for more than one generation. He was born on the 24th of July, 1790, in a house on the Deanside Brae, still belonging to his family - a whitewashed tenement, still presenting probably much the same appearance as it did a hundred years ago. It has not yet had its ground floor converted into shops with fronts of glaring plate glass, as has been the fate of almost all similar dwelling-houses a century old in the main thoroughfares of Glasgow. It still presents a modest country appearance amongst its city neighbours, and now constitutes No. 134 of George Street. At the time of Mr. Fleming's birth it was a detached building, having no connection with the city to the west (that part of the city being then almost non-existent) except along the line of Argyle Street, and a few streets branching off from it, none of which, however, extended farther north than Ingram Street, then the Back Cow Loan. The connection with the city was by what is now Shuttle Street, and by Greyfriars or Bun's Wynd, now Nicholas Street, leading into what was, until very recently, Canon Street now East Ingram Street. There was also a communication with the High Street by the Grammar School Wynd.
Brown, in his history of Glasgow, says:- "This Deanside Brae was the garden of the Prebend of Hamilton, Dean of the Chapter before the Reformation," hence the name Deanside; and again, "Till 1788 one house built for two families stood alone in the field." That was probably the very house in which the subject of this sketch was born. Mr. David Fleming (father of John Park) built his house on ground forming part of 1,600 square yards, feued from the Magistrates and Council by Mr. James Duncan, bookseller there. Mr. Duncan paid £60 in cash for this ground, and there was a ground rent of £3 put upon it, making a total price of £120. Mr. David Fleming purchased 296 square yards of this lot, "with entry at Martinmas, 1787," for the sum of £38 1s. 9d. sterling, with 10s. 5d. as the proportion of the feu duty, payable to the town. As we shall shortly be coming to consider the prices of ground belonging to Mr. David Fleming's descendants, in almost precisely the same relation to the Glasgow of the present day that this ground bore to the Glasgow of a hundred years ago, it may be of interest to note that the price paid by Mr. David Fleming for this ground at the extreme north-west of Glasgow in 1787, less than half a mile from the Cross, was 2s. 7d. per square yard. The ground at the extreme north-west of Glasgow, in the neighbourhood of Beaconsfield House (nearly four miles from the Cross), where Mr. David Fleming's great-grandson, James Brown Montgomerie Fleming, was born (in 1884), is being feued at rates equal to a price of 15s. per square yard. How far will Glasgow have extended in another 100 years, and what will then be the price of ground?
David Fleming, Mr. Fleming's father, in some of his title-deeds named and designed "David Fleming, Junior, merchant in Glasgow," besides the above-mentioned house in Deanside, owned a small property called Whinhall, in the Barony of Airdrie and parish of East Monkland. Mr. Fleming's mother was Eleanor Park, daughter of Mr. William Park, a West Indian merchant, and owner of plantations in the district of Clarendon, in the Island of Jamaica. She was a woman of very considerable energy and force of character. Mr. Fleming was very fond of repeating a saying of hers with reference to money, "As for me I don't care much about money at all, as long as I have one pound note when the other is done."
One of the trustees under Mr. Fleming's father's will, and the one who acted as his guardian, (Mr. Fleming's father having died when his son was only six years old), was Mr. Thomas Graham, writer, afterwards of the firm of Graham Montgomerie. He was known in the small circle of Glasgow society of his day, - where almost everyone had his nickname or "taename," - by the sobriquet of "Lord Chesterfield." Mr. Fleming used often to tell how he was never consulted as to what business or profession he wished to adopt, but was just taken by "Lord Chesterfield," and stuck upon a stool in his office, after "going through the Grammar School," as the High School of Glasgow was then called. At the Grammar School, among his class fellows, who may be known to the present generation, were Mr. James Burns, late of Kilmahew, Mr. Robert Sword, writer, Mr. Thomas Cuthbertson, merchant, and Mr. John Kerr, writer, who was the last survivor of the class, living to the age of ninety-two. It is rather a curious coincidence that the sons of two of these gentlemen, viz., Mr. John Neilson Cuthbertson and Mr. Robert Malcolm Kerr, were both candidates for the Kilmarnock Burghs, at the General Election in 1880.
During his apprenticeship with Messrs. Graham & Montgomerie, Mr. Fleming attended both the arts and law classes in Glasgow University. He afterwards went to the Edinburgh University. On his return to Glasgow he was admitted a member of the Faculty of Procurators in 1812, and in 1813 he entered into partnership with Mr. Colin Dunlop Donald. This partnership was not of very long duration. Mr. Graham, on his appointment as Sheriff-Substitute of Orkney, retired from the firm of Graham & Montgomerie, and Mr. Montgomerie, who had become engaged to Mr. Fleming's sister, offered him a partnership. That partnership was entered into on the first day of January, 1817, and lasted without change of any kind either by death, retiral, or assumption of partners, for the long period of fifty-one years, being only dissolved by Mr. Montgomerie's death, on 17th June, 1868.
Messrs. Montgomerie & Fleming's first office was at 106 Trongate, the site of the Old Guard House, at the West Port; they were then for a few years at 182 Trongate, and in 1827 they removed to No. 62 Miller Street, where the firm of Montgomerie & Fleming carried on business for forty-four years. This property was purchased by Mr. Thomas Graham from Lady Boyd, relict of the Honourable Charles Boyd, second son of the last Earl of Kilmarnock, who was beheaded on Tower Hill for his share in the Rebellion of '45. It afterwards belonged to William Smith, Esquire of Carbeth-Guthrie, Dean of Guild in 1821, and Lord Provost in 1822, whose tenants Montgomerie & Fleming were for many years before purchasing the property themselves.
Mr. Fleming was twice married, - first to Maria King, daughter of Daniel King of Port-Glasgow. The surviving children by that marriage are Eleanor Fleming and John King Fleming of Ulah, Walgett, New South Wales. His second wife was Elizabeth Tennent, youngest daughter of John Tennent of Wellpark, the founder of the well-known firm of J. & R. Tennent. The only child of this marriage is James Brown Fleming, writer, Glasgow.
Though by no means in the ordinary sense a public man, nor a man holding public offices or appointments, it was not because such appointments were not offered to him. No man in his day was more sought after, as a referee in matters that disputants wished to settle without the "stern," or at all events costly "arbitrament of the law," and a large portion of his time was at one period of his life taken up with references in which he was in many cases sole arbiter. In the Articles of Roup in almost every office in Glasgow his name was for many years inserted, as the party to whom all disputes were to be referred. He was not hasty in forming an opinion, but when once formed there was no ambiguity about his mode of expressing it. As a brother lawyer well said, "His yea was yea, and his nay, nay." Mr. Fleming, though not a public man, had to do with some matters, not only of public, but of national, nay, even of cosmopolitan interest. He drew out the first contract of co-partnership of the Cunard Company, and he also prepared the codicil to the will of Mr. John Ferguson of Cairnbrock, under which "The Ferguson Bequest Fund" was founded.
When the office of Dean of the Faculty of Procurators became vacant by the death of Mr. Alexander Morrison of Balinakil in 1860, Mr. Fleming was invited to become a candidate for the office, but declined. Professor Roberton at that time speaking of his claims to the office, and of the desire of many of his professional brethren to appoint him to it, said - "There is the name, too, of my friend, Mr. John Park Fleming, a gentleman of whom I shall not hesitate to say, even in his own presence, that he is an eminent feudalist, a distinguished mercantile lawyer, a man of great sagacity, a most judicious adviser, a man, moreover, every communication with whom tends to enhance and sweeten professional life." That was the great secret of Mr. Fleming's unsought popularity, and besides being an able man he was a most likeable man.
Outside of his business Mr. Fleming took considerable interest in the affairs of the Free Church, which an intimate friendship with that master mind of his age, Thomas Chalmers, led him to associate himself with; but he was by no means a Disestablishment man. In politics he was a Tory, holding that the Reform Bill of 1832 had gone far enough, and that "the man you would not trust with half-a-crown is not the man to be trusted with a vote."
Mr. Fleming's connection with Kelvinside Estate must always associate his name with any accurate history of the development of the city of Glasgow. Few properties are better illustrative of the wonderful strides Glasgow has taken in little more than one generation. The lands of Kelvinside, containing 462 acres, were purchased in the year 1839, by Mr. Montgomerie (who had always much the largest share) and Mr. Fleming, with whom there was also at first associated Mr. James Beaumont Nelson, the Inventor of the "Hot Blast," who was a connection of Mr. Montgomerie by marriage. The price paid was £53,354 5s. 0d., or about £113 per acre. In the year 1845 the lands of Gartnavel, extending to 104 acres, were added to the estate, to which, indeed, they had originally belonged. The price paid was £10,948 7s. 2d., or £104 15s. 4d. per acre.
The whole estate now consisted of 576 acres, purchased at a gross price of £64,302 12s. 2d., being an average of £111 per acre. It extended along the Great Western Road, from the Botanic Garden gate, out to near the Anniesland Toll, and on the Garscube Road from the old Toll House at Springbank to the Barracks. In the year 1839, when the estate was purchased, the Great Western Road, for which an Act of Parliament had been procured in the year 1836, had just been finished. Many of the promoters contended that if it were made 60 feet wide as far out as the Kelvin, it would be sufficient to have a 40 feet road west of that, alleging that it was ridiculous to think that Glasgow would ever extend beyond the Kelvin, and that the road beyond that must always be a country road. Luckily wiser counsels prevailed, and it was made a good 60 feet road throughout, now forming by far the best outlet from Glasgow.
From the first it was resolved by Mr. Montgomerie and Mr. Fleming to make the Suburb of Kelvinside the best residential district of the city, and it is to their adherence to that determination, even through considerable disappointment and discouragement, that the citizens of Glasgow are indebted for having at least one outlet from the city preserved from public works, and reserved for the erection of the very best class of dwelling-houses. Mr. Decimus Burton, the celebrated London architect, and the designer of the entrance to Hyde Park at Apsley House, at that time the most eminent man in his profession in London, was employed in 1840 to prepare a feuing plan. That plan was admirably conceived, and took advantage of all the natural contour lines of the ground, in place of, as in the case of Blythswood Hill, simply making rectangular blocks, as if one were dealing with one of the cities of the plain. The first feu from the estate was the Botanic Garden, the date of the feu contract of which was August, 1841. It was feued at a rate equal to a price of £200 per acre. The first villa feu was Marleybank, to Mr. Robt. Sword, writer, before spoken of, at a price of 3s. per square yard, or £726 per acre. The first half of Windsor Terrace was built by the proprietors of the Estate themselves, and Mr. Fleming went to reside there at Whitsunday, 1847. Kew Terrace was feued out in 1849-53, at 5s. per square yard, or £1,210 per acre. Grosvenor Terrace in 1854-57, at 7s. 6d. per square yard, or £1,815 per acre; Belhaven Terrace in 1866-69, at 10s. per square yard, or £2,420 per acre; and Marlborough Terrace in 1883-84, at 15s. per square yard, or £3,630 per acre. Compare this with the price paid, as before noticed, by Mr. David Fleming in 1787, for ground in George Street, - 2s. 7d. per square yard, or £625 per acre.
In personal appearance, Mr. Fleming was of medium height, but an elastic step and erect bearing gave him an advantage over many of the same stature. He had a full oval face, aquiline nose, dark eyes, and in youth fair hair, but almost all the readers of this paper will rather remember him with silky white hair, parted with scrupulous neatness over a fine forehead. His expression, besides intelligence, betokened kindness and benevolence, and the merry twinkle in his eyes showed the latent humour which, on fitting occasions, he could display.
In social circles, though never assuming the role of a wit he was a pleasant companion and a great favourite. He had a hearty, kindly, genial manner, and was unselfish to a degree, the pleasure of others being always his first thought.
Shortly after Mr. Montgomerie's death in 1868, Mr. Fleming assumed as partners his two sons, David King Fleming (who died in 1873) and James Brown Fleming, and Mr. John Fleming of Rutherglen, by the two latter of whom the old firm of Montgomerie & Fleming is still carried on.
Mr. Fleming died on July 20th, 1869, within four days of entering upon his eightieth year.
Back to Contents