body { margin-left: 2%; margin-right: 0% }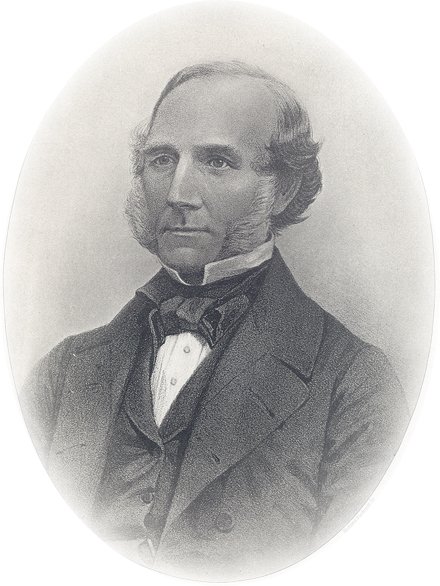 J
ames Adair Lawrie
1802-1859
Lawrie was educated in London and Glasgow College, initially serving as resident medical officer in Glasgow Infirmary. In 1822 he was appointed surgeon to the East India Company, but the climate of Bengal affected his health and he returned to Scotland in 1829.
Settling in Glasgow, he made his name during the 1832 cholera epidemic and in 1850 succeeded to the chair of surgery at the Glasgow School of Medicine.
He maintained a large private practice and was appointed as the first representative of the universities of Glasgow and St Andrews on the Medical Council. His health remained poor however and he retired early, dying at Bridge of Allan on 23 November 1859.
JAMES ADAIR LAWRIE, M.A. and M.D., Regius Professor of Surgery in the University from 1850 to 1859, was for many years one of the best known and most respected citizens of Glasgow. The son, grandson, great-grandson, and great-great-grandson of ministers of the Church of Scotland, he was an admirable example of that talent, perseverance, and rectitude which have enabled the "sons of the manse" to contribute so largely in many walks of life (and in none more than in medicine) to the renown and prosperity of the Scottish nation. Born in the manse of London (where both his father and grandfather lived) in the year 1801, he entertained all his life the deepest affection for that beautiful district, and no one connected therewith ever appealed in vain to his generosity or friendship. Professor Lawrie's grandfather was a man of considerable accomplishment. He was a friend of Robert Burns when the poet stood much in need of friends. He was a "Moderate" of the old school, "sensible, upright, and kind-hearted," as described by Chambers, and it was in the manse of "bonny Loudon" that the poet wrote and left on his bedroom table, after having enjoyed the charming hospitality of the manse, the poem beginning
"O Thou dread Power who reign'st above,
I know Thou wilt me hear;
When for this scene of peace and love
I make my prayer sincere."
Dr. Lawrie was educated at the Parish School of London, and afterwards at Glasgow College. He served as resident medical officer in the infirmary, and obtained, in 1822, through the interest of the Hastings family (who were his father's friends and patrons), the much-coveted appointment of surgeon in the East India Company's service. India was then, and long afterwards, the great outlet for young Scotchmen, and the veritable "El Dorado" of their dreams. Unfortunately the climate of Bengal proved so injurious to his health that after vainly struggling with it for a few years he had to give up the ambition of his life and return to Scotland in 1829. He settled in Glasgow, and there experienced the usual difficulties of a young surgeon in establishing a reputation. Endowed with good talents, much activity and courage, but not too robust health, he threw himself into the vortex of professional work which a large city afforded, full of sick poor, and notorious, as Glasgow then was, for violent epidemics of typhus and other deadly fevers. He sought out every opportunity of distinguishing himself, and served the community industriously and faithfully in many ill-requited and dangerous offices, but if it had not been for the advent of cholera in 1832 his talents might have remained much longer unrecognized. That terrible visitation came so silently and mysteriously; its evil influence was so wide-spread and proved so fatal; and it was so novel withal to professional experience, that it struck a terror throughout the land never equalled before or since. It was whispered that the young surgeon must have seen it in India, and though in fact he had no acquaintance whatever with the disease, never having visited a single case while there, he was credited with a knowledge which brought the panic-stricken in crowds to his door.
He used to say that he went to bed unemployed and found himself in the morning in the enjoyment of a large practice. He threw himself into the work with his accustomed energy and sagacity. Night and day he laboured with his life-long friend, Professor Andrew Buchanan, both in the hospital established for the reception of cholera patients and in private practice, to discover the cause and the remedy for the dire malady. His "post-mortem" examinations were numerous and his personal labour unremitting, and though no great addition was made to the existing knowledge, yet all the methods of investigation then known were fully and diligently employed. That terrible epidemic gave Lawrie a hold of practice which he never lost. His skill and high character enabled him to keep the advantage that introduction had given him. His ready resource, his unfailing sympathy, his decision and devotion surrounded him with friends who appreciated his private worth and his professional skill. In 1830 a lucky opening made him lecturer on surgery in the Andersonian Medical School, and he thus acquired what he so ardently wished for, viz., an outlet for his overflowing energy and academic acquirements. As a teacher he was able, practical, and conscientious, and as the then distinguished Professor of Surgery in the University was far stricken in years, a large number of the students attended the Andersonian teacher, who had the great advantage of being able practically to illustrate his prelections in the hospital wards, as Lawrie had also succeeded in gaining one of the surgeonships in the Infirmary. His admirable manipulative power, his courage and skill soon brought him to the front as an operating and consulting surgeon, and he did much during the many following years that he remained there to advance the reputation of the Glasgow School of Medicine. In 1850 Professor Burns was drowned in the "Orion," and the unanimous voice of the profession designated Lawrie as his successor in the University Chair of Surgery. Dr. Burns (also a minister's son) had been the first incumbent of the professorship, which was only founded in 1815. Till his death Lawrie filled the Chair with great acceptance, and secured the respect and love of a large number of pupils. His private practice was very large, and as he was also appointed the first representative of the Universities of Glasgow and St. Andrews on the recently established Medical Council his time was more than fully occupied. Early and late he pursued his work. His only relaxation was an occasional day on the beautiful moor of the Moss - an estate belonging to his brother-in-law. There with his gun he worked with the same enthusiasm he devoted to whatever he took in hand. But such expenditure of strength as this could not last long. His old Indian ailments, though asleep, had never been removed. In the summer of 1859 his vigour sensibly diminished. To accomplish his work he had taken but scanty sleep, and only at uncertain times and in small quantities snatched the little food he could assimilate. Labour became a burden, but he left his work only to die. A short abortive struggle to repair the over-wrought machine preceded his death at the Bridge of Allan, on 23rd November, 1859, at the age of fifty-seven, in what might be called the prime of his maturity in experience and mental power.
Dr. Lawrie was too busy to write much, but what he did contribute to medical literature is valuable for its directness and practical teaching. He was the most affectionate of fathers, the most devoted of professional attendants, and one whose memory will remain engraven in the minds of all who benefited by his skill, and especially fresh in the happy recollections of those who had the honour and pleasure of having been his pupils.
Back to Contents