body { margin-left: 2%; margin-right: 0% }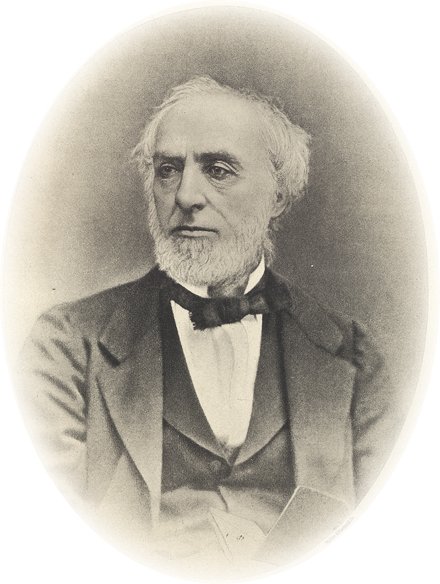 James R. Napier
1821-1879
Born at Camlachie on 12 September 1821, Napier was the son of an iron foundry engineer. By 1840, shipbuilding formed part of the business and Napier ran this department, based in Govan. He devised an improvement to the plating of ships, but the success of this, leading to a full order book at the time of the Crimean War, inflicted severe strain from which he never fully recovered.
He later worked on his own account, running a steamer service between Ardrossan and Belfast. He invented the "Napier's Diagram", a means of correcting compass error on iron ships, and the "Napier Glass Coffee Apparatus".
Napier was a founder of the Institution of Engineers in Scotland and became its president in 1863. In his later years he was fond of sailing on Loch Lomond to check the Ordnance Survey soundings, but a chill further damaged his health. He was buried in Dumbarton.
JAMES R. NAPIER, F.R.S., engineer, was born at Camlachie on 12th September, 1821; his father, the well-known Robert Napier of Shandon, about the same year commenced business as engineer and smith in Camlachie Foundry. During James' earlier years there was little to distinguish him from his fellows; but at the age of sixteen he entered the mathematical class of the High School of Glasgow where at once his powers were discovered and he soon came to the front. Dr. Connal, then the mathematical master, whose name is still held in honour in Glasgow, had in a high degree the power of imparting to others his own love of mathematical science, and it was under his teaching that young Napier's mind acquired the bent that was its leading feature through life. From the High School he went to the University, attending the classes of natural philosophy and mathematics, then in charge of Drs. Meikleham and Thomson respectively, and in the Calendar for 1839 his name appears as prizetaker.
During his school and college days his father's business had greatly developed; the Vulcan Foundry was now in full operation in Washington Street; shipbuilding was added to the business at Govan in 1840, and shortly after, James R. Napier was placed practically in charge of this department.
The art of iron shipbuilding was then in its infancy; countless generations of shipwrights had known no other material than wood, and an immense amount of prejudice had to be lived down, and not a few cherished rules thrown to the winds, before it became recognized that iron was not merely a tolerable substitute for wood in shipbuilding, but was a material in every way much better suited to the purpose. The extent of this prejudice may be judged from the fact that, although an iron steamer, the "Great Britain" was running successfully on the Atlantic in 1845, wooden steamers continued to be built for the same service for another decade.
Commencing work with few shipwright's ideas to unlearn, and possessed with an inventive faculty in a high degree, together with no lack of determination, James R. Napier soon made his mark as a shipbuilder. Improvements, whether devised by himself or others, were adopted in rapid succession, and for not a few shipyard appliances and methods of work the present generation of shipbuilders is indebted to him.
Chief among his improvements may be mentioned that of working the outside plating of ships in alternate in and out strakes, a plan tried about the same time, but independently, by J. Scott Russell, in London. The advantages attending this arrangement proved so great that the old "clinker" method, a relic of wooden shipbuilding, soon passed out of use. Towards the close of the Crimean War, when it had been proved that the historic wooden walls were no match for land batteries, the British Government ordered several iron-plated gun boats to be built with all speed. One of these, the "Erebus," was built at Govan, and, by working day and night, was completed in the remarkably short time of three and a half months. This involved unusually severe mental and physical strain on the managing staff, and proved too much for James R. Napier, who never fully recovered from the effects.
In 1853, James R. Napier was taken in as a partner into his father's business, thenceforward known under the firm of R. Napier & Sons, but his connection with it did not continue long; the aims and objects of the several partners were too widely different, and in 1857 James withdrew. For a few years he worked as a shipbuilder on his own account, and built several successful ships, but did not succeed in making a business for himself, and his health failing at the time he gave up his yard.
Some time before this he had taken an interest in the "West of Scotland Fishery Company," one of the pioneers of the trade to the outer Hebrides, and the last vessel built by him was intended for this service; the company, however, did not continue, and he took up the trade himself. This proved a losing venture, and his attention having been called to an opening for a steamer to run between Ardrossan and Belfast, he transferred his vessel, the "Lancefield," thither in 1862. To start a small screw steamer in opposition to the paddle steamers running from Greenock was a bold undertaking, but through economy of working it turned out a moderate success, and was in a fair way to improve when difficulties unfortunately arose with the Glasgow and South-Western Railway Company. An action in the Court of Session followed, the question at issue being a test one, and on the appeal the Company won; James R. Napier thereafter sold his steamer, and his connection with business practically ceased.
At an early period in the history of the iron ship it was discovered that the compasses in such vessels were liable to very serious error through the attraction of the hull. To find means of correcting this error was of the first importance, and some of the leading scientific men of the day turned their attention to the subject. In conjunction with Mr. Archibald Smith of Jordanhill, James R. Napier carried out a series of experiments, extending over several years, the results being published from time to time; but the work in this field, with which his name is chiefly associated, is the invention in 1851 of the "graphic method of correcting deviation of a ship's compass." The simplicity of this method over that of the tables formerly in use at once commanded it, and "Napier's Diagram" now finds a place in all works of repute on the compass in our own and other lands.
His next invention was the more homely but better known one of the "Glass Coffee Apparatus" that bears his name. Of this he was not a little proud, but having omitted to patent it, the public was the principal gainer; in fact, from the number of coffee pots that found their way in presents to his friends, he must have been rather out of pocket than otherwise.
Chief among his friends in Glasgow was Professor Macquorn Rankine, an able mathematician, but, like himself, somewhat of a schemer, and the results of their intimacy exist in various patents taken out in their joint names. The first of these was an attempt to surmount the difficulties attending the use of Stirling's air engine, a problem that still finds students; a description of the arrangement, which, however, did not prove much of a success, may be found in Rankine's "Steam Engine." At a later period, when the steering of war ships was attracting attention, a form of balanced rudder was submitted by them to the Admiralty, but their lordships did not see fit to try it; while a slide-valve arrangement with moveable seat, of which great things were expected, was discovered eventually to have been patented by others. On the whole, his connection with patents, whether jointly or on his own account, was not profitable, an experience by no means rare; of the then existing patent laws he had not a good word to say, although he did not blame them for his own want of success.
James R. Napier was one of the founders of the Institution of Engineers in Scotland, and for years was an active member, attending its meetings regularly and contributing frequent papers to its "Transactions"; among these may be mentioned that on the "Incrustation of Marine Boilers" read in 1864. At that time his steamer the "Lancefield" was running between Ardrossan and Belfast, and the paper in question gave the results of careful observation of the working of her boiler extending over a considerable time. For this paper he received the gold medal of the Institution, and although the twenty years that have since elapsed have seen the adoption of the surface condenser, and consequent altering of the conditions under which marine boilers work, it is still read for the sound information it contains. In 1863 the Institution gave public recognition of the respect in which his talents were held by electing him its president.
With the Philosophical Society of Glasgow he was connected from the year 1850; before it he read his first paper, that upon "Bulkheads and Watertight Compartments of Steam Vessels," and in its "Transactions" may be found all the contributions to science of his latter years. Section "G" of the British Association found also in him an active worker, he was usually on one or more investigation committees, and, when the meetings were over, he entered heartily into the festivities that took place at the annual gatherings.
In 1867 the Royal Society of London elected him a Fellow, but the science cultivated at Burlington House was not of the type congenial to him, and he never used his privileges to the extent of contributing to the "Transactions." The Institution of Naval Architects was the society in whose hall he was most at home; there he met men after his own mind, and with J. Scott Russell, William Froude, and others of his contemporaries whose names are still held in honour, he had many a friendly altercation.
Although not practising as a consulting engineer his opinion was occasionally sought: in 1866 the Indian Government, through Major Haig, consulted him with respect to vessels for navigating the River Godavery, for which service, on account of the variable depth, it was essential that the draft of water should be the least possible. A tug steamer and barges were subsequently built to his designs by Messrs. John Elder & Co. and proved a success, running on the remarkably small draft of water of one foot.
On another occasion he acted as judge with respect to the competing plans for a steam ferry-boat for Renfrew. The plan selected by him was adopted by the authorities of the burgh, and the choice has never been regretted. Occasionally his opinion was asked on rather out-of-the-way subjects, such as perpetual motion; latterly, however, he declined work of this sort.
On the subject of heating, ventilating, and cooking apparatus James R. Napier read extensively, delivered papers and took out patents, but however well founded his theories were, the appliances designed by him seldom found favour. With him an efficient stove, whether for cooking or heating, was rather one capable of burning inferior fuel than one easy to handle, but this, under ordinary domestic management, was found to work unsatisfactorily.
In 1876 the British Association held its meeting in Glasgow. A reception committee was formed as usual, and on this James R. Napier naturally found a place, the work allotted to him being that of superintending the exhibition in the museum buildings of Kelvingrove Park. At this he worked late and early, and the result was a decided success, the exhibition proving one of the most attractive features of the meeting; this was the last work of a public nature in which he took part.
James R. Napier travelled a good deal in his time; twice he visited America; once he made the round of the globe by a sailing vessel, visiting Australia on his way; on another occasion he took a voyage down the West Coast of Africa, and most of the ports of the Mediterranean were visited by him at one time or another. He read works of travel eagerly, and on the subject of African exploration in particular was considered rather an authority, knowing exactly how much credit was due to Livingstone, Speke, Baker, and Stanley, and the other well-known travellers who have opened up the dark continent.
Although the author of numerous scientific papers he never published any work of his own; his name appears as one of the authors of "Shipbuilding Theoretical and Practical," edited by Rankine, which was published in 1866; and some years later as editor of "Australian Notes," being the journal of his cousin, Mr. Francis Napier; these form his only literary efforts. He took great interest in the publication of Professor Rankine's volume of miscellaneous scientific papers. Although free from anxieties of business, he was not an idle man; he was ever considering some new scientific project or following out some old favourite theory. The closing years of his life were spent partly in his home in Glasgow and partly on the shores of Lochlomond, of which loch he was very fond; there he sailed about and checked the Ordnance Survey soundings, and there unhappily, through a chill caught while boating, he had a severe illness that left him in weak health. Known to everybody in the city, and to scientific men everywhere, he was universally respected as a man of spotless integrity and honour; rough sometimes he might be in his denunciations of would-be scientific men, but he was honest and straightforward to the very core - the word of James R. Napier was as good as a bond.
He died in Glasgow in December, 1879, and was buried among his kindred in the old church-yard of Dumbarton, where his father and mother had been laid only a few years before. He married in 1848 a daughter of Mr. Lawrence Twentyman of Walthamstowe in Essex, and had a family of seven, of whom six survive.
Back to Contents