body { margin-left: 2%; margin-right: 0% }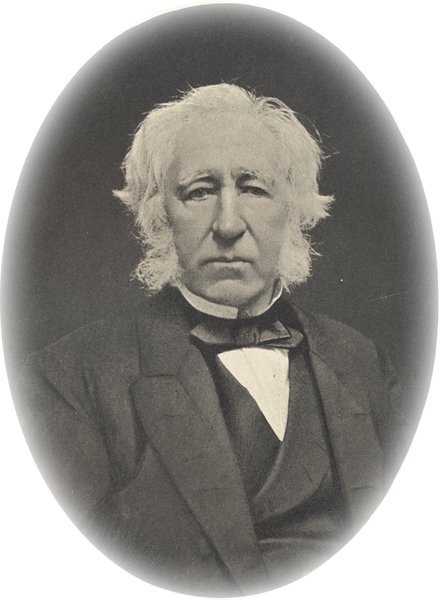 Robert Napier
1791-1876
Born in Dumbarton on 18 June 1791, Napier was a marine engineer who initially worked in Edinburgh under Robert Stevenson, the lighthouse engineer. On returning to Dumbarton he declined a partnership in the family shipbuilding business and set up on his own in Glasgow, as engineer and blacksmith.
Having married his cousin Isabella Napier in 1818, in 1821 he succeeded his cousin (and brother-in-law) David Napier in owning Camlachie Foundry. Business flourished with the need for boilers and engines, and in 1823 he was commissioned to equip the paddle-boat "Leven", the first of his many marine engines. One 700-ton steam yacht, the "Fire-King", was the fastest vessel afloat in 1838.
Connections with the Cunard Company led to the building of transatlantic vessels, and from 1840 Napier also became well known as a builder of warships. He died at his home at Shandon, on the Gareloch, on 23 June 1876.
ONE of the most distinguished names in the annals of marine engineering and iron shipbuilding is that of Robert Napier, who was born at Dumbarton, 18th June, 1791; his father, James Napier, was descended from a family which for several generations had resided in the Vale of Leven, was a burgess of the town, and carried on a successful business there as blacksmith and millwright. His mother, Jean Ewing, a grand-daughter of Ewing of Keppoch, was a woman notable in her way - of strong will, firm principle, and well fitted to mould the character of her son Robert, who was the eldest of their large family. At an early age he was sent to the Grammar School of Dumbarton, which, at that time, was more than usually fortunate in its staff of teachers. Here he received a sound and liberal education, embracing classics, mathematics, French, and landscape drawing, afterwards supplemented by lessons in architectural drawing from Mr. Trail, a man of considerable taste and culture. This gentleman, who was on very friendly terms with the family, doubtless did much to foster the boy's taste for all things rare and beautiful. When about fifteen his father took him from school with the intention of sending him to college, but Robert, whose brain was always full of some new mechanical contrivance, longed to be at work. He was therefore apprenticed to his father's business till he was about twenty, when he went to Edinburgh and worked for some time under Robert Stevenson, the celebrated engineer of the Bell Rock Lighthouse. On his return to Dumbarton a few years later his father desired to take him into partnership; Robert, however, with his restless and energetic disposition, preferred entire independence, and with the small capital of £50 started in 1815 on his own account in Greyfriars Wynd, Glasgow, as engineer and blacksmith.
Orders soon flowed in, for he was a good practical workman, and noted for thoroughness in all he did. In December, 1818, he felt quite justified in setting up house with his cousin, Isabella Napier - a marriage which proved a truly happy one, through the long period of nearly sixty years.
His father-in-law, John Napier, was a clever and prosperous engineer and iron-founder in Dumbarton, and was among the first to employ steam power to drive machinery, which he did when boring cannon for the Government during the Peninsular War. His son, David Napier, was one of the earliest of those engaged in marine engineering in this country.
In 1821 Robert Napier succeeded his cousin David (now his brother-in-law) in the occupancy of Camlachie Foundry, and among his first orders was a contract for supplying the large iron pipes used by the Glasgow Water Works Company. He had now a flourishing business, and was constantly employed in the construction of boilers and land engines; and at last his long-cherished dream was realized when in 1823 he received an order for a marine engine, to propel the small paddle-boat "Leven."
This engine was so good - so perfect of its kind - that it wore out no fewer than three several hulls, and can still be seen at the base of Dumbarton Castle, where it was erected by his two sons as a memorial of their father.
Pioneers in the art of steam navigation had not been wanting, for as early as 1737 Jonathan Hulls aired his ideas on the subject in a pamphlet, which was prefaced by an engraving of a small stern-wheel steam-boat, having in tow a large ship-of-war. In 1788, Patrick Miller, assisted by William Symington and James Taylor, fitted a small pleasure boat with a steam engine, which gave a speed of four miles an hour when tried on Dalswinton Loch. In the following year Miller built a larger boat, which attained a speed of about six miles an hour on the Forth and Clyde Canal. In 1801, Symington built for Lord Dundas the "Charlotte Dundas," a stern-wheel steamer for towing barges on the canal; but as the banks sustained some damage from the wash of her wheel, she was laid up in the works of the Carron Iron Company. While there she was visited by Fulton of New York and Henry Bell of Helensburgh, and this inspection resulted in Fulton introducing in 1807 the steam vessel "Clermont" on the Hudson, engined by Boulton & Watt. About 1805, Richard Trevithick was experimenting on the Thames, and proposing steam as a propelling power for vessels. In 1812 Bell brought out the "Comet" on the Clyde, her boiler and engine castings being made by David Napier, and her engines built by John Robertson of Glasgow. Long afterwards they were presented to the South Kensington Museum by Robert Napier.
Steam navigation now made rapid strides, and Robert Napier found his engines in such great demand that he was obliged to remove in 1828 to the famous Vulcan Foundry in Glasgow, and in 1835 he added to it the larger engine works at Lancefield, including the Lancefield Dock (now a thing of the past). By this time he had become so well known as a marine engineer that no shipping company of any standing was started without his advice and, if possible, his co-operation. In 1836 began his connection with the East India Company, and it was in one of their steamers, the "Bernice," that his manager, David Elder, father of the late well-known engineer, John Elder, introduced variable expansion valves to marine engines. The "British Queen" (sister-ship to the "President"), engined by Mr. Napier for the Atlantic trade, was also an important vessel on account of her size, as well as for the introduction of surface-condensers to her engines, after the method proposed by Samuel Hall of Aberdeen.
Of the eight steam yachts he supplied to Mr. Thomas Assheton Smith of Tedworth, the "Fire-King," of 700 tons, built in 1838, attained the greatest speed of any vessel then afloat - viz., fifteen miles an hour. This was greatly due to Mr. Smith's foresight in deciding to have the vessel built with fine hollow water lines, instead of on the lines hitherto supposed to be best adapted for speed, and popularly known as the "cod's head and mackerel tail" form - which departure from the customary style marks a distinct era in the formation of vessels requiring great speed.
An important event in Mr. Napier's career was his connection with the starting and development of the Cunard Company. About 1839, Mr. Cunard, afterwards Sir Samuel, succeeded in arranging with the British Government for the establishment of a regular mail packet service between Liverpool and North America; he therefore contracted with Mr. Napier to build four steamers of about 900 tons each and 300 horse-power. But Mr. Napier feeling convinced that vessels of that size would be quite inadequate for the purpose, at length persuaded Mr Cunard to build them of about 1,200 tons and 400 horse-power instead. This larger undertaking required outside capital, but with Mr. Napier's assistance both men and money were soon forthcoming; the leading members of the company, at that time known as "The British and North American Royal Mail Steamship Company," besides Mr. Cunard and Mr. Napier, were the Messrs. George and James Burns and the Messrs. Thomson & MacConnell, of Glasgow, and Messrs. MacIver, of Liverpool. Thus in 1840 the Cunard Company was an accomplished fact.
The first vessel of the fleet was the "Britannia," a wooden paddle steamer of eight and a half knots' speed, in which Charles Dickens made his first voyage across the Atlantic, and which he describes so amusingly in the opening chapter of his "American Notes." The last ships built by Mr. Napier for this Company were the "Persia," of 3,300 tons, their first iron steamer; the "Scotia," of 4,050 tons and 1,000 horse-power, their last paddle steamer; and the "China," of 2,540 tons, their first screw steamer. The "Scotia" was a greater favourite with passengers than with her owners, as she consumed about 160 tons of coal in the twenty-four hours. In December, 1863, she made the passage from New York to Liverpool in eight days twenty-two hours; whereas the first voyage of the "Britannia," from Liverpool to Boston, occupied fourteen days eight hours.
About 1840 Mr. Napier acquired the shipbuilding yard at Govan, which enabled him to build, as well as engine, all his vessels. In 1853 he took his two sons into partnership, and the firm was henceforth known as "R. Napier & Sons." His elder son, Mr. James Napier, retired soon afterwards, and the business was then carried on by himself and his younger son, Mr. John Napier.
From the year 1840 Mr. Napier had many important contracts with the British Government - and it was as a builder of ships-of-war that he became most widely known. In 1853 the firm provided the engines of the "Duke of Wellington," at that time the largest and most powerful ship-of-war in Her Majesty's navy. In 1856 they built, as stated in another paper, the "Erebus," an armour-clad floating battery of 2,000 tons and 250 horse-power, intended for the Crimea, in the incredibly short space of three-and-a-half months, under the heavy penalty of £1,000 per day.
The "Black Prince," of 9,210 tons (sister-ship to the "Warrior"), was built about this time, these two vessels being the first sea-going armour-clads in the British Navy. Among other war vessels built by the firm were the "Hector," "Audacious," "Invincible," "Hotspur," and "Northampton," armour-clads, and the "Simoom" and "Malabar," troop-ships.
Mr. Napier's connection with the Admiralty was a peculiarly happy one, and his name will be long remembered as the first, and for many years the only man, who freely opened the doors of his engine works to our naval officers, to enable them to gain practical experience in the engineering branch of their profession - they having previously applied in vain for admission to the principal firms in England. Mr. Napier gave them every assistance, and instructed his managers and foremen to supply all the information in their power; he also gave them liberty to sail free in the Clyde river steamers and to handle the engines, and got permission for them to sail as often as they liked on the steamers running between Liverpool and Glasgow, that they might learn a little of the management of engines at sea. Afterwards, he gave them certificates, specifying the time they had been with him studying steam, which, when shown at the Admiralty, almost invariably obtained for the holder a steam appointment.
By foreign Governments Mr. Napier was also well known and highly esteemed, as shown on the occasion of his contracting with the Danish Admiralty for the "Rolf Krake" in 1861, the first armour-clad turret-ship or monitor built in this country, and the first of the type engaged in actual fighting. He wished the Comptroller of the British Navy to be named in the contract as arbiter, in case of any dispute arising, but this the Danes considered unnecessary, and insisted on Mr. Napier's own name being inserted in the contract as the sole referee between his firm "R. Napier & Sons" and the Danish Government. This was the last contract which he made in person. In 1865 the firm built the "Pereire" and the "Ville de Paris" for the French Transatlantic Mail Service, which, for speed and economy of fuel, surpassed all the vessels then on the Atlantic trade. Mr. Napier executed contracts for almost every nation in the world, and many honours were bestowed upon him.
In 1840 he was elected a member of the Institution of Civil Engineers. In 1855 he was appointed a juror of the first Paris International Exhibition, where he received a gold medal, and, from the hand of Napoleon III., the decoration of the "Cross of the Legion of Honour." He was chairman of the Jury for Naval Architecture at the International Exhibition of London in 1862, and, at the same time, he was on the committee for the organization of the Fine Art Exhibition in the South Kensington Museum. He was elected president of the Institution of Mechanical Engineers in 1864; Royal Commissioner to the Paris Exhibition of 1867, where he received a grand prize for naval architecture; and in 1868 the King of Denmark conferred on him while in Copenhagen, the decoration of "Commander of the Most Ancient Order of Dannebrog"; he was for many years Deputy-Lieutenant of the County of Lanark, and was held in the highest esteem by all classes.
Noticeable among his kindly traits of character was his pensioning off, in their declining years those who had served him long and faithfully. For his princely hospitality he will be long remembered by all who visited him in his beautiful home at Shandon on the Gareloch, which he had filled with an almost priceless collection of pictures and art treasures gathered during the leisure hours of his busy life. Here he died, on June 23, 1876, in his eighty-sixth year, his wife having predeceased him only seven months. He sleeps beneath the shadow of Dumbarton Rock, near the river for whose greatness he had done so much. He will long be remembered as practically the father of steam shipbuilding, one who made the Clyde famous as the seat of that great national industry - first by his own work, and then by the work of the celebrated men who followed in his wake and who further contributed to the fame of the great river, men, many of whom were brought up and bred in his yard, his engine works, or his foundry. By noble enthusiasm for his work, by his thoroughness in the doing of it, even to its meanest detail, by his honourable and dignified conduct in all his dealings, Robert Napier has left behind him that "good name which is better than riches."