body { margin-left: 2%; margin-right: 0% }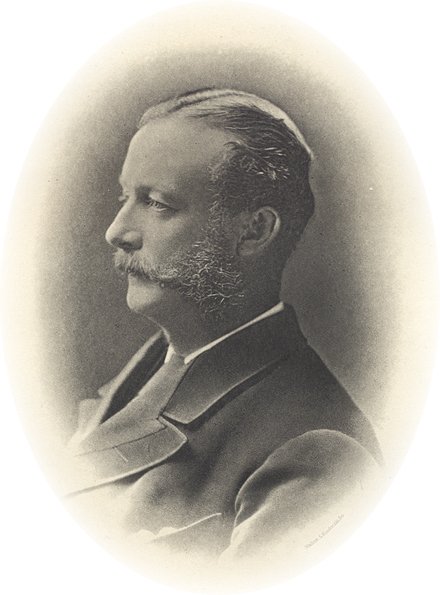 Alexander Bannatyne Stewart
1836-1880
Born on 30 October 1836, the son of a draper, Stewart entered the family firm relatively late, in 1866. He was renowned for his appreciation of the arts, and his house in Langside, to the south of Glasgow, included a large gallery containing contemporary paintings, early jewellery and illuminated manuscripts.
Stewart also cultivated flowers, especially orchids which he grew at his country house, Ascog Hall on Bute. In 1877 he became a member of the Glasgow Institute of the Fine Arts and at the time of his death was convener of the county of Bute. He owned a steam yacht and was commodore of the Bute Aquatic Club and flag officer of the Royal Northern Yacht Club.
In 1862 he married Fanny Stevenson, with whom he had four sons and four daughters, and he died in London on 27 May 1880.
IN the year 1826 two young men, R. B. Stewart and John McDonald - following the example of J. & W. Campbell & Co., who, on beginning business in 1817, were the first in Glasgow to occupy the upper flats of a tenement as a retail soft goods warehouse - opened a wholesale and retail drapery warehouse in the first flat of a tenement at the foot of Buchanan Street.
R. B. Stewart was of a Rothesay family which had settled in Glasgow, where the youth was brought up by his father in the coal agency business. John McDonald had come direct from Dumbarton school to serve his time in a warehouse in the Trongate of Glasgow, and he received his training there. Both young men after they started in partnership served behind their own counter, and soon became known for their personal diligence and for the integrity of their wares. The gradual extension of their business soon necessitated the extension of their premises along Argyle Street, and this was effected by the successive absorption of "Gordon's Land" and the "Argyle Inn."(1) But about twenty years ago the firm began to extend its premises up Buchanan Street, until the frontage towards that street has become about equal to the frontage towards Argyle Street; from Buchanan Street it went back to Mitchell Street, in which street the wholesale business had a separate entry. The business had long become one of the largest in the city.
John McDonald did not live to see the last extensions carried out. He died upon 28th May, 1860; his partner, R. B. Stewart, died in 1871. Such was the mutual confidence of Mr. Stewart and Mr. McDonald that no contract of copartnery subsisted between them down to within a year previous to Mr. McDonald's death.
Alexander Bannatyne Stewart, the second son by a second marriage of old Mr. Stewart, was born at Glasgow on 30th October, 1836, and was educated for a professional career, but the idea of a profession was abandoned. About 1866 he became a partner of his father's firm, having for many years previous to that been engaged in the warehouse.
Mr. A. B. Stewart's early studies may have developed his mind to greater advantage than a purely commercial education would have done, but be that as it may, the strong tendency towards appreciation for the beautiful in nature and art was there, and in after life Mr. Stewart gave free scope to it in a practical manner consistent with his ample fortune and generous nature. Rawcliffe, his suburban house at Langside, had attached to it a large picture gallery hung round with choice examples of the works of living artists, while upon the floor were cases containing beautiful specimens of early jewellery, illuminated manuscripts, and other rarities.
The walls of the hall, the dining-room, and the drawing-rooms were also hung with pictures, quaint old cabinets occupied appropriate places in the corridors, and everywhere in the principal apartments the eye rested on rare enamels, numerous exquisite carvings in ivory, and quaint bits of old china. Nor was the large gallery a mere gaunt hall for hanging pictures in. It was, on the contrary, one of the most cosy and comfortable rooms in the house, and nothing pleased the host better than to sit there chatting beside the capacious fireplace with an appreciative guest or two, over an after-dinner cigar. Another spacious room at Rawcliffe was the library, with cheerful views from its windows, and fitted up sumptuously both as regards furniture and books. Besides books, pictures, and art objects Mr. Stewart ardently loved flowers, which he largely cultivated both at Rawcliffe and at his country house, Ascog Hall, in Bute. His collection of orchids contained specimens of which he was justly proud. It was only natural that such a man should take an active part in the public promotion of the arts. Accordingly, in the autumn of 1877 Mr. Stewart became a member of the Glasgow Institute of the Fine Arts, and early in the next year was elected chairman of Council, a post which he filled down to the time of his death.
His erect, smart, and well-dressed figure as he walked along the street - a choice specimen of some flower seldom wanting from the buttonhole of his coat - betokened the prompt and active man of business, but he was at the same time distinguished by his affability and generosity.
Mr. Stewart was at the time of his death Convener of the County of Bute, and took great interest in all things affecting the island. He was Commodore of the Bute Aquatic Club, and Flag Officer of the Royal Northern Yacht Club, whose regattas in Rothesay Bay generally terminated with magnificent displays of fireworks from Mr. Stewart's steam yacht. The Robertson-Stewart Hospital and the Parish Church in Rothesay were indebted to his generosity to the extent of some thousands of pounds, and he largely subscribed to the Bute charities. A practical interest was taken by him in the erection of the Aquarium and the Esplanade, and his private acts of charity were many and varied. He was in fact a good man and a kind man, who in his appointed sphere of work and duty made himself a man of mark. His case affords a striking example of one who, while ably conducting a great mercantile concern, devoted much attention to duties of a public kind, and to the cultivation of those higher faculties which, amongst men actively engaged in commerce, are apt to become stunted by a too exclusive attention to mere matters of facts and figures.
Mr. A. B. Stewart died in London on 27th May, 1880. He was in 1862 married to Fanny Stevenson, daughter of John Stevenson, Esq. of Whitehall, Lancashire.(2) He was survived by her and a family of four sons and four daughters.
(1) The first two of Stewart & McDonald's Argyle Street windows west from Buchanan Street are in a block erected on the site of part of the house which belonged to Mr. Andrew Buchanan, after whom the street is named, the next four to the west are in the old "Gordon's Land" (Gordon of Aikenhead), while the remainder are in the "Argyle Inn." When Mr. Buchanan advertised in the "Glasgow Journal" in April, 1777, that he proposed to form Buchanan Street, he described the ground along the course of it, "abounding in fine pit water in digging ten or twelve feet," as having "access at small expense to good running water," and its situation is described as "very pleasant and convenient," and as affording "a prospect rural and agreeable." The "pit water" is now a doubtful amenity; the "good running water" of the St. Enoch's Burn is now foul with sewage, and meanders, out of sight happily, under Stewart & McDonald's warehouse. As to the rural prospect - !
(2) Mr. Stevenson, who originally came from Rothesay, was the well-known engineer in Preston.
Back to Contents