P. S. Brownlie & Co.
P. S. Brownlie & Co., Manufacturers of Fire Bricks, Enamelled Bricks, Blocks, Covers, ftc., and Sanitary Ware, Crown Eire Clay Works, East Nelson Street.—
It is difficult to find in the annals of commercial enterprise a parallel instance to tbe success which has attended the operations of the well-known firm of Messrs. P. S. Brownlie & Co., manufacturers of fire bricks, enamelled bricks, and sanitary ware. The Crown Fire Clay Works, situated in-East Nelson Street, cover an area of fully an acre of ground, and contain large and commodious buildings in which the various processes of the manufacture are conducted, with the machinery of the most improved construction.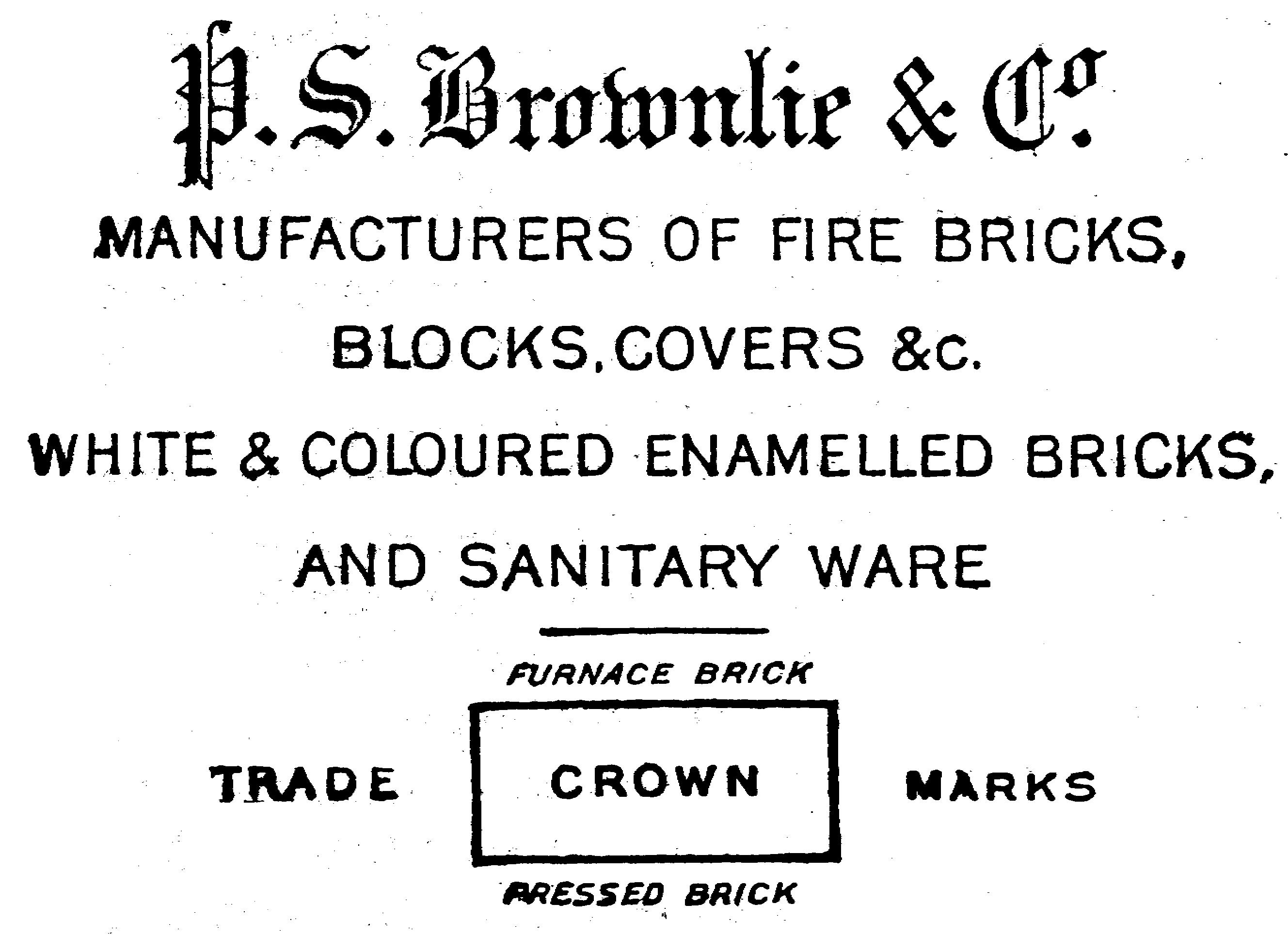 This firm, in fact, were the first to introduce the manufacture of these goods by machinery into Scotland. By their process a great saving of labour is effected and much more compact and durable articles produced. Of fire bricks the firm manufacture three classes, those for furnaces (steel, copper, gas, glass, chemical, pottery, &c.) are by their process of manufacture perfectly true in make, shape, and size ; they do not crack or break off, but wear and melt slowly on the exposed surface, and being of most refractory character withstand intense heats or sudden changes in temperature. Shipping bricks, pressed or unpressed, weigh from 5 to 8 cwt. ; lighter, per 1,000 than the ordinary, to meet the demands of the export market. Building or facing bricks are made from selected clays and pressed by steam power, and are much superior in shape, size, and colour to the ordinary pressed fire-brick. They also manufacture white and coloured enamelled, bricks, sinks, wash-tubs, &c., &c., which for make and finish compare favourably with any in the market.
Attached to the works is a spacious suite of well-appointed offices and counting-house, together with all the accessories of a large and thoroughly organised establishment. In every department the business is conducted with marked ability and enterprise. The firm send out several energetic travellers, covering the whole of England, Scotland, and Ireland, and are well represented in the foreign and colonial markets. Mr. Brownlie, who is the sole proprietor, is a gentleman occupying a high position in mercantile circles, and exercises in the management of his business that well-directed energy and sound judgment which have always been so eminently characteristic of his mercantile transactions.
Back to Index of Firms (1888)