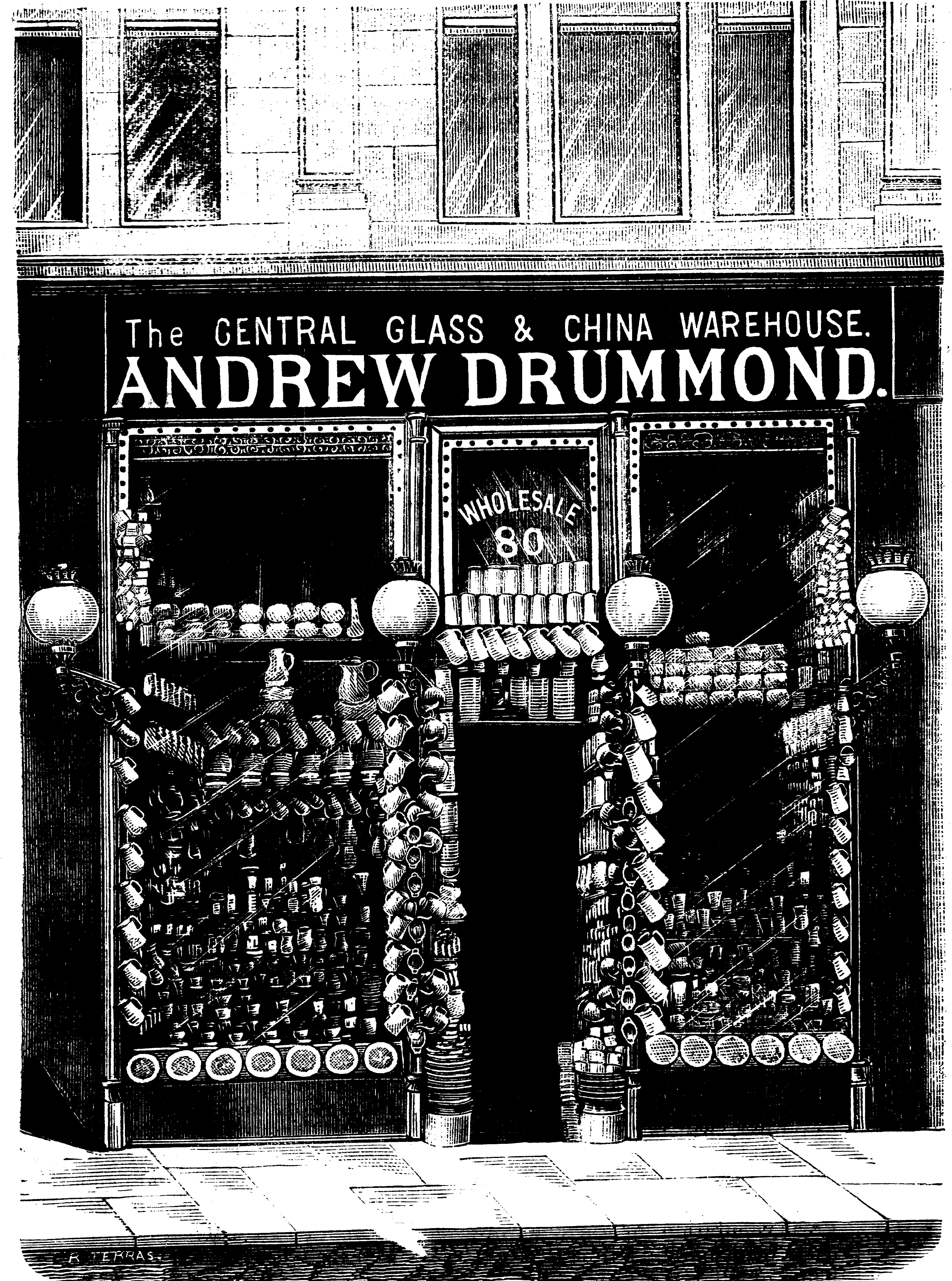 Andrew Drummond
Andrew Drummond, Wholesale Glass, China, and Earthenware Merchant, 80, Gallowgate.—
With the increased facilities for the manufacture of glass, china, and earthenware, there has steadily grown a large public demand for these goods. Not only must this trade strive to supply articles for use alone, but even in the most common products the public are demanding the most finished and artistic workmanship. Mr. Andrew Drummond, who carries on business as a wholesale glass, china, and earthenware merchant, knows well these demands of the public, and in his large and tastefully stocked warehouses he gives ample proof that he knows how to supply it. He established this business in 1871 at 26, Saltmarket. Finding the demands of his customers outgrowing the capacities of that branch, he entered his commodious premises at 80, Gallowgate, where he has extended his trade and widened his connection, not only in Glasgow, but in the neighbouring towns.
The premises at 80, Gallowgate are admirably suited for the carrying on of a good trade, and it can easily be seen that Mr. Drummond has taken full advantages for display, which his premises so completely afford. Here is stored a large stock of Bohemian glass and French china ornaments, Staffordshire china in a multitude of designs. As a feature, Mr. Drummond produces capital value in dinner and tea sets. A dinner set to dine twelve persons can be had from 15s. 6d. up to any amount, while a very chaste tea set of forty pieces can be purchased at the low figure of 4s. 11.5d. The premises consist of two floors, a large china and glass warehouse, in which the various products are admirably displayed, a packing room, and a counting-house. There is an efficient staff kept, fully employed, while a traveller takes up the city and neighbourhood.
The firm have an exhibit (stall 1405, court 27) at Glasgow Exhibition. The large share of public support accorded to Mr. Drummond is evidence that buyers can appreciate the good value he provides. The stock shown in these premises proves how thoroughly the trade is taken up, and marks this rapidly extending business as one of the most noteworthy in the city. The energy knowledge, and standing of this firm ought to secure for it an ever-increasing connection in the trade
Back to Index of Firms (1888)