A. Gardner & Son
Messrs. A. Gardner & Son, Cabinet Makers and Upholsterers, &c., 34, 36, 38, and 40, Jamaica Street.—
There is probably no commercial establishment more familiar to Glaswegians to-day than that of the eminent firm of Messrs. A. Gardner & Son, whose great warehouse in Jamaica Street is one of the "lions" among the city's many magnificent "temples of trade". The house forming the subject of this sketch conducts a system of industrial and commercial operations fully commensurate in magnitude and importance with the immense premises now devoted to its general accommodation. The business was originally founded as far back as 1803 by the grandfather of its present proprietors. His first undertakings were much less comprehensive than those of the firm of to-day, but were of a decidedly important character, for he was principal turner at that time to all the leading cabinet makers of Glasgow. Gradually the business extended and verged into its present form, and in 1832, from which year the real career of the firm is dated, the house had taken up a recognised and prominent position in the cabinet-making and furniture trade.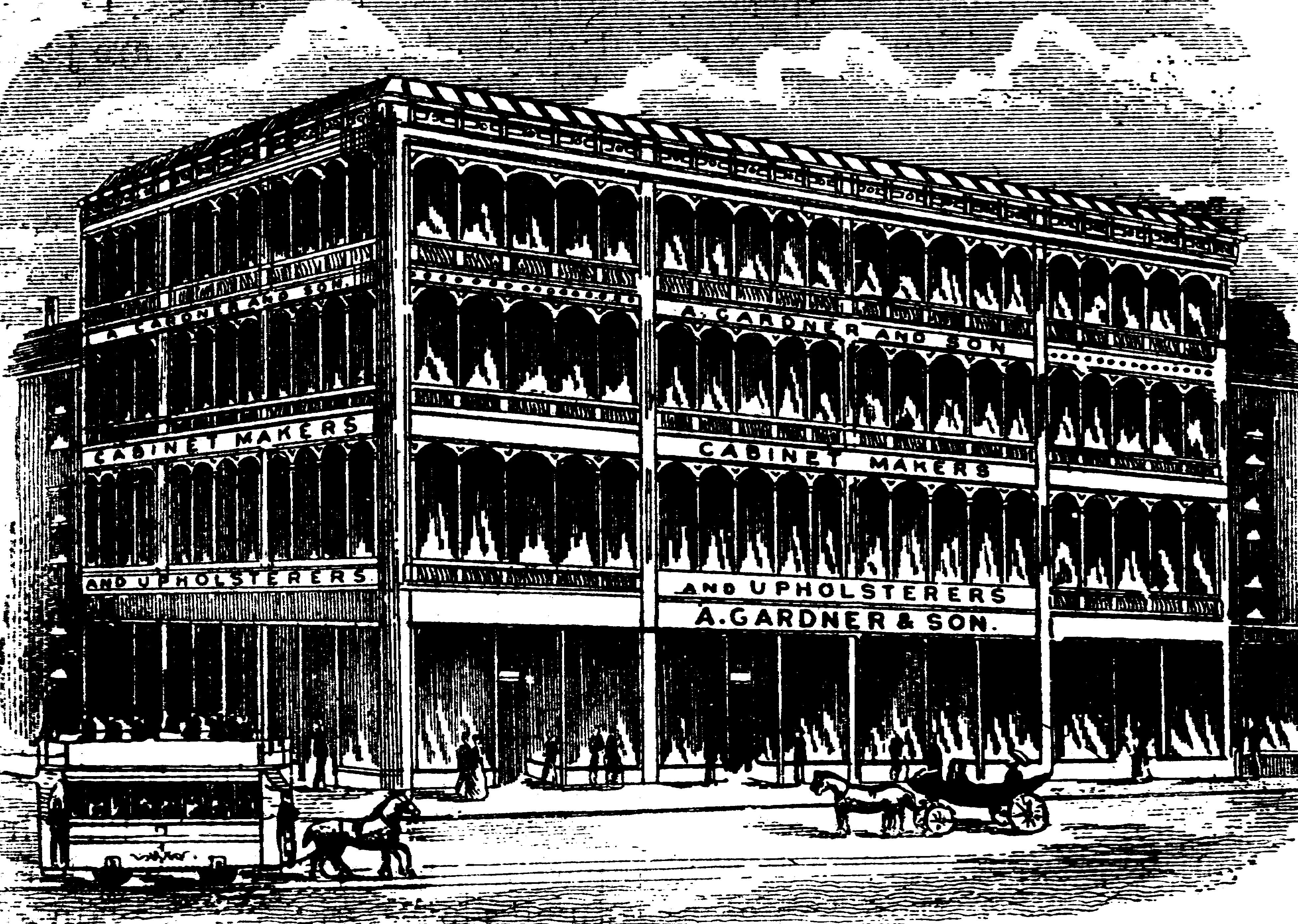 Messrs. Gardner are now actively engaged in a wide range of operations, and are almost equally notable as carpet and curtain manufacturers, whilst over many years they have gone through all the phases of the rise and progress of cabinet making, acting as importers, timber merchants, sawmillers, veneer cutters, cabinet makers, and upholsterers, mirror frame makers, carvers, gilders, decorators, plate-glass silverers, polishers, painters, marble cutters, and Venetian and window-blind makers. Their trade is now one of enormous magnitude, and has steadily grown and developed from the very first, always demanding increased accommodation, which has always been granted by the enterprise of the firm.
Within the last year Messrs. Gardner have added about one hundred and ten lineal feet of frontage and five thousand superficial feet of floorage to their establishment, which is now not surpassed by any depot of its kind in the city in point of the excellent facilities it affords for the effectual conduct of a great volume of trade. The Jamaica Street premises comprise a superb block of five immense flats, the structure being of iron and glass throughout, and containing a host of windows which light up every floor in the most effective manner. The interior arrangement is a perfect example of modem warehouse appointment and equipment, and abounds with evidences of the fact that neither trouble nor expense has been considered or spared in making this one of the most commodious and convenient of the many fine business establishments to which the public of Glasgow have access.
Briefly reviewed the dispositions of the five flats is as follow :—
Basement, admirably lighted and heated by a system of hot water pipes which extend throughout all the other floors, contains a large stock of brass and iron bedsteads, bedding, blankets, and napery.
Ground floor, lighted round the frontages by sixteen large and lofty plate glass windows, affording excellent display facilities, devoted to the exhibition of hall, library, and office furniture.
First floor, set apart for the carpet, linoleum, curtain, and drawing-room furniture departments.
Second floor almost entirely occupied by the magnificent stock of dining-room furniture.
Third and top floors, devoted to the display of every description of bedroom furnishings.
The rearward part of the premises contains the workrooms attached to this establishment for cabinet makers, upholsterers, sewers, and polishers, and is admirably equipped with passenger and goods hoist Here also is the busy and well-ordered packing and delivery department.
A more minutely detailed survey of the stocks and departments is quite impossible within the narrow limits of this sketch, but as only a few of the principal departments have been alluded to in the above, it may be well at this point to concisely enumerate a more complete list of the goods to the supply of which Messrs. Gardner devote their attention. These goods are comprised within the following sections : dining-room and parlour furniture, library, study, and office furniture, hall and lobby furniture, drawing-room, bedroom, kitchen, laundry, ship, church and ecclesiastical, restaurant, and public-room furniture ; perambulators and invalid chairs ; cabinet and upholstery ironmongery and furnishings ; mirrors, glass, and gilded goods, marble and architectural decorations, including mantelpieces, staircases and solid parquet flooring, Venetian and window blinds, carpets and floor coverings of every description, including the firm's very notable speciality "wood-mosaic carpeting", which is a most ingenious and beautifully effective application of wood-mosaic work to a textile back, forming a perfect and bond-fide carpet, which can be treated in precisely the same way as any ordinary woven floor covering, and yet presents all the rich, and artistic characteristics of a solid laid wood-mosaic floor. This has achieved a marked and eminently well-merited success.
Continuing the list, the remaining departments are: damasks and curtains of every description, table covers and napery, blankets, bedding, iron and brass furniture, and, lastly, complete suites of bedroom, dining-room, and drawing-room furniture, in which the display is one of exceptional attractiveness, and the goods shown speak for the careful development that has been accorded to this particularly special department. It is only possible to accord unreserved commendation to the entire stock, which embraces everything that can justly be classed under the above headings, and embodies a range of goods of-the first order of merit in quality, workmanship, design, and material. The price list has been formulated upon a basis of commendable moderation in each department, and will, undoubtedly, compare favourably with all current quotations for really first-class furniture and furnishings.
Messrs. Gardner were the first mirror manufacturers in Scotland by the late mercurial process. This method proving detrimental to health was abandoned, and the firm introduced the process of silvering with pure silver. This they greatly improved upon, and it is now the generally adopted system. Mirror-making and plate-glass silvering are a feature with this house.
Messrs. Gardner have been most successful in the treatment of timber to prevent decay and to preclude destruction of the wood by insects. They are proprietors of patents for seasoning and preserving timber from decay and for rendering it non-igniting ; and their several processes for these purposes, and also for creosoting, are famous in the wood-working trades, and gained highest awards wherever exhibited, including medals at Paris in 1875 and 1878. The firm are unique in their ability thus to season timber, not alone in small portions but in the whole log ; and their processes have always and invariably given every satisfaction.
The trade of the house, in its entirety, is of very great extent and volume, and extends its operations influentially to all parts of the world. The relations of the firm, commercially, are altogether direct with the public, to all classes of whom they cater with constant enterprise and fidelity ; and the appreciation that has rewarded and the success that has crowned their efforts in this direction are manifested in the existence of a connection widespread, important, and valuable among residents in all parts of the United Kingdom, and in every English-speaking quarter of the globe.
Back to Index of Firms (1888)