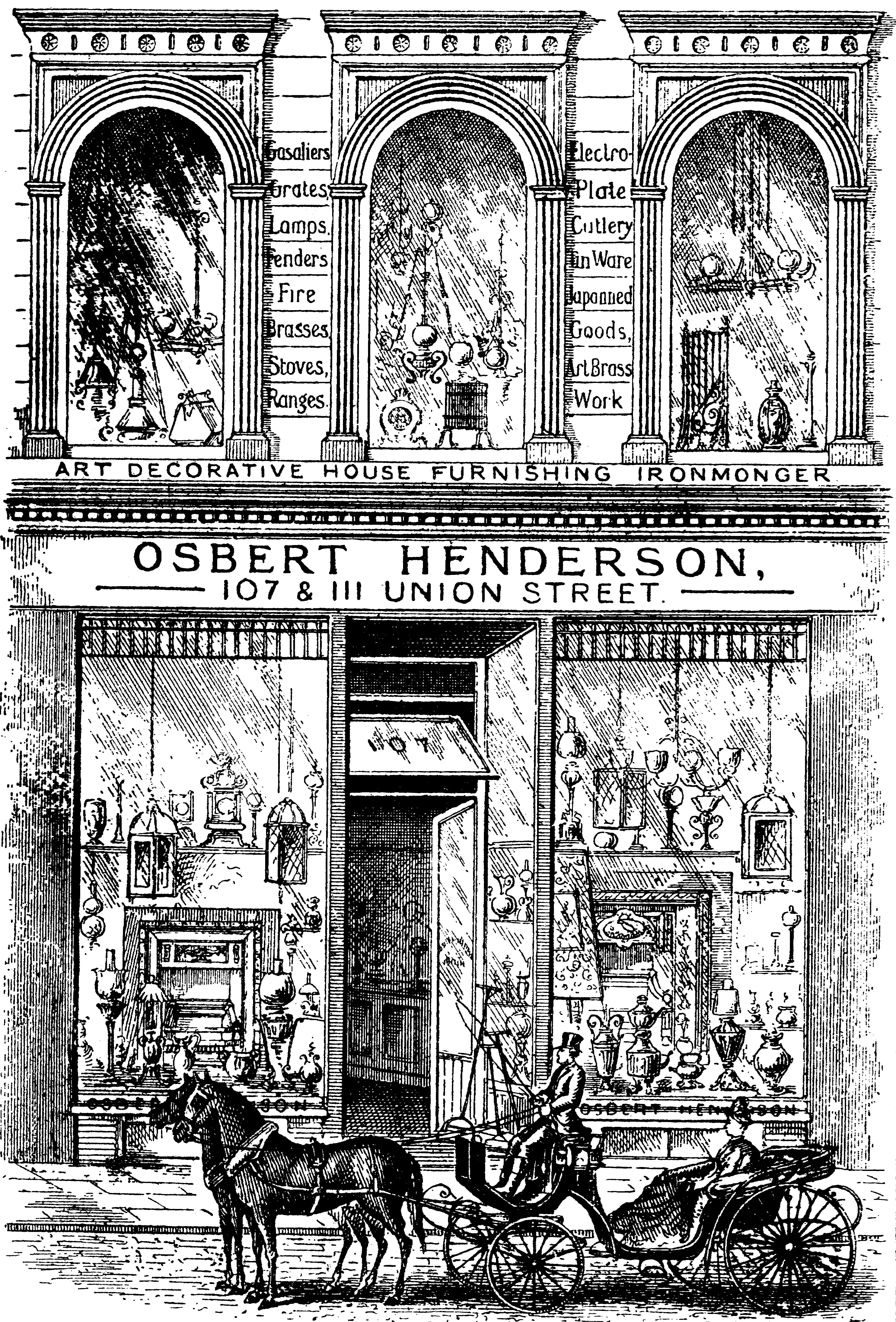 Osbert Henderson
Mr. Osbert Henderson, Furnishing Ironmonger, 107 and 111, Union Street.—
One of the houses deserving most prominent mention in these reviews is that of Mr. Osbert Henderson, of 107 and 111, Union Street, Glasgow. Established in business so recently as 1883 as a furnishing and general ironmonger, this house has taken a very high position amongst the city tradesmen, and one not usually attained in so short a period. Mr. Henderson, the guiding and energetic principal of this establishment, served his apprenticeship to one of the largest ironmongers in the city, and in order to extend his knowledge and gain further experience he went to London, where he spent several years in the houses of two very well-known ironmongers — this being gained, he returned to his native city and established himself at the above address, where his experience, energy, and well-known artistic taste soon made his warehouse conspicuous for the style in which his goods were displayed to the public.
His warehouse and the saloons attached are conveniently placed, adjoining the Central Railway Station, and comprise a large shop on the ground floor with spacious saloons upstairs, fully stocked with a complete display of the newest and choicest goods in the trade. Here are to be found a large and well-selected stock of general furnishing ironmongery such as baths, toilet ware, copper goods, wrought and cast-iron hollow ware, turnery, and every requisite for the kitchen ; artistic brass, iron, and other metal work are shown in great variety ; lamps, screens, paper racks, candelabra, gasaliers, brackets and fittings of every kind in bronze, ormolu polished brass, and brass with crystal mountings, art brass work in great variety is set forth. The selection of ornamental trays and waiters in polished brass, wood, &c., in real Japanese, Spanish, Moresque, and other styles ; candle sconces, the designs of which are taken from nature, being the reproduction of various leaves in brass, others again have the flowers included and are formed in repousse work ; there is also a large selection of choice door furniture of a highly decorative character. The display of electro-plated ware and cutlery is also particularly noticeable. Mr. Henderson has just added considerably to his premises and opened very large saloons for the display of grates, mantel-pieces and over-mantels arranged in designs suitable for all styles of architecture, each being complete throughout with grate, mantel-piece, hearth, kerb, fender, fire brasses, rests, &c., en suite ; also a very large stock of lamps of all kinds and gas fittings in a great variety of style. Adjoining tins is a smaller saloon specially fitted to show a completely furnished apartment with tables, afternoon tea tables, brass chairs, easels, and all the hundred and one things that go to make a comfortable and artistically furnished room.
Mr. Henderson is fully alive to the advantages attending an exhibit at large public gatherings, and has made it a rule to be well represented at all large exhibitions. At the Sanitary Exhibition of Great Britain, in 1883, the year he commenced business, he received two certificates of merit ; at the International Exhibition of Edinburgh, in 1886, he was awarded the first prize medal for artistic designs in brass dog grates, fenders and general exhibits ; at the Industrial Exhibitions of 1886 and 1887 he received one gold and two silver medals. He has also a very extensive and beautifully arranged exhibit at the Glasgow Exhibition, where his thorough knowledge and artistic taste are well displayed.
Though devoting himself considerably to the artistic, Mr. Henderson by no means neglects the thoroughly practical. He has been the means of introducing to Glasgow and the district, for which he is agent, the celebrated "Eagle" combined open and close fire range, which carried off the first prize gold medal at the International Health Exhibition in London, and received the highest award gold medal, at Edinburgh in 1886. The "Eagle" fire grate, too, is upon the same principle as the range, and is really a distinct advance in such things. Tiled side panels or coverings are pivoted at the front edge ; just behind the back edge doors are hinged the whole height of the stove, but in three sections ; these doors either in whole or in part can be folded either entirely across the front of the fire place, or folded back out of sight behind the tiled coverings. The advantages are very great, the stove can be used in five different ways, and is of equally unobjectionable appearance in any of them.
First, with all the doors open, when it presents the view of an ordinary stove and the use of the same ; second, with the lower doors closed, just shutting in the fire bars, the stove is converted into a slow combustion grate in which the fire can be left without attention and kept alight for from twelve to sixteen hours, and can at any time be resuscitated by opening the lower pair of doors and closing the two upper ones, thus creating a draught which causes the fire to bum very briskly, in fact it is exactly analogous to the too common and dangerous practice of holding a newspaper across the opening of an ordinary grate — that is the third form ; the fourth is to have only the upper pair of doors closed over the fire-place, this gives the appearance of the ordinary hooded stove. With all these sets of doors closed, as in the summer time when a fire is not required, the grate has still a very neat appearance, and as it entirely closes up the chimney all smell of soot, &c., is kept from the room. Altogether the "Eagle" form of stove, which is of course patented, is novel and exceedingly useful, and Mr. Henderson deserves great credit for being the means of introducing it into Glasgow.
Another invention which Mr. Henderson has assisted to make known is the new incandescent lamp, which should have a great future before it, as it supplies a long felt want where brilliant lighting is required. Mr. Henderson has lately been appointed agent for the Welsbach lamp. Under the Welsbach system of burning gas no solid carbon is given off, which, under other systems, is so destructive of ceilings and decorations, and after many lights have been burning for many hours in a closed room no unpleasant or deleterious vapours can be perceived ; and these results are obtained with a remarkably diminished heating effect upon the atmosphere, so much of the heat generated in the flame being converted into light. It is perfectly possible to hold the hand comfortably over the light within nine inches of the top of the chimney of a Welsbach lamp giving a light of eighteen or twenty candies, whereas over a sixteen-candle Argand gas-burner a piece of paper would, in the same position, be instantly ignited.
The lux-colour gas or oil stove (Ritchie's patent) is another of Mr. Henderson's proteges, it has the advantage of combining light and heat, and requiring no flue is extremely useful for halls, small conservatories, staircases, &c. Any article which is within his particular domain, and is of novel and at the same time really serviceable character, finds an able exponent in Mr. Henderson, and a visit to this gentleman's establishment will at once disclose the fact that all articles there displayed are of the choicest and most recherche character. We may inform our readers that Mr. Henderson is the son of the deceased Mr. James Henderson, the well-known coach builder of Glasgow.
Back to Index of Firms (1888)