G. Walker & Son
G. Walker & Son, Drysalters, 48 French Street, Bridgeton:—
This business was started in a small shop twenty feet square in London Street in 1860. The increase in trade has caused four removals, each to larger premises, during the last twenty-eight years. The last removal was in May, 1887, to the present address. By taking the matter of a quarter of a century's retrospect of the drysaltery trade, another very striking instance is patent of the manner in which the commerce of the three kingdoms is Americanising itself. Whether the maritime genius of the two countries is outdistancing distance, and making us inalienable in the manners and methods of our business, as we are inseparable in kinship, is a matter for the specialist ; but one thing is certain, that Scotland at least, of the eighteenth century, with its "ae luimed shop" (weaving shed with one Ioom, and dwelling-house attached, and its "wee cork" (a man employing one or two of his next door neighbours), would cut a rather diminutive figure beside Scotland of the nineteenth century, with its big enterprising spirit, its busy brains and industrious fingers working at and interweaving a multifarious web of modern inventions, all at one and the same time. The cosmopolitan spirit of America has undoubtedly been the main factor in this respect.
The drysaltery trade, as conducted by the Messrs. Walker & Son, furnishes a proof of how the drysaltery trade of these islands is becoming Americanised. They are nothing if not American, in their manifold operations and in the manner in which they manipulate this trade. They were first established as G. Walker & Son, wholesale drysalters and manufacturing chemists, in 1868, and removed to their present commodious premises in May, 1887. The premises comprise a line large brick building of six flats, each ninety feet by thirty-five feet. These flats constitute the enclosed works ; there is also a yard, measuring about sixteen hundred square yards, also a shed measuring eighty feet, and another fifty feet, to the back of the building, with large traffic entrance gate. The business is now conducted by Mr. G. Walker, junior, a very estimable, smart, and intelligent personage, who is much devoted to it.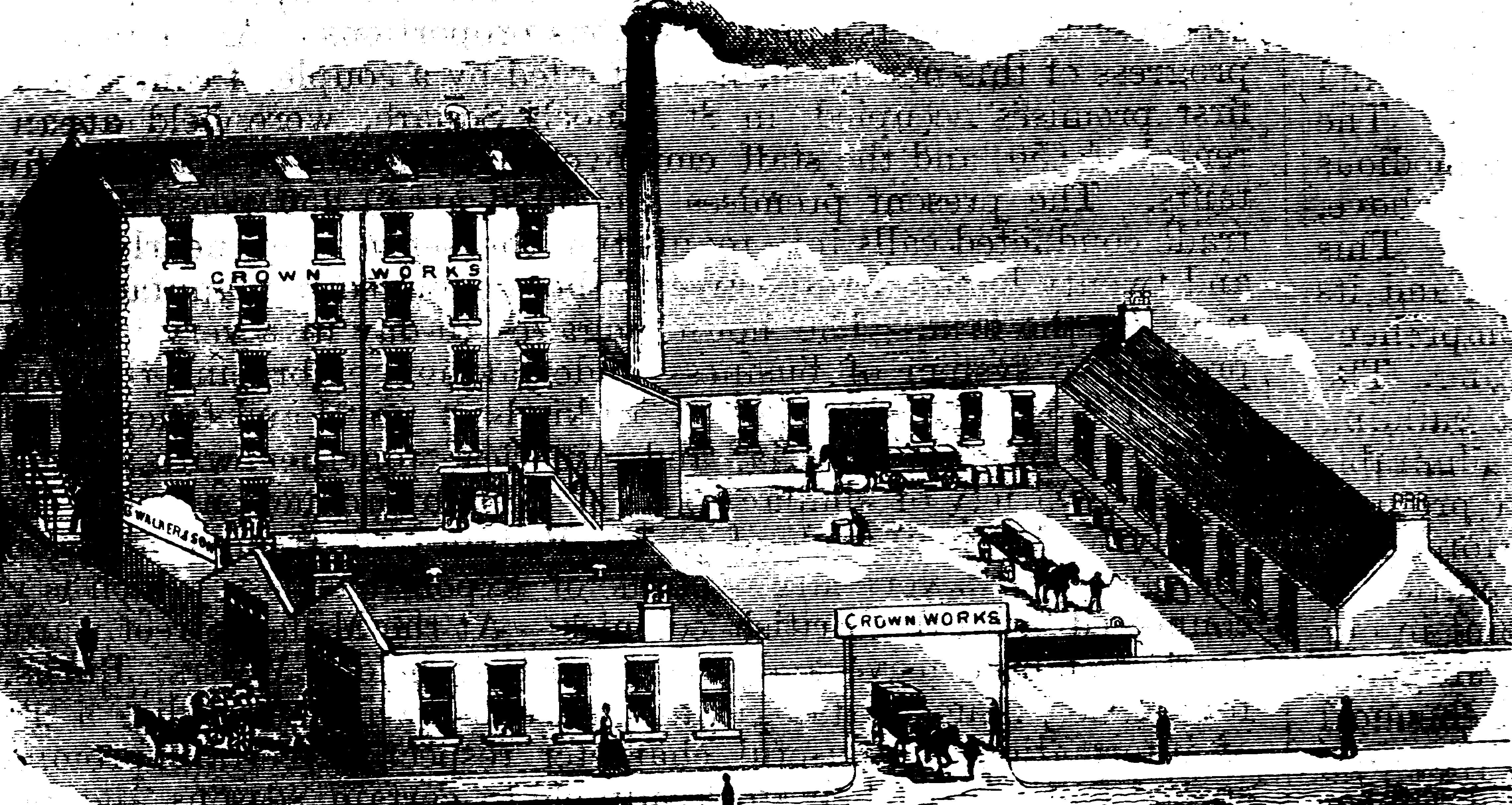 The firm have a very comprehensive trade list ; it consists of a foolscap folio sheet of strong cream-laid paper, neatly printed on the four pages, with a most exhaustive detail of their multitudinous manufactures. This is a most desirable item in the conduct of this business, as it brings it at once in its entirety before the interested public. It is unnecessary here to give a list of their productions ; they are too exhaustive, and to summarize them would only confound the reader and serve no definite end. Suffice it to say, that the Crown Works, occupying a portion of French Street and Reid Street, on the Bridgeton confines of Glasgow, are the headquarters of a very wide and influential trade.
To insure success in a business such as this, which has such a network of delicate nerves and fibres, so to speak, requires tact and intelligence of no common order. The great care and skill necessary to the safety of employees, and to the general public, have exactions which can only be effectively fulfilled by dexterous and thoroughly disciplined supervision. The Messrs. Walker & Son, who pack all sorts of oil and drysaltery goods for grocers, acquit themselves well, and by their application to this trade have established for the Crown Works a fame and reputation second to none in Glasgow. They have a large staff of workers in their employment and are a most beneficial feature in eastern Glasgow.
Back to Index of Firms (1888)