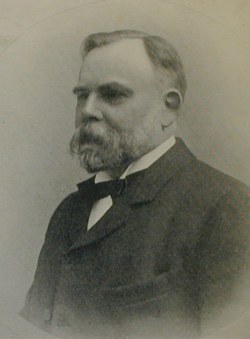 ALFRED ROSLING BENNETT
BORN in London, 14th March, 1850, and educated principally at Bellevue Academy, Greenwich, Mr. Bennett entered the service of the Indian Government Telegraph Department in 1869, and spent four years in India, Beloochistan, Persia, and Turkey. He obtained the Indian Government's "special mention" certificate for submarine and land-line testing. Returning home in 1873, he became successively electrician to the Highton Batteries Company and the Magneto Company, and in 1875 read a paper on "New Forms of Voltaic Batteries" before the Society of Telegraph Engineers. During the next five years he was engaged in journalism, and edited two London periodicals, but in 1877 he managed the exhibition of Varley's musical telephone at the Queen's Theatre, and erected the first telephone wires in this country, to connect the theatre with the Canterbury Music Hall. In 1880 he became a district superintendent to the United Telephone Company, and in the following year came to Glasgow as engineer to the Glasgow Commercial Telephone Exchange. In the same year he patented his "tin-pot" battery, and read a paper on it before the Glasgow Philosophical Society ; and he fitted up the first incandescent installations in Scotland, including that of Earnock Colliery. He also patented several valuable improvements which have since been adopted by all telephone companies, and after seeing M. Lazare Weiller's exhibit of light bronze wire at the Palais d'Industrie he introduced it to Glasgow, and quickly superseded the old heavy iron and steel wires in use throughout the country. In 1883 he became, first, engineer, and afterwards General Manager for Scotland, Westmorland, and Cumberland, of the old National Telephone Company, and during his seven years' occupancy of the post revolutionised the company's methods of overhead light wires, and established the first inter-town trunk lines in Scotland. He originated the Edinburgh International Electrical Engineering Exhibition of 1890, and took a leading part in its management. In 1890 he became manager of the Mutual Telephone Company; and when its business was purchased by the New Telephone Company he became general manager and engineer of the latter concern.
Mr. Bennett is author of "The Telephone Systems of the Continent of Europe," of "Historic Locomotives," and of many pamphlets and papers. He contributed papers to the British Association meetings at Cardiff in 1891 and at Ipswich in 1895. His opposition to telephone monopoly brought about the passing of the Telegraph Act of 1899, and he planned and supervised the construction of the telephone exchange systems of Guernsey Glasgow, Tunbridge Wells, Portsmouth, Swansea, Hull, and Brighton. While general manager and chief engineer to the Glasgow Corporation Telephone Department he resided at Pollokshields for four and a half years, 1900-4.
Back to Index of Glasgow Men (1909)