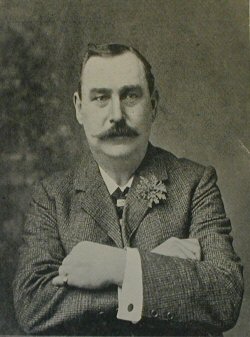 E. H. BOSTOCK
THE proprietor of the Scottish Zoo and Glasgow Hippodrome, who also owns other similar establishments throughout the country, and is proprietor of Bostock & Wombwell's well-known menagerie, was born at Stoney Stratford, Buckinghamshire, in 1858. He left school when about eleven years of age, and from that time accompanied his parents with their travelling menagerie (Bostock & Wombwell's) until 1883. Then he started out in independent business, having taken unto himself a wife two years previously. His menagerie, though not large at the outset, soon increased in size, till, at the end of the second year it was second to none travelling through Britain. He visited Scotland in 1884, and called at almost every town from Berwick to Wick and Thurso, even exhibiting at Mey, which is only five miles from John o' Groat's House.
Returning to Scotland in 1886, he was even more successful than on his previous visit - in fact, success followed his footsteps year by year, and in the spring of 1889 he purchased the original business from his mother, who was then anxious to retire, as his younger brother, Mr. F. C. Bostock, who was managing the business for her, had decided to try his fortune in America. From that time he travelled regularly with the menagerie until January, 1896, the reason for his retiral being that his nerves became entirely unhinged whenever there were any high winds, which, of course, gave considerable trouble with the canvas awning covering the menagerie, and he therefore acted on the instructions of his medical adviser. He left his travelling menagerie business in charge of his brother-in-law, Mr. H. F. Birkett, who still retains the management of it.
Settling in Norwich, a city where he had many pleasant associations, he interested himself in looking for some other business in which the elements would not trouble him so much as in that of the travelling menagerie. He knew, of course, that there was nothing in the way of a permanent Zoo in Scotland, and it occurred to him that something of this nature would not only keep him employed, but might possibly be remunerative. He therefore endeavoured to secure the building in which he is now installed, and which was then known as the Olympia. This he managed to acquire. He took possession on 1st April, 1897, and after constructing cages, putting in electric light, and fitting up a circus in the centre of the building, he opened it to the public about the middle of May. Success again followed his footsteps here, and after running the Zoo and Circus for five years, he decided to make some extensive alterations, and re-open with a stage and all the appartenances for a variety theatre. Into this concern he took a partner. This was a huge success for some time, and had it not been for circumstances arising over which he had no control, things might have glided along successfully for an indefinite period; but trouble arose, and Mr. Bostock very reluctantly decided to dispose of his interest in the business. However, after the founder had retired, the business was not so productive as heretofore, and in ten months' time he had repurchased it, and was once more installed in the undertaking he was so much attached to, taking possession again on 12th June, 1905.
It will thus be seen that the Zoo has been open for eleven years, and it is still one of the most popular resorts in the city. It is now, however, about to be converted into one of the roller skating rinks so much in vogue.
Mr. Bostock's fattier, who died over 30 years ago, was a native of Leek, and hailed from a good old Staffordshire family, and it was he who twice took Wombwell's Menagerie to Windsor Castle, in 1847 and 1854, before her late Majesty Queen Victoria, the Prince Consort, and all the Royal Suite. His mother, who died in 1904, was a niece of George Wombwell, the original founder of travelling menageries in 1865. It will therefore be seen that Mr. Bostock has had a most strenuous life, and that his connection with zoological exhibitions is a very long one, whilst he has also been associated with the circus and the variety profession for the past 17 years. He has a family of seven, four sons and three daughters. Three of the sons are following the same profession as their father, while the other is studying for the medical profession.
In August, 1908, Mr. Bostock was returned unopposed to Glasgow Town Council as representative of Cowcaddens Ward.
Back to Index of Glasgow Men (1909)