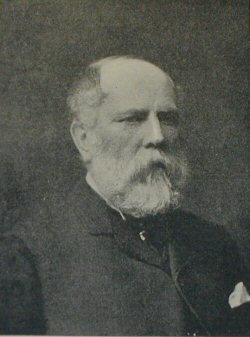 A. M. BUCHANAN
PROFESSOR ALEXANDER MACGREGOR BUCHANAN, M.A., M.D., C.M., F.F.P.S.G., was educated at the High School of Glasgow, where he was facile princeps in the classical department, having gained the Latin and Greek gold medals. He continued his studies at the University of Glasgow, where he graduated as Master of arts. Thereafter he prosecuted the study of medicine, and in due course received the degrees of M.D. and C.M. Immediately afterwards he was appointed Senior Demonstrator of Anatomy in the University by the late Professor Allen Thomson, a position which he held for five years.
After severing his University connection, Dr. Buchanan acted for a year as Resident Medical Officer in Glasgow Royal Infirmary. He was subsequently appointed Professor of Anatomy in Anderson's College Medical School, Glasgow, which position he still holds. In the rebuilding of that school in 1889 he took a prominent part, being then Dean of the Medical Faculty. For fifteen years he held the appointment of Freeland Lecturer on Anatomy and Physiology in Anderson's College, his lectures being directed towards the teaching of the general principles of these subjects to laymen. These lectures are now incorporated in the course of the Glasgow and West of Scotland Technical College.
For six years Professor Buchanan acted as Assistant Examiner in Anatomy in Glasgow University, and he has been for many years Examiner in Anatomy for the Triple Qualification of the Scottish Licensing Bodies, Dental Examiner in Anatomy and Physiology for the Faculty of Physicians and Surgeons of Glasgow, and Examiner in Anatomy (Human and Comparative) for the Fellowship of that Corporation, of which he is a Fellow. He is the author of a Manual of Anatomy, published by Bailliere, Tindall, & Cox, London, 1907, a book which has been most favourably reviewed, and is very popular amongst students. He is a member of a number of learned and. scientific societies, a churchman and a Conservative in politics.
Back to Index of Glasgow Men (1909)