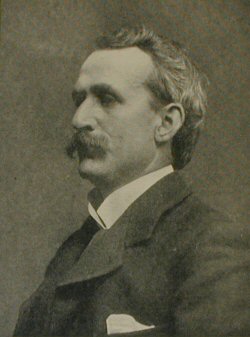 ARCHIBALD KAY

BORN in Glasgow in 1860, and intended for commercial life, Mr. Kay was put to business at the age of fourteen. Finding that career to be quite unsuitable, however, he presently threw it up and adopted art teaching as a stepping-stone to the career of a painter. For the same end he devoted his entire leisure to study under the late Robert Greenlees at the School of Art, and to sketching and painting from nature. Afterwards, with a view to improving his draughtsmanship, he crossed the Channel, and studied for a time in Paris under Boulanger, Lefebre, and Benjamin Constant. Then, giving up teaching, he took "the final plunge," and definitely adopted "the worst profession in the world for the making of a living."
From the earliest his inclination was towards the painting of landscapes, and in his chosen field he has scored not a few successes, not only in Glasgow and at the Royal Academy, but in such continental centres as Munich, Berlin, Dresden. Paris, and Venice. In the last-named city he had the honour of selling pictures to His Majesty the King of Italy, to the Italian Government, and the Governor of Verona. Several of his pictures have also found homes in Munich, Berlin, and Prague; and in 1904 he was invited by the Royal Commission to send two pictures to the International Exhibition at St. Louis, and in 1906 to Christchurch, New Zealand. Among his most notable canvases have been "Lowlanders," a cattle picture of which Messrs. Raphael Tuck & Sons acquired the copyright, and published a large engraving; "Highlanders," a companion picture, also of cattle; "The Torrent;" and "The Land of Mists," his Royal Academy picture of 1903. Of late he has betaken himself to the Pass of Leny for a term of years, to see what inspiration is to be gathered under the sides of Ben Ledi.
For some considerable period Mr. Kay has been a member of the Royal Scottish Water-Colour Society, and in 1905 he was elected President of the Glasgow Art Club. He lost his only son by a sad drowning accident at Appin in 1907.
Back to Index of Glasgow Men (1909)