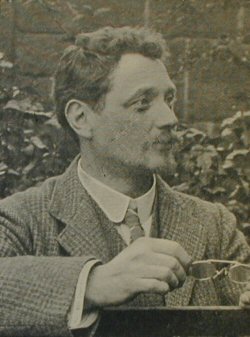 JOHAN KELLER

THE Master of Sculpture at the Glasgow School of art was born at The Hague in 1863. His father was a highly popular Dutch novelist, and of the six children Johan from the first threatened to be the most restless and least easily satisfied with the ordinary currents of life. When he was thirteen his father was asked, to his delight, to remove him from school, where most of his work seemed to consist of penalties. He showed, however, a taste for drawing, and on seeing a sculptor at work in the town of Arnhem, where he lived, had decided to adopt this profession. After two years with this local artist, who was great in theories, smoked endless tobacco, and engaged in endless arguments with his pupil, and four years at the Art School in Amsterdam under Professor Alebe, whose constant insistence on drawing disgusted him, he passed in 1883 to Brussels to study under Professors Van de Stappen and Julian Dillens. From the latter he got his proper training. At the same time he became a member of a society of young artists, and being able, through his father's liberality, to have a small studio of his own, exhibited various small figures and busts at their annual shows.
In 1887, by advice of his friend and master, Dillens, he went to Florence, became devoted to the masters of the Italian Renaissance, made acquaintance with the picked art students of Europe, and worked with the utmost enthusiasm. There he produced his statue of Veritas, a young woman looking into a well, which was first exhibited in Ghent and afterwards obtained a gold medal at the Fine Art Exhibition in Amsterdam.
After two years spent in absorbing art influences in Florence, Naples, and other Italian towns, he returned to settle at The Hague. He was full of ambition and hope, received the warmest reception from the leading artists of the little coterie there, and would have been entirely happy had he not tasted the atmosphere of greater art centres abroad, where sculpture was more appreciated. It was in vain, however, that he tried to interest the public there in sculpture, and at last he finished the work in hand - a sandstone statue for the Museum Boymans - sold his furniture, smashed his studies, and against everyone's advice, with blouse and tools and very little money, set off for Paris.
There he was happy, and among his artistic acquaintance found some in a position to employ his services -one in connection with a museum of waxworks, and another upon important commissions for New York. He earned fair wages and gained much experience. In the spring of 1896 he exhibited in the Salon, and as his prospects looked well he married the girl to whom he had been betrothed at The Hague.
Then one day he was asked if he would like to go to England, to teach modelling in an art school, in the Midlands. Beautiful prospects were held out - a free studio, plenty of work, and a salary; and he accepted the offer. But after a year he found he had never been worse cheated in his life, and deplored the day he left Paris. He had made up his mind to settle among the Chelsea artists, whose acquaintance he had made on several visits to London, when he received an offer, which he accepted, to go to Glasgow, from the Governors of the School of Art there.
Here he had a very hospitable reception, and at once got a valuable connection with fair opportunities to obtain a position among his brother artists. Besides a great deal of architectural decoration for some of the leading Glasgow architects, he obtained by competition the commission for one of the symbolical figures on the art Galleries, and shortly afterwards that for the bronze statue of Dr. Gorman in Rutherglen. His principal decorative work is to be seen on the addition to the British Linen Bank building at the corner of Queen Street and Ingram Street; and his portrait busts and medallions have been exhibited in all the Glasgow exhibitions. His first exhibit in the Royal Academy was the bronze bust of Professor Cleland in 1906, and it was followed in 1907 by a fantasy, "The Tiger-Lilies," afterwards in the Walker Gallery at Liverpool. He is now occupied with the symbolical figure of Wisdom for the new Mitchell Library, and has received a commission from the surgical staff of the Royal Infirmary for a medallion of Lord Lister. A vast number of students have passed through his hands in the School of Art, and among those who have done much credit, one has since obtained the gold medal at the Royal Academy School, and others are now successful sculptors in various parts of the kingdom.
Back to Index of Glasgow Men (1909)