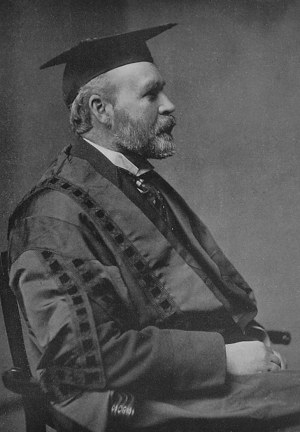 SIR DONALD MACALISTER

SIR DONALD MACALISTER, K.C.B., M.D., M.A., LL.D., D.C.L., B.Sc, F.R.C.P., F.R.G.S., Principal of Glasgow University, was born at Perth in 1854. He received his schooling at Aberdeen and Liverpool before proceeding to St. John's College, Cambridge. There he distinguished himself as Senior Wrangler and first Smith's Prizeman, and was elected a Fellow of his college, and afterwards Tutor and Director of Medical Studies there. He also became Linacre Lecturer of Physic, and physician of Addenbrooke's Hospital. For many years he represented Cambridge University on the General Medical Council, and in 1905 succeeded Sir William Turner of Edinburgh as the Council's president. He is chairman of the British Pharmacopoeia Committee, and represented Great Britain at the International Pharmacopoeia Congress in 1902. In 1898 he was Honorary President of the International Congress of Hygiene at Madrid. He is the author of a number of papers on medical subjects, and among his earliest works was a translation, at request of Messrs. Macmillan, of Ziegler's text-book of pathological anatomy.
At Cambridge he from the first took an active interest in the University Medical School, and by this means attained considerable experience in the business affairs of the University, while as Visitor of the Medical Council he made acquaintance with the working of the Scottish Universities. On 12th February, 1907, he received from the Crown the appointment of Principal of Glasgow University in succession to the Very Rev. Principal Story, who had died in the previous month. He is a member of the Presbyterian Church of England. His wife is a daughter of Dr. Alexander Macalister, Professor of Anatomy at Cambridge. At the close of 1908 the King conferred upon him the honour of a Knight Commander of the Bath.

Back to Index of Glasgow Men (1909)