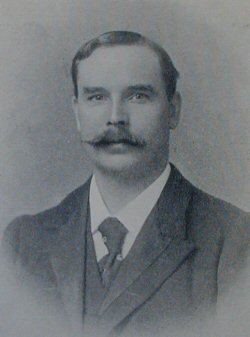 DONALD JAMES MACKINTOSH

THE Medical Superintendent, of the Western Infirmary is a native of the Parish of Shotts and was educated first in his father's school, and afterwards at the Madras College, St. Andrews. He studied medicine at Glasgow University, and graduated there in 1884. During the next two years he held the appointment of Resident Surgeon to the Glasgow Eye Infirmary ; in 1886 he became one of the Resident Medical Officers of Glasgow Fever Hospital at Belvidere, and was for some time Senior Resident Medical Officer there; and in 1890, on the opening of the Victoria Infirmary, he was appointed the first Medical Superintendent of that institution. Two years later he was chosen, out of a considerable number of candidates, to be Medical Superintendent of the Western Infirmary. In this position he has especially distinguished himself in connection both with hospital administration and hospital construction. Under his charge at the "Western," he has a resident staff of three hundred, and an average daily number of 540 patients. The new out-patient department owes many novel features to his ingenuity and skill, and is likely to have most of its details copied in future hospitals. The constantly growing demands upon the Infirmary have entailed many changes and additions of late, and Dr. Mackintosh's experience and success in organising these, as well as the high pitch of efficiency to which he has brought the entire institution, have caused his services to be widely sought as an expert.
Among other matters, he was called upon lately to report on the construction and administration of Perth Infirmary, and to advise regarding the plans for reconstruction of the New Glasgow Royal Infirmary, and Glasgow Maternity Hospital, as well as for additions to Glasgow Cancer Hospital and the McAlpine Nursing Home, and Greenock Infirmary.
Dr. Mackintosh is an officer of the Glasgow companies of the Royal Army Medical Corps (Territorial), and is in command of the Transport Section. During the Boer War he took a leading part in equipping the Scottish Red Cross Hospital for South Africa. For that work he was mentioned in Lord Roberts' despatch of 17th June, 1902, and in November of the same year, among the King's Birthday honours, he was made a Member of the Victorian Order. He has also been made an Honorary Associate of the Order of St. John of Jerusalem in acknowledgment of his ambulance services in time of peace.
Besides contributing to the medical journals, he has written an important work on "Skiagraphy," which attracted much attention. In June, 1904, he became a Fellow of the Royal Society of Edinburgh.
Back to Index of Glasgow Men (1909)