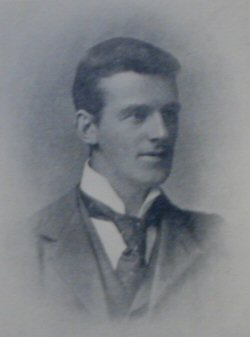 HAMILTON C. MARR

THE Medical Superintendent of Woodilee Asylum was born in 1870 in Govan. His father is a wood merchant, was a magistrate in Govan, and at one time chairman of the Govan Parish Council, of which he is still a member. Dr. Marr was educated at Abraham Hill's Trust School, Govan, and the High School, Glasgow, and at the age of 17 commenced to study medicine at Glasgow University. The practical part of his medical courses was taken at the Western and Royal Infirmaries of Glasgow, and in 1892 he graduated as Bachelor of Medicine and Master in Surgery with commendation. After graduation he spent a short time in the general and special hospitals of Paris. It was his intention to take up surgery as a speciality, but the sudden death of Sir George Macleod, the professor of surgery in Glasgow University, at the end of the year 1892, and the offer of an appointment as Medical Officer at Wooodilee Asylum at Lenzie, altered this intention. After one and a half years' service at Lenzie he was offered an appointment in the Crichton Royal Institution, Dumfries, where he became Senior Assistant Medical Officer. He returned to Lenzie, however, in 1895, having been appointed, out of a number of candidates, Senior Assistant Medical Officer at Woodilee Asylum. In the same year he graduated Doctor of Medicine, with commendation, at Glasgow University. His thesis for the degree was "Myxoedema and the Functions of the Thyroid Gland, with notes of certain cases of Insanity treated by Thyroid Extract." Two years later he was appointed Assistant Medical Superintendent at Woodilee, and in December of 1901, on the retiral of the Medical Superintendent, was appointed to the chief post.
Woodilee Asylum is the largest of its kind in Scotland. It has accommodation for over 1,160 patients, and there are at present over 1,000 patients under its roof. It is one of the two district asylums belonging to the Glasgow Lunacy District Board, the other being Gartloch Asylum at Gartcosh.
Dr. Marr is a Fellow of the Faculty of Physicians and Surgeons, Glasgow, and a certificated member of the Medico-Psychological Association of Great Britain and Ireland, a Member of the British Medical Association, the Glasgow Royal Philosophical Society, and other medical and general societies. He has contributed papers to the Glasgow and Edinburgh Medical Journals, the Journal of Mental Science, the Lancet, and the Poor Law Magazine.
In addition to his appointment as Medical Superintendent, and with the sanction of the General Lunacy Board, he holds the appointment of Mackintosh Lecturer on Insanity in St. Mungo's College, Glasgow.
Back to Index of Glasgow Men (1909)