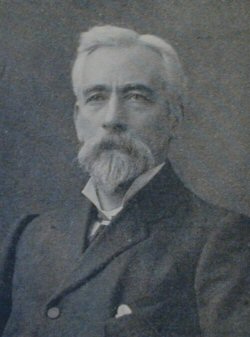 WILLIAM MAXWELL

THE late chairman of the Scottish Co-operative Wholesale Society was born in Glasgow in November, 1841. At the age of eleven he was apprenticed to a coachbuilder, but continued his education by attending evening classes. He developed an interest at the same time in the science of heraldry and in decorative art. He became also an enthusiastic trades' unionist and advocate of cooperation, and in 1881 was elected chairman of the Wholesale Society.
This association is a federation of the Scottish retail co-operative societies, and was established in 1868. Its capital is £2,000,000, and its annual turnover above £6,000,000. The magnificent pile of buildings which it occupies on the south-side of the river cost, with fittings, no less a sum than £100,000. In conjunction with the English Wholesale Co-operative Society it has purchasing depots in Denmark, Sweden, Germany, Sidney, Canada, and the United States, and it employs some 6,700 persons.
Mr. Maxwell has exerted himself successfully for the extension of co-operation throughout the world, and has largely been the means of the practical introduction of the productive co-operation now carried on on a large scale at Shieldhall and elsewhere, and for the further prosecution of which the society recently purchased Calderwood Castle and estate near East Kilbride.
In 1900, on the invitation of some eight hundred working men, Mr. Maxwell became a Parliamentary candidate for Tradeston Division in the Labour and Liberal interest, but was defeated by Mr. Cameron Corbett. He was afterwards elected to the position of President of the International Co-operative Alliance, which embraces co-operative effort in all parts of the world.
Back to Index of Glasgow Men (1909)