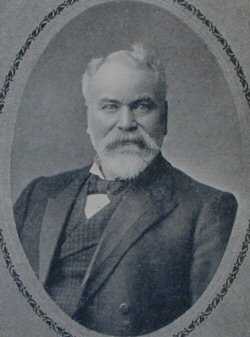 JOHN FARQUHARSON McINTOSH

THE superintendent of the locomotive, carriage, and wagon departments of the Caledonian Railway is a native of Forfarshire, having been born near Montrose, where his father was a farmer. At the age of fourteen he entered the workshops of the Scottish North-Eastern Railway Company at Arbroath, and after completing his apprenticeship there at mechanical engineering, he set about qualifying himself in the usual courses of departmental work and in the working of locomotives. The Scottish North-Eastern Railway became part of the Caledonian system in 1866, and ten years later Mr. McIntosh was appointed locomotive inspector of the northern district. He next became district locomotive foreman at Aberdeen and Carstairs successively, and afterwards had charge of the company's most important engine shed, at Polmadie.
In 1891 he was promoted to the post of chief inspector of the running department, and on the death of Mr. John Lambie in 1895 he was appointed to his present position. At the great St. Rollox Works under his command over three thousand men are employed, and all the rolling stock of the company is made and repaired. The annual expenditure of his department is over £1,040,000.
Mr. McIntosh is the patentee of a number of mechanical inventions of great practical value in connection with his work, and the engines which he has designed are among the most powerful and efficient in this country. For his Dunalastair type of locomotive he received a medal at the Brussels Exhibition of 1897, and after sending over a commission of enquiry to study British railway methods, the Belgian Government requested him to design a type of locomotive for the international express service on their State railways, a commission which, with the approval of his directors, he satisfactorily accomplished. He is a member of the Association of Railway Locomotive Engineers, the Iron and Steel Institute, the Society of Engineers and Shipbuilders of Scotland (in whose council he has acted), the Committee of the Railway Companies' Association on the Standardisation of Locomotives, and the Committee of the Institute of Civil Engineers on Engineering Standards. He was also a member of committee of the Mechanical Section of the International Engineering Congress of 1901.
Back to Index of Glasgow Men (1909)