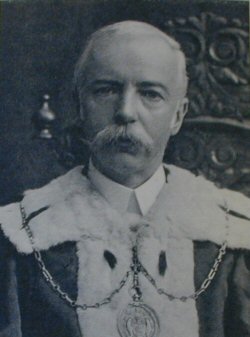 MATTHEW WALKER MONTGOMERY

BAILIE MONTGOMERY was born nearly fifty years ago in Gorbals, and was educated at St. Enoch's Parish School. His father had established the business of a cork merchant and manufacturer in Gorbals in 1848, and of this business, with which he became early connected, Bailie Montgomery is now sole partner. He entered Glasgow Town Council as one of the representatives for Gorbals Ward in January, 1902, and became a magistrate in 1906. His chief municipal work has been done as Convener of the Gas Committee of the Corporation.
Bailie Montgomery has also held many positions in the social and religious life of the community.
He has been a pioneer in the parliamentary debating society movement, and in 1908, in acknowledgement of his twenty-five years' services as Speaker of the Glasgow South-Side Parliament, was presented with an address.
His favourite recreation is bowling, and he has been the means of the formation of a bowling club, in connection with the Corporation, which has distinguished itself in several contests. It is largely through his efforts that the Corporation has established public bowling-greens to enable the citizens to enjoy the pastime.
In 1894 the Bailie married Miss Mason, daughter of the late G. J. Mason, mantle manufacturer, Glasgow, by whom he has a family of three sons and a daughter.
Back to Index of Glasgow Men (1909)