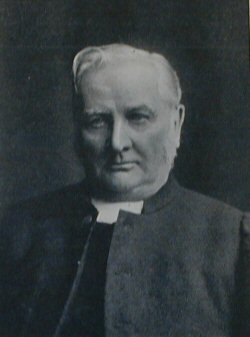 VERY REV. T.B.W. NIVEN

THE minister of Pollokshields Parish Church is a son of the late Rev. Alexander Niven, D.D., minister of Balfron. His grandfather and uncle were in succession ministers of Dunkeld, and his maternal grandfather, Dr.Thomas Brown, after whom he is named, was the successor of Dr. Chalmers in St. John's Parish, Glasgow. His mother's grandfather, again, was direct descendant of an old Aberdeenshire titled family, which, after being attainted for its part in the Rebellion of 1745, took the name of Duncan, and he became minister of the Scottish Church, Peter Street, London.
Dr. Niven received his education privately and in Edinburgh University, and after being licensed in 1858 he had charge for a short time of Renton mission, and on being offered simultaneously the assistantships of St. Enoch's, Glasgow, then the most influential congregation in the city, and of St. George's, Edinburgh, he chose the latter. In 1859 he was presented to the parish of Cranstown by the Earl of Stair. During his incumbency there he refused several calls, but in the end elected to succeed Dr. Macgregor in charge of the Glasgow Tron Church. There his labours resulted in a short time in building up a congregation of upwards of 1200 members, besides a mission congregation of about a hundred of the lapsed masses of the Saltmarket slums. The strain, however, was too great, and after declining a call to St. Andrew's Church, Montreal, and two import a Scottish parishes, he accepted an invitation to succeed Dr. Archibald Scott in the parish of Linlithgow.
His next move was to the newly projected church at Pollokshields. It was only a mission station when he accepted its call, but under his charge the building and endowment of the church was rapidly carried out and completed in 1878 at a cost of some £25,000. The congregation has always been known as one of the most vigorous and efficient in the city.
Among positions of distinction which he has held are those of Convener of the Glasgow Presbytery's Committee on Law and Church Interests, Convener of the Business Committee of the Synod of Glasgow and Ayr, and Convener of the General Assembly's Committee on Correspondence with the Scottish Church in England. Besides occasional articles in various periodicals, he was one of the contributors to the History of the Church of Scotland, of which the late Principal Story was editor.
His distinguished services to the church and community were recognised by Edinburgh University, which conferred upon him the degree of D.D., and in 1906 he received the supreme honour of being chosen Moderator of the General Assembly.
Dr. Niven is a widower, his wife, who was a daughter of the late General George McKenzie Steuart, having died some four years ago.
Back to Index of Glasgow Men (1909)