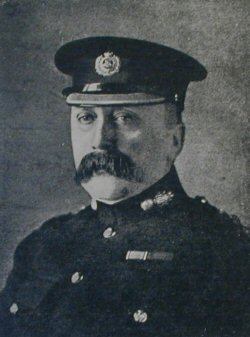 COLONEL JAMES SMITH PARK

WAS born in Glasgow, 25th December, 1854. He is a son of the late Robert Ballantyne Park, manufacturer, and grandson of the late James Smith, writer, both of Glasgow, and is unmarried. He was educated at the Western Academy and University, Glasgow, and has been for thirty-seven years connected with the "Allan" Line. He is also principal owner of the "Park" Steamship Co., and an underwriter at Lloyd's. He is a director of a number of public institutions, and has given important evidence for ship owners before various Government committees and royal commissions. His action compelled the Board of Trade alteration in the method of measuring space for cattle aboard ships, and the alteration of the North Atlantic load line, while his discovery in 1894 that the whole system of charging light dues was illegal, resulted in a complete change of the system of charge. He also served as a member of the Board of Trade Committee on the question of boy sailors.
He joined the 1st L.R.V. as a private in 1874, took a commission in the Engineers in 1881, became Captain in 1885, Lieut.-Colonel in 1900, Hon. Colonel, in 1902, and Colonel Commandant in 1904. Since the reorganization of our army system he has transferred to the Territorial force, taking command of the Scottish Telegraph Units, R.E., the corps formed from the 1st L.R.E.V. He was made M.V.O. in 1905, after the Edinburgh Review, and has been a member of War Office committees under both the Right Hon. Arnold Foster and the Right. Hon. R. B. Haldane. He has long been an advocate of universal physical and military training. He is president of the Scottish Rifle Association, president of the College Division of Glasgow Conservative Association, and captain of Troon Golf Club. His chief recreations are riding, cycling, and golf ; and he is a member of the Constitutional, New, and Conservative Clubs, Glasgow.
Back to Index of Glasgow Men (1909)