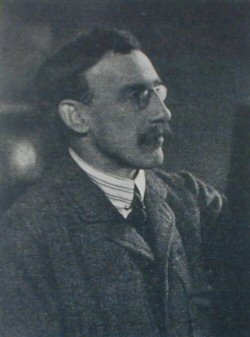 ALEXANDER NISBET PATERSON

MR. PATERSON was born in 1862, and is the son of Mr. Andrew Paterson, manufacturer, and Margaret Hunter, both of Glasgow. He was educated at the Western Academy, Glasgow Academy, and Glasgow University, and took his degree in arts in 1882. From 1883 to 1886, at the Ecole des Beaux Arts in Paris, he studied architecture under Mons. Pascal, and decoration under Mons. Galland. This was followed by office training as a draughtsman with Messrs. John Burnett & Son, Glasgow, and Mr. R. W. Edis and Sir Aston Webb, London, successively. At various periods, and mainly for the purpose of study, he has travelled in France, Belgium, Holland, Italy, Austria, Hungary, and the United States of America.
From 1892 to 1903 he carried on practice on his own account in Glasgow, when he joined Mr. Campbell Douglas, and has since, as an individual, carried on the work of the firm of Campbell Douglas & A. N. Paterson. His principal works in Glasgow have been the Dispensary Buildings of the Eye Infirmary in Charlotte Street ; Golfhill School, Dennistoun, for Glasgow School Board; Messrs. Robert MacLehose & Co.'s University Press buildings; and Messrs. Barr & Stroud's buildings, both at Anniesland; the National Bank of Scotland's building in St. Enoch Square; and the Liberal Club buildings in St. George's Place. His work in Edinburgh has included the boarding houses for Edinburgh Academy; and in Helensburgh the extension of the Municipal Buildings for the Town Council, and Clyde Street School and the Science and art Department of Hermitage School for the School Board. He has also been responsible for Arrochar Hotel, for a number of private houses in town and country and for churches and church restoration at Lesmahagow, Yarrow, Helensburgh, and other places.
He is a member of the Royal Institute of British Architects, vice-president of the Glasgow Institute of Architects, a governor of Haldane's Trust, a member of Glasgow Art Club, etc.
In 1897 he married Maggie, younger daughter of Mr. James Hamilton, Glasgow, by whom he has a son and daughter. His recreations are the fine arts, golf, and cycling.
Back to Index of Glasgow Men (1909)