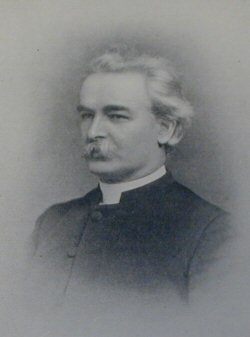 REV. JAMES PATON

DR. PATON was born at Torthorwald, four miles from Dumfries, on 2nd April, 1843. His father was a stocking-maker, who kept two or three "hands" working under him till the stocking-frame wrought by hand was superseded by machinery. There were eleven of a family, of whom ten reached maturity. Three sons entered the ministry, the eldest being the apostolic missionary of the New Hebrides, Dr. John G. Paton. An interesting picture of the home life of the stocking-maker's family is furnished in the opening chapter of that eldest son's autobiography published by Messrs. Hodder & Stoughton.
Educated at the parish school of his native village, Dr. Paton passed in his fourteenth year direct to Glasgow University, and maintaining himself, in time-honoured fashion, by private tuition, graduated B.A. three years later. During two winter sessions he taught Classics and Higher English at Belmont Academy, Greenock, and during the summer months attended the Divinity Hall of the Reformed Presbyterian Church of Scotland. During the two last years of his curriculum he resided as tutor with a young gentleman in Edinburgh, and attended the University there. He was licensed as a "probationer" in the autumn of 1864, and having been ordained at Airdrie in the following June, he proceeded courageously to organise and develop a congregation of "New Light" Reformed Presbyterians. He purchased an old church which had been degraded into a music hall, restored it to ecclesiastical uses, and gathered into it, during the following seven years, a membership of over five hundred. He was received into the Church of Scotland by the General Assembly of 1873, and, being followed by nearly the whole of his congregation, he proceeded to build and endow the quoad sacra parish church of Flowerhill, Airdrie. This was accomplished at a cost of about £11,000, and during the six succeeding years he gathered into it a congregation noted for its vigour and organisation.
In the autumn of 1879 he was "translated" to the parish of St. George's at Paisley, where he remained for two years, adding many hundreds to the communion roll, conducting a Bible-class of over four hundred and organising afresh the whole work of the parish. In September, 1881, he succeeded a well-known divine Dr. Robert Jamieson, in St. Paul's Parish, Glasgow, the old "Outer High," whose congregation worshipped till 1836 in the nave of the cathedral. During the first season in his new charge he renovated the old church and introduced an organ, and within a few years he raised the congregation from a mere handful to a membership of 1,150. At the same time he carried on an exacting mission in Shuttle Street, on the border of the old College district. He was the first to introduce a Parish Sister into the organisation of the Church of Scotland. He had also a licensed assistant labouring in the field. The parish is fully equipped with Women's Guild, Young Men's Guild (three branches), Sabbath Schools (Congregational and Mission). Boys' Brigade Bible Class, Gospel Temperance Meeting, Band of Hope Girls' Brigade, Penny Bank, etc., all in full and active operation. At each of Dr. Paton's last October Communions over eight hundred members were present.
In addition to the work of his own parish Dr. Paton was from 1894 convener of the Church of Scotland's Committee on Temperance. In that office he developed the Church's policy of uniting abstainers and all other friends of temperance, even though not abstaining, in every parochial association, and thus getting each section to do its work in harmony with the others. He also developed the Church's policy regarding temperance legislation, seeking that the power of local management, as well as of local prohibition, should be entrusted to the electors, under statutory safeguards. In 1904 he was also appointed convener of the General Assembly's new Committee on Social Work, with powers and instructions to develop social and rescue work under the auspices of the Church.
Dr. Paton also found time for a large amount of notable literary work. Among his publications were "The Children's Psalm," twelve meditations and twelve spiritual songs on the 23rd Psalm, in 1870; "Leila and other Poems" in 1875; "Lays of the Scots Worthies" in 1881; "The Autobiography of John G. Paton," in 1880, followed rapidly by "Letters and Sketches from the New Hebrides" by Mrs. John G. Paton, and the "Story of John G. Paton" told for young folks; "British History and Papal Claims," two volumes, 1893; "Castlebraes, or the Village of our love," 1899; "Beautiful Characters, or Types of Victory," 1901; "The Glory and Joy of the Resurrection," 1902; and "Last Hours with Jesus," 1906; besides a host of pamphlets and prints on church questions, temperance legislation,social problems, etc.
In 1871 he married Elizabeth Hall, daughter of Alexander Dickson, Esq., Coatbridge; and in 1900 he received from his own University of Glasgow the degree of D.D. Dr. Paton died in 1907.
Back to Index of Glasgow Men (1909)