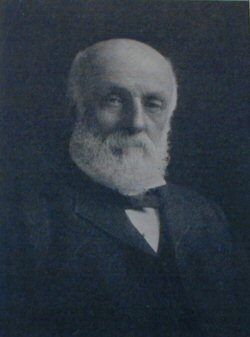 WILLIAM ROBERTSON

THE head of the Gem Line of steamships was born in Paisley in 1832, but was taken in his infancy to Renfrew, and was educated at the old Burgh School and the Blythswood Testimonial School there. He began business life in 1847 in the employment of Messrs. Henderson Brothers, London Works, a branch of the firm which built the London Crystal Palace. Some time later, however, he started business for himself at Bowling, and about fifty years ago came to Glasgow, where he continued as a shipbroker. The trade, however, was expanding rapidly, and Mr. Robertson, by building in 1865 his first steamer, laid the foundations of his present fleet, the Gem Line, which is specially engaged in the general coasting trade, and one of the largest concerns of the kind in the kingdom.
He has been for many years a member of the Clyde Navigation Trust, is a Director of the Merchants' House and of the Western Infirmary, and is a member of the Chamber of Commerce; a past deacon of the Hammermen Incorporation, he is a member of several of the other guilds, also of the Anderston Weavers' Society. He is a member of the New Club.
The kindly recollection of his boyhood's days at Renfrew he has evidenced by founding a gold medal for annual competition in the Burgh School as a memorial to the late Dr. McLaren, his old friend, the headmaster there, and by placing a stained-glass window in one of the churches in memory of two of its ministers. Also, in August, 1909, he presented his native place with thirty acres of land, to be used by the townsmen as a public park.
The father of two sons and a daughter, he has travelled widely, and enjoys the pleasures of the Firth of Clyde at the pleasant coast residence he owns in the Bullwood, Dunoon.
Back to Index of Glasgow Men (1909)