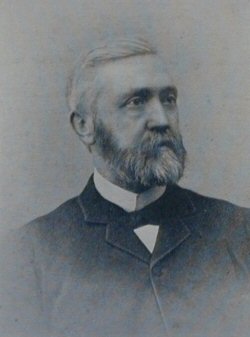 ALEXANDER C. RUTHERFORD

THE Manager and Secretary of the Glasgow and West of Scotland Guardian Society is a native of Falkirk and a son of the late Rev. A. C. Rutherford. Of his brothers one is Dr. James Rutherford, first Medical Superintendent of Woodilee Asylum, and since of the Crichton Royal Institution, Dumfries; another is the Rev. John Rutherford, M.A., B.D., of St. Magnus Cathedral, Kirkwall; and a third is the Rev. Thomas Rutherford of Dunkeld Cathedral. Mr. Rutherford came to Glasgow in 1871, and shortly afterwards was elected Secretary to the Guardian Society. This organisation had been founded in 1852, for the purpose of protecting trade by furnishing its members with information as to the status of firms with whom they do business, and by circulating information regarding bankruptcies, dissolutions, and the like. It also takes an interest in the promotion or opposition in Parliament of Bills likely to affect the trading community. Under Mr. Rutherford's management the Society has greatly developed. It is now registered as a mutual association, and is affiliated with the Association of Trade Protection Societies of the United Kingdom, an institution which renders available to each member the information accumulated by over one hundred associations, Since 1865, with one exception, the President of the Society has always been a Lord Provost of the city.
While Manager and Secretary of the Society Mr. Rutherford has devoted much time and energy to the amendment of laws affecting trade, and especially to the reform of the bankruptcy laws. Professionally he is a Fellow of the Chartered Institute of Secretaries, and of the Society of Accountants and Auditors. Apart from his professional work he has taken considerable interest in public affairs. For twelve years he represented Lenzie Ward in the Burgh Council of Kirkintilloch, and he filled in succession the offices of Bailie and Provost. He is a Commissioner of Supply for the County of Dunbarton, Chairman of Kirkintilloch Parish Council, a member of Kirkintilloch School Board and of Kirkintilloch and Cadder Combination Board, a Director of the Association for Relief of Incurables, a Trustee of the Lenzie Public Halls, and past preses of Lenzie U.F. Church. Mr. Rutherford was made a J.P. for the County of Dunbarton in 1906.
Back to Index of Glasgow Men (1909)