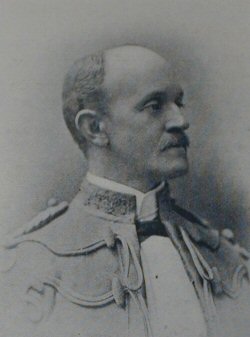 COLONEL THOMAS STOUT

LONG one of the most enthusiastic of Glasgow Volunteers, Colonel Stout was born in the city in 1851, and educated at the Collegiate School, Garnethill, and Glasgow University, where he graduated no fewer than three times. He was admitted a Law Agent in 1875, a member of the Faculty of Procurators in 1881, and a Notary Public in 1889. Two years later he succeeded his father as Chamberlain of Baillie's Institution Free Public Library, then located in Miller Street. He joined the 1st L.R.V. in 1877, received the commission of Lieutenant in 1881, Captain in 1883, and Major in 1896, and he retired ten years later with the rank of Lieutenant-Colonel. For long his favourite hobby was archery, and for two seasons in succession he came second to the champion at the Scottish National meeting. Then he turned to the rifle, and became an enthusiast and a crack shot, forming one of the regimental team at Wimbledon for years, and gaining a Queen's Badge. For eighteen years he may be said to have carried on the Rifle Association. He is a director of the Scottish Assets Co., Ltd., and chairman of the Glasgow Board of the Scottish Union and National Insurance Co. He married Mary Pattullo, elder daughter of John Pattullo, Newgate, Arbroath, and has issue - five daughters and a son.
For twenty-five years Colonel Stout has been an elder of the Church of Scotland, and he is joint Honorary Treasurer of the Smaller Livings Fund. He has long taken part in the work of Presbytery and Synod, being energetically interested in such committee work as that relating to church extension.
Back to Index of Glasgow Men (1909)