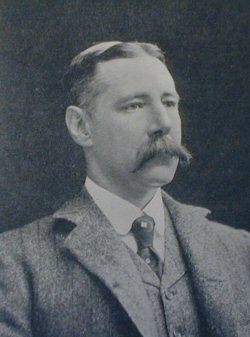 HUGH GEORGE SPENCER TUITE

BORN 17th April, 1863, second son of the late Major-General Hugh Manley Tuite, R.A., and heir presumptive to his brother, Sir Morgan Harry Paulet Tuite, 11th Baronet, of Sonnagh, County Westmeath, Mr. Tuite is descended from a Norman family settled in Ireland as early as the twelfth century, the time of Strongbow, whose crest tells a tale of crusading ancestors. From 1882 to 1890 he held a commission in the Northumberland Fusiliers, seeing active service in the Hazara campaign in 1888, and receiving the Indian frontier medal, with clasp. While serving in India he began to write, his work was accepted by Mr. Rudyard Kipling, then editor of the Civil and Military Gazette, and he contributed a large number of stories, articles, and "turnovers" to the columns of that journal. In 1892 he saw an advertisement in Answers for an assistant editor on Messrs. Harmsworth's staff. In reply to that advertisement there were a thousand applications, but instead of writing, Mr. Tuite went over from Ireland and saw Mr. Harmsworth, now Lord Northcliffe. The latter he found no grave and reverend signior as he expected, but a young man, who looked about twenty years of age, though really some six years more. As a result of the personal application he was engaged upon Messrs. Harmsworth's literary staff, and he has been editor of the Scottish Weekly Record since its foundation. He is a contributor to numerous periodicals, including the London Daily Mail, Cassells' Magazine, and the London Magazine. In 1904 he published a novel, "The Heart of the Vicar," which, though woven round the problem as to whether a divorced person can conscientiously marry again, is a delightful story, of entirely healthy and engrossing interest; and in 1906, "Bob and the Dream Birds," a story for children. He has also written several plays. He is a Member of the Institute of Journalists and of the Incorporated Society of Authors, and is a Freemason. Mr. Tuite found time, while in Glasgow, to play the clarionet in the Cecilian Orchestral Society and the Players' Orchestra; but since the autumn of 1908 has resided chiefly in London.
Mr. Tuite married, in 1893, Eva Geraldine, daughter of the late Mr. Peter Valentine Hatton, county Wicklow, and has four children. Mrs. Tuite has written several books on cookery, and contributes to various journals.
Back to Index of Glasgow Men (1909)