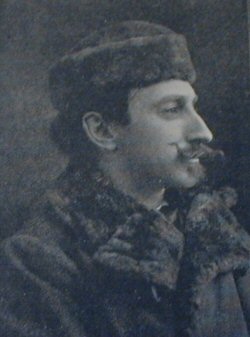 HENRI VERBRUGGHEN

BORN at Brussels in 1873, Mr. Verbrugghen is descended from a family for many generations famous as cloth merchants in Brussels. On the maternal side he traces descent from a richly dressed babe found on the steps of the Brussels Hotel de Ville after the flight of the Spaniards. The boy was brought up by the Burgomaster, married his daughter, and was Mr. Verbrugghen's great-great-grandfather. He also counts among his forbears, Henri Verbrugghen, sculptor of the famous "Adam and Eve" pulpit.
Mr. Verbrugghen was intended originally by his family for themedical profession. While a boy, however, he was extremely delicate, and, deprived of more vigorous amusements, passed many an hour at the pianoforte. On the advice of a family friend, a professor at the Brussels Conservatoire, the lad was allowed to have lessons in violin playing. In these his bent immediately became apparent, and very shortly he was requisitioned by his teacher to appear at a concert before the Cercle artistique - a musical and artistic club in Brussels. He was then only nine years of age. Presently he was carried to Paris where his performance of Saint-Saëns' Rondo Capriccioso received the warmest eulogies from the press. Next, in 1886, by the persuasion of Joseph Wieniawski, brother of the great Henri, he became a pupil of M. Jeno Hubay, chief violin professor at Brussels and Buda-Pesth.
The boy was only allowed to practise the violin as a kind of glorified amateur, for his mother insisted still on his pursuit of other studies. But at the Conservatoire he gained several prizes, and under Hubay's successor, Ysaye, it was finally decided to let him adopt the violin as a profession. He lived as a pupil in M. Ysaye's house for several years, and in 1889 won the first prize among thirty-five competitors, of whom he was by far the youngest. He accompanied M. Ysaye on that musician's first visit to London, and while there received an offer to tour the Australian colonies and South Africa. The proposal was vetoed by his mother, but after some months in London he made a tour through Belgium, France, and Holland, and devoted some time to orchestral playing for the sake of insight into orchestral instrumentation and literature.
One of his first appearances in this country was at the Crystal Palace. Subsequently at Bradford it was declared by the Yorkshire Post - "The concert was of a level above the average, especially through the appearance of a most brilliant Belgian violinist, M. Henri Verbrugghen, who is both a virtuoso in execution and an artist in feeling. His tone is exceedingly liquid, and his expression is devoid of the exaggeration which proclaims insincerity."
In 1899 M. Verbrugghen played in Berlin with the Berlin Philharmonic Orchestra, conducted by Mr. Henry Wood. Then he went to Dublin as principal professor of the violin at the Royal Irish Academy of Music. A year later, however, he resigned the position, as the tutorial duties interfered with his solo playing. About the same time he became the founder and leader of a string quartette which was extremely successful throughout the country. In 1904 he was appointed leader and assistant conductor of the Scottish Orchestra, and he held, until 1908, a similar position in the Queen's Hall Orchestra in London during the exacting Promenade season; but has now given this up as it was too great a strain upon his health. He is also Chief of Staff at Glasgow Athenaeum School of Music, where his special work is with the classes in orchestral playing, chamber music, and opera. Alike as a player, a professor, and a conductor, M. Verbrugghen's work in Glasgow has been constantly successful. The press has been unanimous in praise of the splendid performances of his pupils, both in their concerts of chamber and orchestral music, and in such operas as "Faust," "Carmen," "The Daughter of the Regiment," and "L'Arlesienne."
It should be mentioned that the last-named opera was specially translated by Madame Verbrugghen for its production by her husband's operatic pupils at Glasgow Athenaeum, in conjunction with the Dramatic Club. On Madame Verbrugghen's aptitude for affairs her husband largely relies; and there is a family of three little sons and a daughter. M. Verbrugghen's recreations are photography, billiards, line fishing, and, at present, gardening.
Back to Index of Glasgow Men (1909)