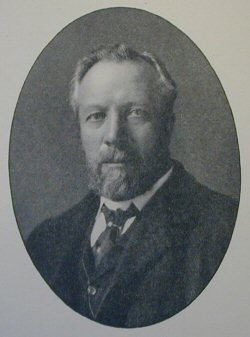 EDWARD WATSON

EX-BAILIE WATSON was born at Duneaton Waterfoot, in the parish of Roberton, Lanarkshire, on 27th July, 1850. His father, a farmer, removed presently to Arran with his family, and the boy was educated in the parish schools at Lamlash and Whiting Bay, and at the age of fifteen went to learn his business with his uncle Mr. John Watson, flesher at Whiting Bay and Cambusnethan. After some further experience in Glasgow, he began business for himself in Govanhill in 1871. Seven years later he became managing partner in the long-established business of John Bell & Sons, Argyle Street, and since 1899, when he became sole partner, he has carried on the business in his own name. As a member of the firm of Edward Watson & Ritchie he also carries on a large importation of live stock and fresh meat from the Colonies and the United States. In 1906 he acquired on behalf of his sons a controlling interest in Wm. Hood, Ltd., butchers, Jamaica Street, Glasgow, and is largely interested in shipping and other commercial enterprises in the city.
Among public matters of the city he takes a prominent part in the affairs of the United Fleshers' Society, has been twice Deacon of the Incorporation of Fleshers, is a director of the Arran Society, and has been a director of the Samaritan Hospital since its foundation. He has also been preses of Queen's Park U.F. Church, of which he has been a member for over thirty years.
While Govanhill was a separate burgh, Mr. Watson represented it on Lanarkshire County Council, and after the annexation to Glasgow he represented Govanhill Ward on the Town Council from 1892 to 1896. On the redistribution of the wards he did not seek re-election, but in 1900 he accepted a pressing invitation from the electors of Broomielaw Ward, and has since represented it in the Council. He was elected a Bailie in 1902, and again in 1903, and in the last year of his term was Senior Magistrate. Among his other work for the Council he has been Convener of the Water Committee. He is a yachtsman, a bowler, and a wielder of the golf club.
He was married to Janet, younger daughter of James Gillespie, Stenhousemuir, on the 22nd April, 1879, and has a family of three sons and six daughters.
Back to Index of Glasgow Men (1909)