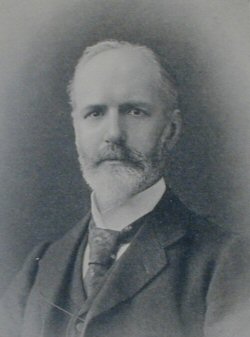 THOMAS LENNOX WATSON

SON of the late Charles Watson, of Messrs. G. & J. Burns, and grandson of Dr. George Watson, a leading physician and surgeon of his day, who died in the strenuous discharge of duty in the cholera epidemic of 1849. Mr. T. L. Watson received his earlier architectural training in Glasgow. Thence he proceeded to London to become assistant to Mr. Alfred Waterhouse, R.A., with whom he had the advantage of working upon several of the most important public buildings in England. Returning to Glasgow a few years later he has since carried on an extensive practice, having designed and carried out a large number of churches, schools, public buildings, country houses, etc., as well as a series of sumptuous yacht interiors and other decorative schemes. The designs of many of these works have been exhibited in the Royal Academy, and illustrated in the professional journals of this country and the Continent.
Mr. Watson is a Fellow of the Royal Institute of British Architects, and served for some time on the council of that society. He has been successively President of the Glasgow Institute of Architects, Honorary President of the Glasgow Architectural Association, and President of the Architectural Section of the Royal Philosophical Society of Glasgow. He is also a Governor of the Glasgow and West of Scotland Technical College. In 1901 he published "The Double Choir of Glasgow Cathedral," in which, by means of an analysis of the vaulting and other architectural features of the building, the history of the structure is unfolded, and its peculiar and exceptional method of construction illustrated. Certain changes of intention on the part of the designer are also brought to light, and the earlier and discarded plan of the vaulting is recovered. He is, besides, the author of pamphlets on "Fire Prevention," "The Acoustics of Public Buildings," and other subjects.
Back to Index of Glasgow Men (1909)