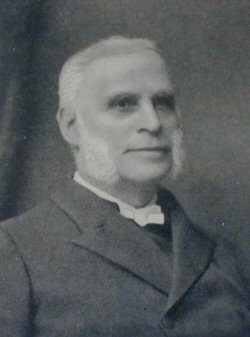 REV. JAMES WELLS

SON of a tenant-farmer, the minister of Pollokshields United Free Church was born at Castle-Yards in the parish of Torthorwald, Dumfriesshire, in 1838. His father died early, and be was brought up by his mother, who continued with success to carry on the farm. He began his education at the parish school under Dr. Sewell, afterwards of Shawlands, and continued it at Dumfries Academy, where he rose to be dux of the school. Afterwards, at Edinburgh University, he distinguished himself as a prizeman and medallist. Though he took only the ordinary papers for his degree in arts, the examiners awarded him Honours in Natural Philosophy "for the superior excellence of his answers."
While at the Divinity Hall he began mission work in connection with the Fountainbridge Church and during his holidays he engaged in evangelistic work.
With the late Professor Candlish he continued his studies in Germany, and in 1864 he was ordained to the Wynd Church, where his mission experience helped him greatly in work among the degraded. Some of his experiences there are told in his book "Rescuers and Rescued."
He remained in the charge five years, refusing calls to succeed Dr. Guthrie in Edinburgh, and to Renfield Free Church, Glasgow, and others. In 1867, however, he was sent as a deputy, along with Principal Fairbairn, to the Presbyterian Churches of America, and in the same year he became pastor of the Free Barony, an offshoot from the Wynd Church. During his ministration there he was instrumental in bringing Mr. Moody, the American evangelist, to Glasgow, and his congregation founded separate churches at Sighthill and Blochairn.
In 1875 a Free Church was started in Pollokshields. He was invited to take the charge and accepted. An iron church was opened in November of that year, and a congregation gathered rapidly. A stone church was built and opened in September, 1877, at a cost of £15,000. In 1876, a mission was begun in West Scotland Street, and it is now a sanctioned charge.
During 11years in connection with the Free Church General Assembly he acted as Convener of the Home Mission Committee, and for six years he was Convener of the Jewish Mission Committee.
In 1884 he was sent to Palestine to establish the Sea of Galilee Mission, and he went out again seven years later, to further its work. In 1889 his semi-jubilee was made the occasion of his congregation presenting him with a sum of £500, and he then visited Egypt and Palestine. At a later date he was honoured with the degree of D.D. from his alma mater, Edinburgh University.
Dr. Wells' written works include "Bible Echoes," "Bible Images," "Bible Children," "The Parables of Jesus," "Travel-Pictures from Palestine," and "The Life of Dr. Hood Wilson." His most recent book is the life of "Stewart of Lovedale." His wife is the sister of Sir A. R. Simpson, M.D., of Edinburgh, and niece of the famous Sir James Simpson. His eldest daughter, after taking a degree in medicine, went to India as a missionary in 1894. During a holiday home four years later she married the Rev. Dr. Macphail, and proceeded with him to similar work among the Santals. His elder son is a doctor at Capetown, and his younger son is a captain in the I.M.S. One of his daughters is a member of the Govan School Board. Dr. Wells' recreation is travelling.
Back to Index of Glasgow Men (1909)