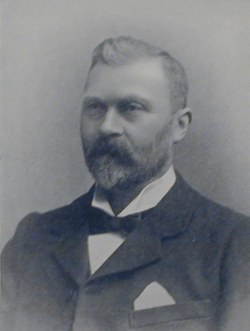 JAMES WHITTON

THE Superintendent of the Public Parks of Glasgow is a native of Perthshire. He was born at Methven Castle, where for fifty years his father was head gardener. After receiving a sound training in "the oldest profession on earth," and acting for some years as foreman at Glamis Castle, he spent eleven years as head gardener with Mr. Houldsworth at Coltness, in the parish of Cambusnethan. Thence he returned as head gardener to Glamis till, in 1893, he was appointed to his present position.
Mr. Whitton has under his charge at present no fewer than 1,230 acres of open spaces and to this have recently been added the grounds at Thornliebank and the great estate of Ardgoil (14,650 acres) on Loch Long, which have been presented to the city by Mr. Cameron Corbett, M.P. These pleasure spaces include fifteen public parks, sixteen minor open spaces, and six ancient burying grounds. The parks, with their areas and dates of acquisition, are as follows: - Glasgow Green, 136 acres, 1662-1792; Kelvingrove, 66 acres, 1852-4; lands of Clayslaps, Overnewton, and Kelvinbank (now part of Kelvingrove), 9 acres, 1881; Queen's Park, 90 acres, 1857; Camphill (now part of same), 58 acres, 1894; Alexandra Park, 74 acres, 1869; lands of Kennyhill (now part of same), 40 acres, 1891; Cathkin Braes, 49 acres, 1886; Botanic Gardens, 21œ acres, 1891; banks of Kelvin (now part of same), 18œ acres, 1892-96; Maxwell Park, 21 acres, 1891; Springburn Park, 56 acres, 1892; Maryhill, 5œ acres, 1892; Ruchill, 53 acres, 1892; Govanhill Grounds, 4 acres, 1894; Bunhouse Grounds, 6œ acres, 1895; Bellahouston, 178 acres, 1895; Tollcross, 84 acres, 1897; Richmond Park, 44 acres, 1898.
Among these grounds Mr. Whitton has had the task of laying out Maryhill, Springburn, Ruchill, Camphill, Richmond, and Tollcross Parks. He has also had the onerous duty of restoring Glasgow Green and Kelvingrove Park to artistic conditions after the railway excavations, and of returning the grounds of Kelvingrove into their original order after their complete dishevelment for the Exhibition of 1901. During the same year the Botanic Gardens were put under his management. Of late years, partly under compulsion of the untoward conditions of outside gardening in an atmosphere like that of Glasgow, Mr. Whitton has largely developed the display of gardening under glass. The earliest adventure in this direction, the large block of propagating houses at Camphill, has not only proved extremely popular and instructive - as many as seven thousand visitors frequently pass through the houses in a day - but also profitable as a means of raising plants for the open air. This was followed by the winter garden of the People's Palace on Glasgow Green, opened by Lord Rosebery in 1898. The glass houses in Tollcross Park came next; and they were followed by the splendid gift, by Messrs. Reid of Hydepark Locomotive Works, of the winter garden in Springburn Park. Besides these must now be counted the oldest of all, the fine Kibble Palace and conservatories in the Botanic Gardens.
To manage all this, Mr. Whitton has a staff of 285 men, and on occasion these have more than enough to do. During the International Exhibition, for example, the department had the heavy strain of installing and keeping up the horticultural embellishment of Kelvingrove; and when distinguished visitors are entertained by the Corporation, the special displays for the occasion are sometimes on a sumptuous scale. These labours, however, seldom fail to secure the gardener's best reward - the admiration of the guests entertained. When Her Majesty, Queen Alexandra, saw the splendours of floral decoration within the City Chambers in May. 1893, she expressed the feelings of many a humble visitor in the exclamation, "How beautiful! how marvellously beautiful!"
Back to Index of Glasgow Men (1909)