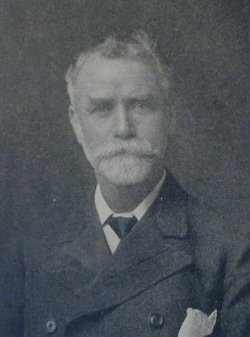 CAPTAIN JAMES WILLIAMSON

FOR half a century the passenger steamer enterprise of the Clyde has been more or less a family affair, Williamsons, Campbells, Buchanans, MacKellars, and MacBraynes of successive generations having most of it in their hands. Nor has the modern advent of the railway companies' fleets made any change in this respect, for three of these fleets are managed by Williamsons at the present day.
The secretary and manager of the Caledonian Steam Packet Company, eldest of this family, was born at Millport, and educated at Rothesay and Hutton Hall, Dumfries. He began life as an apprentice in the Dock Engine Works of Messrs. William King & Co., Glasgow, with a view to practical acquaintance with the vital part of the steamers he was afterwards to command. At the end of his apprenticeship he joined his father, owner of the Sultan, Sultana, and Viceroy, otherwise known as the "Turkish Fleet" among the river steamers, and when placed in command of the Sultana he was probably the youngest captain who ever trod a bridge. One of his achievements in this position was to reduce the journey from Wemyss Bay to Rothesay and Millport by forty minutes. He became famous on the firth for his decision and daring in the handling of his craft, and many incidents are recorded of his outmanoeuvring his rivals.
In 1879 Captain Williamson, with a few prominent ship owners, built the Ivanhoe as a temperance steamer, and under his command she was one of the most successful crafts on the firth. As part of her programme he initiated the evening trips and other attractions which have since become so popular. At the same time he joined in setting up the firm of Morton & Williamson, consulting engineers and marine surveyors, as a means of occupying his time in the "off" months. In 1885, on a visit to Melbourne, he saw room for enterprise in the steamer trips there, and in the following year sent out a crack steamer which revolutionised the running in colonial waters.
In 1888 the Caledonian Railway Company, on the eve of completing its extension to Gourock, invited proposals from the steamboat owners for the development of the coast traffic. Jealousy of the new venture made all the others hold back, but Captain Williamson formulated a plan, and the result was the formation of the Caledonian Steam Packet Company on the lines which he suggested, and his appointment as its Secretary and Manager. The success of the enterprise has justified his advice. Captain Williamson must be credited, not only with an immense share in the improvement of the Clyde steamer, but also with the marked raising of tone among the officers and crews.
In 1904 he published a highly interesting and valuable book, "The Clyde Passenger Steamer, its Rise and Progress during the Nineteenth Century, from the Comet of 1812 to the King Edward of 1901," which forms a complete compendium of its subject, and is likely to remain its vade mecum.
Back to Index of Glasgow Men (1909)