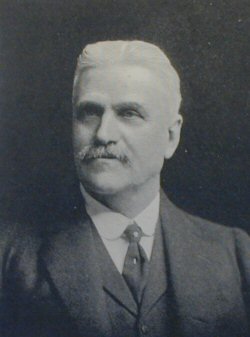 ARCHIBALD WILSON

A NATIVE of Slamannan, Mr. Wilson came to Glasgow at an early age, and began his business career in the employment of Drumshangie Coal Company. From this he passed into the business of Messrs. James Nimmo & Co., Ltd., where he has for many years taken charge of the sales department. During his connection with it, the business has grown to huge proportions, and is now, both for home and export, one of the largest coal-owning concerns in the country.
He has taken an active interest in municipal matters in Dennistoun, where he was chairman of the ward committee in 1907-8, and, among other enterprises, was instrumental in securing the playground in Cardross Street, which has proved a boon to the children in one of the most congested districts. He is a member of the Merchants' House and the Chamber of Commerce, as well as of the Incorporated Society of Gardeners, in whose court he acted for many years. He is also a member of the East-End Merchants' Society, of Dennistoun Pension Committee, and of the Distress Committee for Whitevale and Mile-end. He was for many years Clerk of Session of Wellpark U.F. Church, and takes a very active part in all the benevolent work of the district. He is further a member of the Conservative Club, though he takes no active share in politics. By way of recreation he has travelled over most of the northern countries of Europe, is an enthusiastic golfer, and cycles a good deal.
Mr. Wilson is a married man, with two daughters and four sons, one of whom is at Rangoon, and one a physician at St. Helens.
Back to Index of Glasgow Men (1909)