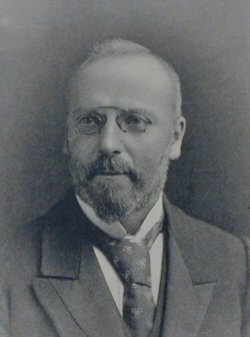 WILLIAM JAMES WOOD

THE Collector of the Parish of Glasgow deals with probably the largest poor law organisation in the United Kingdom. The City Parish and the Barony Parish were united in December, 1898, and the two together cover an area of twenty-four square miles. The population is about 700,000, the number of ratepayers over 161,000, and the gross rental upwards of £4,000,000. Last year the amount of rates collected was £479,000, of which £280,000 was for the Parish Council, and £199,000 for the School Boards within its area - Glasgow, Maryhill, Springburn and Shettleston.
Mr. Wood was born and educated in London, and, among many prizes, treasures a certificate for mathematics signed by W. E. Gladstone, as Governor of King's College. He came to Glasgow in 1869, and entered the service of the Barony Parochial Board in the following year. In 1885 he succeeded Mr. James R. Motion as Collector of the Barony Parish, and on the amalgamation with the City Parish thirteen years later, he was appointed Collector for the combined area.
Apart from his professional work, Mr. Wood takes a deep interest in many public institutions. He is an ex-president of the Society of Inspectors of the Poor, and a member of the Sanitary Association, the Association of Burgh Officials, etc. The class for oral tuition of the deaf instituted by Govan School Board in 1885 was the result of a movement of which he was a promoter, and he took an active part in arranging for the bazaar which provided means to erect the New Institute for the Deaf in West Regent Street. He is a Director of the Scottish Temperance League and President of the Glasgow Abstainers' Union, and was President of the Western Friendly Society in 1894. He is a member of the Merchants' House, of the Scottish Society of Literature and art, and of the Glasgow Sir Walter Scott Club, and is ex-Deacon of the Incorporation of Cordiners. He is also President of Montrose Street Congregational Church, a member of the General Committee of the Congregational Union of Scotland, and ex-Chairman of the Glasgow District Committee, and he takes a strong interest in the Foundry Boys' Society. A great book lover, and possessor of a well-chosen library, he is a member of several learned associations - the British Association, the Society of Antiquaries of Scotland, and the Philosophical and Archaeological Societies of Glasgow.
Back to Index of Glasgow Men (1909)