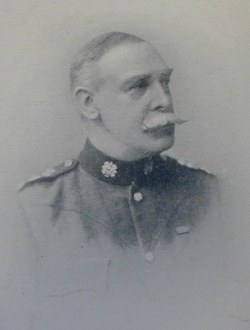 COLONEL JOHN DRUMMOND YOUNG

THE Colonel of the late 2nd Volunteer Battalion of the Highland Light Infantry is in private life the founder and Managing Director of the Scottish Boiler Insurance and Engine Inspection Company. He is a native of Glasgow, was educated at the High School, and, after a commercial training, became partner in a large manufacturing business in the northern part of the city. In the course of business he remarked the disadvantage to Scottish steam-users of the necessity of insuring their boilers with English companies unaware of local requirements, and in 1881 he set afloat the Scottish company which has met with so much success. His company afterwards purchased the business of the English and Scottish Boiler Insurance Company of Manchester, but the English part of the business thus acquired is managed by an English staff. Colonel Young began his Volunteer career as a private in the 1st L.R.V. in 1876. Ten years later he was gazetted a sub-lieutenant in the 25th L.R.V. He received his captaincy four months later, and was appointed Major in 1891. On the formation of the Volunteer regiments into brigades, he was appointed Supply and Transport Officer, and under his supervision the camping ground at Gailes was laid out, with all its details of water supply, stores, stables and railway station. As a volunteer officer he holds the long-service decoration, and has been noted not only for his ability in the field, in forming encampments and in commissariat management, but for his zeal in raising funds for the new headquarters and drill hall at Yorkhill. To his energy also was owed the establishment of evening schools for officers in Glasgow.
On retiring from command of his regiment in 1906 Colonel Young was entertained at dinner by a company representing every Volunteer battalion in the West of Scotland, and was at the same time presented with his portrait, from the brush of his brother, Mr. W. Drummond Young of Edinburgh.
Back to Index of Glasgow Men (1909)