Auchinraith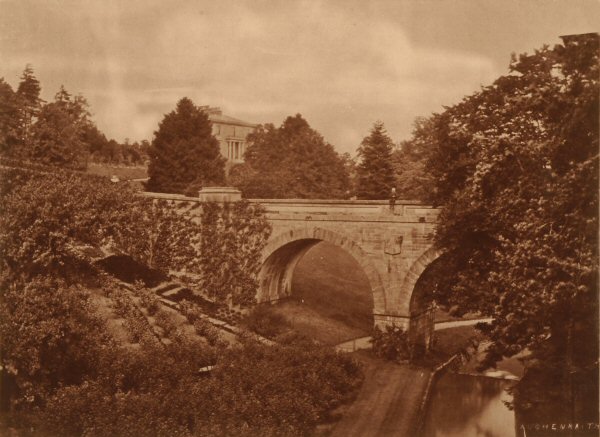 THIS small property is situated in the parishes of Blantyre and Hamilton, the part on which the house is built being in Blantyre, and is about eight miles distant from Glasgow.
The place was called of old "Whistleberry," and was one of a number of small estates holding of the great family of Hamilton. A small burn runs through Auchinraith dividing the parishes of Hamilton and Blantyre, and it was on the Hamilton side that old Whistleberry House stood. In process of time the name of Whistleberry was given up, though it still lingers in the neighbourhood, and that of "The Grove" was substituted, and afterwards Auchinraith. The family in possession in 1760 were the Coulters, well known old Glasgow people. (1)
The Coulters came from Dumfriesshire about the end of the seventeenth century, and were soon leading merchants.
James Coulter died in 1708, leaving a legacy to the Merchants' House. Michael Coulter was a merchant and Bailie, and died in 1732, doing likewise. John, the proprietor of "The Grove," was a capital citizen, always active in the service of the city, and Lord Provost in 1736. James Coulter, another of the family, was an encourager of art in manufacture, and at his death left a sum of money to found an annual prize for the most artistic production. Lawrence Coulter, or Lawrie Coulter, as he was familiarly called, was known to everyone in Glasgow in his day. He is a prominent figure in one of Kay's prints, published in 1793.
The last of the Coulters in "The Grove" was a maiden lady, Margaret, the daughter of the Provost. She died in 1794, when the estate devolved on her cousin, Robert Dinwiddie of Germiston, from whom it passed, with his other estates, to his cousin-german, Captain William Lockhart his heir, afterwards, for long, the popular M.P. for Lanarkshire. He sold it in 1831 to Robert Douglas Alston.
Mr. Alston was the fourth child of John Alston, merchant and banker in Glasgow, and a brother of George Alston of Muirburn, and of John Thomas Alston, Lord Provost of Glasgow in 1822. He was born in 1778, and died in 1846. He was an excellent amiable man, and very popular in Glasgow. By profession he was an insurance broker, and his place of business was on the east side of Queen Street, between Ingram Street and George's Square. (2)
In 1819, and onwards for a few years, when the country was supposed to be in danger from a rising of the "Radicals," and there was certainly a good deal of disaffection or discontent at the time, Glasgow was the centre of the agitation. In these circumstances it was resolved to re-embody the "Glasgow Volunteer Sharpshooters," a corps which, in 1808, had made way for the "Local Militia." This was accordingly done, the senior surviving officer of the old corps, the well-known Samuel Hunter, of the 'Glasgow Herald,' being appointed Lieutenant-Colonel Commandant, and Robert Douglas Alston, the Major. Colonel Hunter retired in 1822, and Major Alston became Colonel. (3)
Colonel Alston was a capital officer, and the regiment, both in appearance, discipline, and drill, a very fine one. Some of the older citizens of Glasgow must still remember the grand reviews on the Green, in which the Sharpshooters and Regulars took part under the command of Colonel Smith, afterwards Sir Henry Smith, the hero of Aliwal. The military prowess and doings of the Sharpshooters were favourite themes of the Glasgow Homer, "Blind Alick." The following stanza of his gives some idea of their appearance and his style of versification:-
"Now then, some few observations more
I think proper here to make
On the loyal and gallant Glasgow Sharpshooters,
Who swords and rifles up did take.
Those loyal subjects who fought for the throne,
And beat every Radical I've ever seen;
Here's long life to their Colonel and Major Alston
In their trousers of white and jackets of green."
After a period of bloodless excitement, Radicalism being supposed to be dead, the gallant corps again disbanded in 1824.
After Mr. Alston's death, Auchinraith was sold to Alexander Glasgow, merchant in Glasgow, who retired from business and the city a number of years ago, and resided in the South of Ireland. Robert Ker, an old and esteemed citizen of Glasgow, bought it from him in 1852. And the present proprietor, George Lamb, acquired it in 1877, when Mr. Ker went to live at his fine estate of Dougalston, in Stirlingshire. (4) Auchinraith House was built in 1809, after plans by David Hamilton.
(1) Among the previous proprietors were John Graham of Dougalston, William MacLehose, brewer, and Captain Walter Corbet.
(2) Mr. Alston had as his neighbour, on the same stair, another of the Old Glasgow firms of insurance brokers, Bennett & Browne, now Bennett Browne & Co., of which after Mr. Browne's death Mr. Peter Clouston was, and Mr. John Burns MacBrayne is now, the head. Mr. James Browne of this firm was an excellent public spirited man, a Bailie of the City, and an ardent Sharpshooter in Colonel Alston's Corps. He was the only man of this gallant regiment who actually shed blood, having been compelled in the discharge of his duty to pierce with his bayonet a soft part, towards the rearward, of a contumacious Radical who would not "move on." Mr. Robert Bennett Browne, another member of |he Underwriters' Room, is the son of this worthy gentleman. Yet another member of the fraternity of insurance brokers, connected with Mr. Alston, is Mr. John Speirs, who is the senior of the firm which may be said to be Mr. Alston's successors in business - Alexander Kay & Co.
(3) The officers of the Glasgow Sharpshooters, in 1819, were - Lieutenant-Colonel, Samuel Hunter; Major, Robert Douglas Alston; Captains, Robert Struthers, Robert Watson, Archibald Bogle, James Monteath, John Thomas Alston (Lord Provost in 1822), Thomas Watson, William Smith (afterwards Lord Provost), Archibald Young, Alexander G. Shand, Samuel Coleman; First Lieutenants, William Aitchison, James A. Anderson, David Matthie Craig, James Johns, Thomas Arnot, William Jack, James King, John Miller Ewing, William Hamilton (afterwards Lord Provost), James Wilson; Second Lieutenants, Donald Campbell, John Macnair, Andrew Ranken, James Lindsay, John Bryce, Robert Muir, William Blair, John Fisher, John Robertson Reid, James Corbet Porterfield; Surgeon, John M'Arthur; Assistant Surgeon, George Macleod; Quarter-master, Archibald Spears. The regiment consisted of ten companies of eighty men each.
There were several resignations, promotions, and appointments made during the time the corps was embodied. The following were new officers:- William Black, James Russell, William Richard Paterson, Lawrence Craigie, James White, Thomas More, John Strang (afterwards City Chamberlain), Andrew Hamilton Major, vice Alston promoted, George Hunter, Robert Wilson, William Watson, Robert Campbell, John Aitken.
(4) Auchinraith is a good illustration of the rise in the price of property in the West of Scotland. Mr. Glasgow bought and sold it for about £12,000; when Mr. Ker disposed of it, the price he received was £45,000.
Back to Contents