Mountblow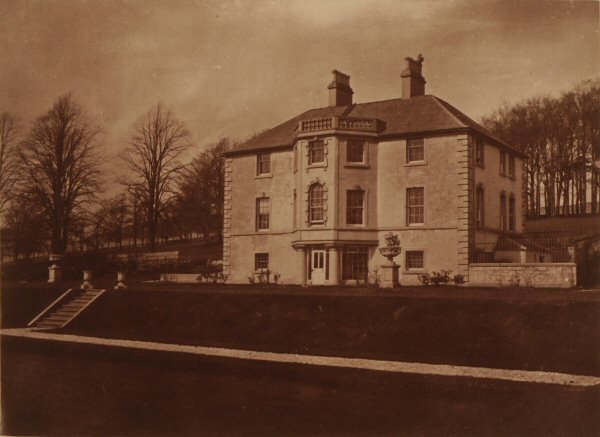 THE property of Alexander Dunn Pattison, Esq., Advocate, is situated on an eminence on the right bank of the river Clyde, in the parish of Old Kilpatrick and county of Dumbarton, and about nine miles distant from Glasgow.
Mountblow was originally part of Auchintoshan, an estate which was formerly in possession of the Abbey of Paisley, afterwards in that of the noble family of Abercorn, from whom it passed to Mathew Hamilton, son of the laird of Cochna. Mathew's granddaughter, Jean, married Walter Buchanan of Moss, and Auchintoshan continued in the family of Buchanan till 1839, when it was sold on the death of John Cross Buchanan.
In 1767 the part of Auchintoshan which now forms Mountblow was feued off by the Buchanans to Robert Donald.
This old Glasgow merchant was one of the well known "Tobacco Lords of Glasgow." He was born in 1724, and died about the end of last century. He was Bailie in 1765, and Provost in 1776, and in the difficult and troublous times in which he was in his prime, he proved himself a most active and energetic citizen.
Robert Donald was of an old Dumbartonshire family. His great-grandfather was William Donald of Lylestone, born circa 1620, and his mother was Janet Cumming (1) of Baremmen. (2)
The next proprietor of Mountblow was Henry Bowie, and it afterwards passed into the hands of the well known William Dunn of Duntocher; upon his death he was succeeded by his nephew, the present proprietor, who is a member of a well known Glasgow family. (3)
The house was built in 1767 by Robert Donald, and the changes which have been made in modern times have much spoiled the look of the fine old mansion. There is an old garden close to the house, also spoiled by improvements, and in it is preserved an ancient sculptured stone. This fine old specimen was formerly used as a stepping stone at a burn near Sandyford, and was removed to Mountblow by Provost Donald, but not before it was much injured.
An account of this stone was communicated to the Society of Antiquaries by Dr. Letsom in 1776. It is supposed to be of Danish origin; on its upper compartment the figure of an elephant can still be traced, and on the lower that of a knight on horseback.
(1) The Cummings had been long settled at Baremmen on the Gareloch in the parish of Rosneath. The late representative of the family was Robert C. Cumming, who died in 1876. He had sold the estate to Robert Thom, the present proprietor.
(2) There are few families now in existence in Glasgow who are more connected with the Glasgow of olden days than the Donalds. They are descended from James Donald of Geilston, elder brother of Provost Donald of Mountblow.
James Donald was born in 1713; he married a daughter of Yuille of Darleith, by whom he had a son, Thomas, who succeeded him. One of his sisters was the ancestress of the family of the Geils of Geilston, and a daughter, Margaret, married in 1777 James Dennistoun of Colgrain, merchant in Glasgow, great-grandfather of James Wallis Dennistoun of Dennistoun. James Donald was a Virginia merchant in Glasgow, and a Bailie in 1749 and 1753. He died in 1760. Thomas Donald of Geilston succeeded his father, and like him was a "Tobacco Lord;" he married Janet, daughter of Provost Colin Dunlop of Carmyle (see Tollcross), and died in 1798. He had (I.) Martha, who died unmarried in 1831. (II.) James, Captain 94th regiment, who married Anne Grahame of Whitehill, and had issue - Thomas, who married Miss Townsend, and Ellen, who married the Reverend William Somerset, grandson of the Duke of Beaufort. (III.) Colin Dunlop, the second son, was a prominent citizen of Glasgow. He was a writer there, and for forty years Commissary Clerk of Lanarkshire. He married into the old Glasgow family of Stirlings, his wife being Marianne, sister of William Stirling of Cordale, and George Stirling, and great-granddaughter of Provost John Stirling; by her he had five sons and five daughters, viz.:- 1) Thomas, writer in Glasgow, married Frances Maxwell, and has issue; like his father before him, he is Commissary Clerk of Lanarkshire; 2) John Stirling, married Mary Stirling; 3) Colin Dunlop, writer in Glasgow, married Helen Bogle Hamilton, and has issue; 4) James, married Miss Edwards, and has issue; 5) William, married Miss M'Lachlan, and has issue - 1) Janet, married James Dunlop of Tollcross (see Tollcross); 2) Matilda, died young; 3) Marianne, unmarried; 4) Mary, unmarried; 5) Anne, married to Count de Reshach, issue a son. (IV.) Thomas, 94th regiment, drowned on his passage home from India in H.M.S. "Java," which foundered at sea, 1st February 1807.
(3) Alexander Dunn Pattison is the son of the late Capt. Frederick Pattison, and grandson of John Pattison of Kelvingrove, merchant in Glasgow.
John Pattison, another son of John of Kelvingrove, was born there in 1783. He was a merchant in Glasgow, and took an active part in civic affairs, and was a keen politician in the exciting times of the first Reform Bill.
His brother, Lieutenant-Colonel Alexander Hope Pattison, was born at Kelvingrove in 1785. He was present during the whole Peninsular War, and for his distinguished services was made a knight of Hanover. He died in 1824.
Back to Contents