Newton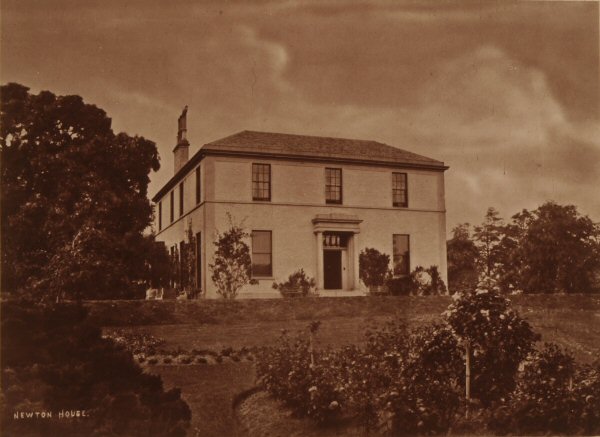 THE property of John Basil Hamilton Montgomery, Esq., is situated in the parish of Cambuslang and county of Lanark, and is about six miles from Glasgow. The house stands on the left bank of the Clyde near its junction with the Calder.
The lands of Newton formed, of old, part of the barony of Drumsargat, which was held by the great house of Douglas. They passed into the hands of the Hamiltons of Silvertonhill, by a marriage with a daughter of that family. (1) The Hamiltons possessed them for about two hundred years, when they seem to have been alienated by Francis Hamilton.
This Francis of Silvertonhill was, according to Douglas, "a very enthusiastick wrong headed man." He died shortly after 1641, "having," adds the same authority, "lived long enough to spend the whole paternal estate of the family."
In 1672 Newton was acquired by James Hamilton, who is supposed to have been a cadet of Silvertonhill. (2) He married, first, Elizabeth, daughter of his near neighbour, Gabriel Hamilton of Westburn, by whom he had two daughters: Elizabeth, born 1688, married to John Gray of Dalmarnock, (3) and Rebecca, died unmarried. He married, secondly, Margaret, daughter of Robert Montgomery of Giffen and Magbie Hill, and had James and Thomas, in turn lairds of Newton.
Thomas Hamilton of Newton married and had issue James, John, Dorothea, and Elizabeth. The three first had no descendants; and the last, by her husband, James Gray of Dalmarnock, had a daughter, Janet, who succeeded.
Janet Gray Hamilton of Newton married Colonel Richard Montgomery, cousin of Sir George Montgomery of Magbie Hill, Bart., and of Sir James Montgomery of Stanhope, Bart., by whom she had two children, who both died without issue and before her.
Mrs. Hamilton Montgomery died in 1823, and was succeeded by Sir James Montgomery of Stanhope, Bart., upon whom she had entailed the estate. He died in 1839, and the estate passed to his second surviving son, the present proprietor.
The old house of Newton was destroyed by fire in 1694. The next house, which was built immediately afterwards, is described as a "pleasant dwelling," and the present mansion was erected in 1825. (4)
(1) Douglas.
(2) Anderson.
(3) In 1823, on the death of Mrs. Hamilton Montgomery, the representation of the family seems to have passed to Robert Gray of Carntyne, grandson of Elizabeth Hamilton and John Gray of Dalmarnock, whose son was the late well known Rev. John Hamilton Gray.
(4) Newton was for long the residence of Alexander Glen Kidston, and after his death, of his son, John Pearson Kidston, both very well known citizens of Glasgow.
Back to Contents