Possil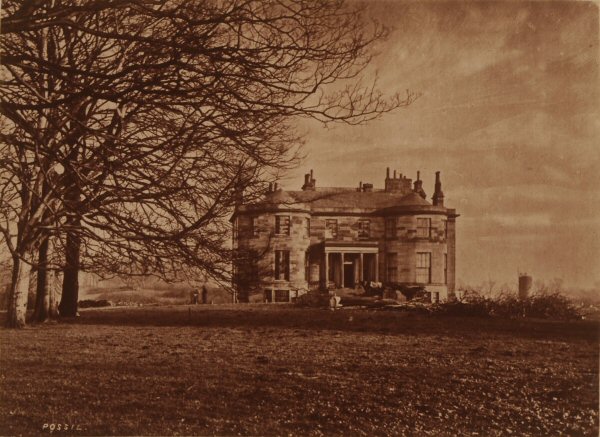 THE property of John Campbell, Esq., is situated in the Barony parish of Glasgow and county of Lanark, and is distant about three miles from the Cross of Glasgow.
About 1242 Alexander II. granted certain lands in the neighbourhood of Glasgow to the Bishop thereof, and those of "Possele" were among them. (1) In the sixteenth century they were divided into Over or Upper Possil, and Nether or Lower Possil.
In 1589 Over Possil was the property of Robert Chirnsyde, who was Commissary of Glasgow in 1602. (2) It afterwards came into the hands of the Crawfords of Milton, and in 1706 a bond of taillie was executed by John Crawford of Milton in favour of the second son of Sir William Stuart of Castlemilk by Dame Margaret Crawford, his spouse, eldest daughter of the entailer. There is included in that deed, among his other lands, "all and haill his thirty-six shilling tenpenny land of Over Possil." (3)
In 1828, on the death of his grand-aunt, Mrs. Margaret Stuart Rae Crawford of Milton, William Stuart Stirling succeeded, in terms of the entail, to the Milton estates, including Over Possil, and assumed the name of Crawford. He was the son of William Stirling, Captain King's Dragoon Guards, (4) who was the son of William Stirling of Keir by his second wife, Jean Stuart, daughter of Sir John Stuart of Castlemilk, Bart.
Nether Possil, which is the subject of this notice, was in 1588 divided into Nether Possil and Easter Nether Possil.
Easter Nether Possil, which was a forty-three and threepenny or fourpenny land, was about that time subdivided into three portions of a sixteen shilling and threepenny, an eighteen shilling, and a nine shilling land. In the testament of Archbishop Law, who died in 1632, among the "debtes awand in" there is the following:- "Item. Be the fewaris, fermoraris, tennentis, occupieris, and possessors of the Fourtie thrie s. iiij d. land of Nethir Possill," &c. These three portions of the lands of Easter Nether Possil frequently changed hands until 1703, when they were united in the person of Hugh Burns. In 1706 they became the property of the Cordiners of Glasgow. In 1728 they belonged to John M'Gilchrist, writer in Glasgow, and his spouse, and in 1749 to William Crawfurd of Birkhead, merchant in Glasgow, who had in 1744 acquired the lands of Nether Possil proper, and who thus became possessor of Nether Possil and all its subdivisions.
We return now to Nether Possil proper, which is the part of the estate where the mansion house is built. This was acquired in 1595 by Robert Crawford, who was the son of Hew Crawford of Cloberhill. It was sold in 1638 to Robert Vallange by the grandson of Robert Crawford. This Robert Vallange or Vallance was the son of "John Vallance, merchand burges of Glasgow," and one of his wives was Grizel, daughter of Colin Campbell of Blythswood; by her he had no issue. In 1644 James Gilhagie of Kenniehill was in possession, and in 1670 John Gilhagie succeeded.
The Gilhagies were an old and rich Glasgow family, but towards the close of the seventeenth century their fortunes were on the decline; and in 1698 James Gilhagie, then of Kenniehill, applied to the Scots Parliament for assistance. The Act states that, by the great fire of 1677, all of his houses in the Saltmarket and adjoining streets had been burnt, "with his plenishing in them, and his two well-furnist buiths and merchant ware;" one of his ships had been wrecked, and his "adventures" to Archangel, Madeira, and Canary Islands had failed; he had lost large sums by his coal works: "by all which, and the rigidity of severalls of his creditors, &c., he is depryved of all means of industry for subsistence of himself and his familie." (5)
In 1674 Nether Possil passed from John Gilhagie to James Vallange, son of Robert, who was formerly owner. In 1681 John Crawfurd and his wife were in possession. In 1683 John M'Ure, merchant in Glasgow, and in 1685 Robert Brock, goldsmith in Glasgow, held it. In 1697 it was acquired by John Forbes, writer in Edinburgh. He built a house upon it which is described by Hamilton of Wishaw in 1710 as "a new house, well finished, with good gardens and enclosures." In 1724 Samuel Forbes, his son, succeeded; and in 1744 William Crawfurd of Birkhead, merchant in Glasgow, acquired Nether Possil, and having in 1749 purchased, as already shown, the whole of Easter Nether Possil, he thus reunited the lands of Nether Possil, which had been subdivided in 1588.
In 1772 Robert Crawfurd, son of the preceding, succeeded to Possil, as the reunited property was now called. He possessed, in addition to this estate, that of Langside in the parish of Cathcart in Renfrewshire. He died about 1805, when the estate passed to his son William, by whom it was sold in 1808 to Alexander Campbell.
The new laird of Possil was the eldest son of a well known merchant in Glasgow, John Campbell senior, founder of the great West India house of John Campbell sen. & Co. (6) Alexander Campbell early entered the Army. He was present at the capture of the Cape of Good Hope in 1806, and at the battle of Corunna commanded the 20th Regiment. In 1838 he acquired the property of Keppoch, which adjoins Possil. He also bought the fine property of Torosay in Argyllshire. He was born in Glasgow in 1780, and died at Craigiehall in 1849. On his death his estates devolved upon his son, the present proprietor.
For many years previous to Colonel Campbell's death Possil had not been the family residence, and it never has been so since it became the property of his son. The late well known and talented Sheriff of Lanarkshire, Sir Archibald Alison, Bart., long rented it, and died there in 1867: he was the last occupant of the mansion.
After Possil came into the possession of the Campbells, various additions and improvements were made on the house and policies. It was then far away from the noise and smoke of the city, and stood among fine old trees. With its beautiful gardens, its grassy slopes, and its clear lake, Possil formed as delightful and retired a country residence as any in the county. But within the last few years all is changed. Only a fragment of the stables now remains to tell that a fine country seat once was there. One hundred acres of the estate, including the mansion house and pleasure grounds, have been feued to Walter M'Farlane & Co., iron founders, of Glasgow. They have removed the house, felled the trees, erected on part of it a spacious foundry for themselves, and laid out the rest as streets and dwelling houses. Their work is one of the finest and best conducted in Glasgow, and the new suburb of Possil Park, laid out by them with skill and intelligence, is rapidly becoming an important addition to the great city.
[1878]
THE CAMPBELLS.
The Campbells of Possil, or rather of John Campbell sen. & Co., deserve more than a passing notice. They were a representative family of those West India magnates, who came after the Virginia Dons, and came in for much of their social and commercial supremacy.
The refinery of sugar, after flourishing here for over two centuries, (7) has lately died out in Glasgow. But, from some cause or other, it has struck deep root in Greenock. Thanks to this accident the Clyde is still a great sugar port. But sugar is now-a-days almost lost in the crowd of new industries, and a modern frequenter of the Exchange could hardly realize how important the sugar trade, then exclusively a West Indian one, was reckoned within the memory of many living, nor how high the West India magnates (8) held their heads. Its palmy days were from the troubles with the American Colonies to the Abolition of Slavery, or say the last third of last, and the first third of this, century.
It probably was never entitled to the consideration it got. Being in few hands, it yielded fortunes that bulked in the public eye, and less showy trades may have been of more real importance. Yet it must have been very lucrative. It left behind it no single fortune equal to the largest fortunes left by the tobacco trade. But, if John Campbell sen. & Co., had only had one establishment to keep up, or if its partners had been close-fisted, it might easily have eclipsed Elderslie or Drumpellier. But there were enough of these Campbells, all living off the big house and all living at a bountiful old rate, to have horsed and mounted a troop of cavalry from their own stables.
Their pedigree is rather puzzling. There were a great lot of them : they were incurably given to cross marriages : and they had an exasperating fondness for the same names. Think of three simultaneous Mungos!
They are not one of our old families; they were here just three generations, coming with the West India trade, and, when it went, vanishing. They hail from Doune.
ALEXANDER CAMPBELL, a cadet of Kinloch, and a captain in the "Black Watch," was the father of three prosperous West Indians, Mungo Campbell of Kailzie, Colin Campbell of Park, and John Campbell of Morriston, and of a daughter, Elizabeth, who married her cousin, Alexander Campbell of Dallingburn.
I. JOHN CAMPBELL of Morriston, the old captain's third son, was founder of John Campbell, sen., & Co. He was born circa 1735, died 1808; married Mary Murdoch, daughter of James Murdoch, merchant, Glasgow, and had (besides John and Elizabeth, who died unmarried) four sons, Alexander, Colin, James, and Thomas, and two daughters, Mary and Helen. All the sons but the eldest were in "the house." So was one son-in-law. The eldest son was
(II. 1.) COL. ALEXANDER CAMPELL of Possil and Torosay, born 1780, died 1849. Though not actually in the house, he was interested in the West India trade, as he succeeded to his father's sugar estates, then worth £10,000 or £12,000 a-year. He married Harriet, daughter of Donald MacLachlan of MacLachlan, and Susanna Campbell. This Susanna Campbell was the Colonel's first cousin (being daughter of his uncle, Colin Campbell of Park (9)), so that his wife was his first cousin once removed.
Col. Alexander left a numerous family, of whom the eldest son is
(III. 1.) JOHN CAMPELL, who is now of Possil only, having (besides feuing the mansion and policies of Possil) sold the fine Mull property. (10) He has twice married into the family, first, Elizabeth Campbell of Ballimore, who was his first and also his second cousin, and, second, Helen Bogle Campbell of Colgrain, who was his first cousin. He has married, third, Elizabeth, daughter of the late well known Donald Home, W.S.
(II. 2.) COLIN CAMPBELL, long the worthy head of the house, born 1782, died 1863. (11) He bought in 1836, from the late James Dennistoun of Dennistoun, Colgrain, near Cardross, a fine estate, which had been for 500 years in the Dennistoun family. By his wife, Janet Millar daughter of Provost John Hamilton of North Park (see Northwoodside), Colin Campbell had ten sons and five daughters. The eldest son John, Captain Scots Greys, died without issue. The second son is
(III. I.) COLIN CAMPBELL, now of Colgrain, born 1819, married, 1845, Jessie, daughter of William Middleton, merchant in Glasgow. One of Colin's brothers, Thomas, married his first cousin, Mary, daughter of the first Possil : one of his sisters, as we have seen, married her first cousin, the present Possil : another sister married Alexander Struthers Finlay of Castle Toward, M.P. : and another married a son of the above William Middleton, Major William Middleton, 7th Dragoon Guards, to whom there is a monument in the nave of the High Church.
(II. 3.) THOMAS CAMPBELL, born 1790, died 1866, married, first, Agnes, daughter of Kirkman Finlay of Castle Toward, M.P., and, second, Mary Campbell of Glendaruel, and left a family by each.
(II. 4.) JAMES CAMPBELL of Moore Park (which see), born 1792, died 1874 : the last survivor of the family of John Campbell senior : a man of fine presence and stately manners, and familiarly known as "Dignity." He was latterly in the East India trade, first in the Glasgow house of Campbell Bogle and Douglas, and afterwards along with his nephews, sons to Colgrain, in the great Bombay house of Finlay Campbell and Co. He married Elizabeth Bogle of Gilmorehill, and had a numerous family. Of John Campbell senior's daughters -
Of John Campbell senior's daughters -
(II. 5.) MARY, born 1783, died 1851, married William Maxwell of Dargavel, (12) and had nine sons and four daughters. The eldest son was the late John Hall Maxwell of Dargavel, C.B. Of the younger sons six were in the army, which probably never before nor since got six brothers from Glasgow. Of these six, two are now General officers, Lieut.-General Alexander Maxwell, C.B., who commanded the 46th regiment in the Crimea, and Major-General Patrick Maxwell, a distinguished Indian officer. The fourth son was the late Francis Maxwell, well known here. The second daughter, Frances, is the wife of Thomas Donald, Commissary Clerk of Lanarkshire.
(II. 6.) HELEN was the first wife of her first cousin, Mungo Nutter Campbell (of whom hereafter), and had three daughters. The eldest daughter, Marion, married Sir John MacPherson Grant of Ballindalloch (whose second son now owns Ballimore). The second daughter, Susanna, died unmarried. The third, Elizabeth, was, as we have seen, the first wife of her cousin, John Campbell, now of Possil.
We must end with a bold attempt to "redd up" the three Mungos, all of them partners at the same time in the house.
(1.) Mungo Nutter Campbell, of Belvidere, and afterwards of Ballimore, Dean of Guild 1823, Provost 1824, born circa 1785, died 1862. (13) He was son of Alexander Campbell of Dallingburn, Collector of Customs at Port Glasgow. Collector Campbell was a cousin of John Campbell senior, to begin, and married his sister Elizabeth. Mungo Nutter Campbell, their son, married (as we have seen), first, his first cousin, Helen, daughter of his uncle and partner, John Campbell senior; second, a sister of his brother-in-law, Possil's wife, viz., Amelia MacLachlan, who was a daughter of Donald MacLachlan of MacLachlan, and Susanna Campbell of Park, and was, therefore, like her sister, Harriet, her husband's first cousin once removed. So that Mungo Nutter, besides being John Campbell senior's partner, was his nephew, and his cousin's son, and his son-in-law, and his niece's son-in-law, and his son's brother-in-law, which is abusing the liberty of the subject. To make some amends, his godfathers and godmothers (or some one for them) had equipped him at starting with kenspeckle agnomen, drawn from Miss Nutter, the wife of Uncle Mungo of Kailzie.
(2.) No such precaution had been taken when baptizing Mungo No. 2, and he, being a black-a-vice man, had to go through life as "Black Mungo." He was a grandnephew of John Campbell senior, through his brother, Mungo Campbell of Kailzie. Kailzie married Miss Nutter, of a West Indian family (unde Mungo Nutter), and was the father of Alexander Campbell of Hay Lodge, Peebleshire, who, from his West India property, was known as "Marran." Marran married Catherine Robertson, daughter of John Robertson, West India merchant, Glasgow, and was the father of Black Mungo. Black Mungo married Isabella Craigie Alston, daughter of John Gordon, first of Aikenhead, and had, with one daughter still living, two sons, Alexander and John Gordon, both dead without issue. Black Mungo had strong military tastes, and put both sons in the army, Alexander in the 17th Lancers, and John Gordon in the 42nd or Black Watch, the old corps of his great-great-grandfather, Captain Alexander. Black Mungo, his father, and, we believe, his grandfather were all partners in the house.
(I.) "White Mungo," whose bluff ruddy face, honest, kindly, and humorous, is still well remembered, was the last of the family here. He was the eldest son of Alexander Campbell of Hallyards, a Highland cousin of John Campbell senior. Hallyards came from Doune, the cradle of the family, and so was called "Sandy Doune." (14) Afterwards becoming a partner in the house, he was also known, from his keen application, as "Business Sandy." He was a man of great energy, a captain of the Highland Sharpshooters, and an ardent supporter of the Celtic Society. He was born 1768, and died 1817, leaving, by his wife, Barbara, daughter of Archibald Campbell of Jura, a large family. Of these Lieutenant-Colonel Robert Dennistoun Campbell married Sarah, daughter of James M'Call of Daldowie, who married, secondly, Lieutenant-general Alexander Maxwell named above. Mungo was the eldest son. Like the rest of them he was in the house, and he was an excellent man of business. But he lived too late : the palmy days of the West India trade were gone : and in 30th April, 1858, the business (15) was broken up. White Mungo, under his official name of Mungo Campbell junior, kept up some part of the old connection. But with his death on 29th December 1866, every trace has vanished of the famous old house of John Campbell senior and Co.
(1) Chartulary of Glasgow.
(2) Irvine, p. 386.
(3) Milton Entail.
(4) Captain William Stirling, by a second marriage, had another son, James Stirling Stirling, who, in 1828, under the entails the two estates, came in for Castlemilk, which his brother had to give up on becoming proprietor of Milton. He had to take the name of Stuart, and is the present Stirling-Stuart of Castlemilk.
(5) Quoted from "View of the Merchants' House of Glasgow."
(6) In 1787 John Campbell sen. & Co. had their "counting room" in "Reid's land, North side Argyle Street;" they afterwards removed to Buchanan Street, and finally to West George Street. Many of the members of this firm were well known citizens of Glasgow; among them Colin Campbell, who purchased Colgrain from the late James Dennistoun, Mungo Nutter Campbell of Ballimore, Mungo Campbell (Black), and Mungo Campbell (White), the latter of whom was at last sole representative of the firm, and on whose lamented death about two years ago this great Campbell house came to a close.
(7) This art, which originated in Germany in the end of the sixteenth century, was started here about the end of the seventeenth century. German or Dutch "Sugar Boilers" were for a long time imported as managers. One of these, Kaspar Klausen, appears (as Jasper Clawson) as late as Tait's Directory (1783). Kaspar was manager of the "South or Stockwell" Sugar Work. M'Ure names four Sugar Works as flourishing in his day, the King Street, the South, the Wester, and the Easter Sugar Houses. The last, which was built in 1669 (in the usual way, by a "joynt stock" company, consisting of John Cross, Robert Cross, James Peadie, John Luke, and George Bogle) was standing till the other day, and might have stood for centuries, if the Improvement Trust would had let it alone, a solid square tower like a border keep, but small, small, beside the big Greenock "Houses." It was on the south side of Gallowgate, No. 138, and is figured in Stuart.
(8) Whatever faults our West Indians had (and they had their share), it must always be remembered to their credit that they kept aloof from the slave trade. Glasgow, alone of the four great sugar ports - London, Bristol, Liverpool, and Glasgow - was clean handed in this matter.
(9) Colin Campbell for a wonder was not in John Campbell sen. & Co. He had a West India House of his own, Colin Campbell & Co. of Greenock. His wife, Anne Campbell, daughter of Thomas Campbell, of Tomperan, Perthshire, was a most beautiful woman, if Raeburn has not flattered her. His picture of her was one of the gems of our old Portrait Gallery of 1868, and of the recent Raeburn Exhibition in Edinburgh. Those who saw it will remember it well, with the black velvet hat pulled down over the forehead, and the upper part of the face in deep shade. Colin Campbell's "Park" is the same that in our day belonged to good John Henderson. Kailzie, a beautiful place on the Tweed, is again in Glasgow hands. It was bought a few years ago by Captain William Connel Black, whose father was the head of the well known printing firm of James Black & Co.
(10) Torosay is one of the finest places in Argyll. The now owner, one of the well known mercantile family of Guthrie, has changed the name - they are always changing the names in Mull - and calls it Duart.
(11) The Merchants' House are indebted to Colin Campbell of Colgrain through a curious circumstance. In 1828 he accepted a bill of exchange for £400, drawn on him by the Attorney on his estate of "Good Success" in British Guiana. This bill was never again heard of, and the holder could never be found. In winding up his old affairs in 1862, Mr. Campbell, "not wishing to retain money not really belonging to him," offered to the Merchants' House £672 (being the amount of the Bill with thirty-four years' interest), on their undertaking to relieve him in the very unlikely case of payment being still claimed. The House took the money on these easy terms, but accumulated the £672 with interest till 14th July 1868, when the long prescription ran out. It then amounted to £821, 8s. 6d., and was added to the common funds of the House.
(12) Dargavel's house was the tall building still standing at the north corner of Buchanan Street and Gordon Street, partly occupied by Frazer & Green. It was sold in 1833 for between 3,000 and 4,000 guineas.
(13) Ballimore (who was a strong Tory), for some reason or other, at one keenly contested election for Argyll, refused to take part with either side. They said then he should have been called Mungo Neuter.
(14) Sandy Doune had two brothers, well known here: Colin Campbell of the Lynn, Dutch merchant, and James Campbell of Newton Lodge, West India merchant, but not in the big house. James Campbell was known as "Two-brooms," from having, it was said, stuck up not one but two brooms on a ship he had for sale. The name descended to his son, John Campbell, who was well known in our own day; a great reader, an eager disputant, and a tough walker.
(15) At the finish only five partners were left, all Campbells, of course: Thomas Campbell, James Campbell (sons of John Campbell sen.), Mungo Campbell (Black), Mungo Campbell jun. (White), and Colin Campbell jun., the present Colgrain.
Back to Contents