Rosebank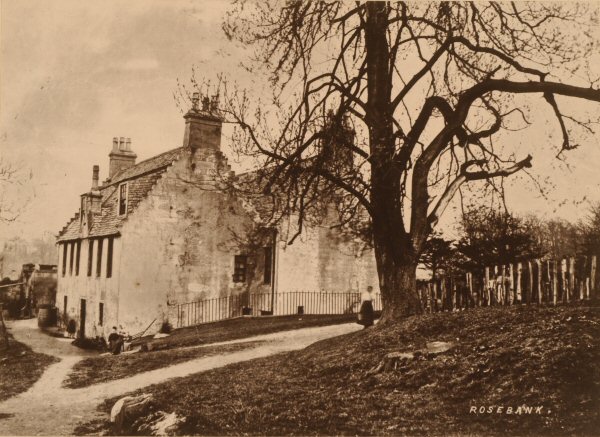 ROSEBANK is situated on the left bank of the Clyde, in the parish of Cambuslang and county of Lanark, about four miles from Glasgow. It is a feu from the barony of Drumsargat, which came into the possession of the ducal house of Hamilton about 1455. It was originally about fifty acres in extent.
Early in last century it belonged to Provost John Murdoch, son of old Provost Peter Murdoch and Mary Luke of Claythorn. His daughter, Margaret Murdoch, married Lord President Sir Thomas Miller of Glenlee, and towards the end of last century Rosebank became the property of their son-in-law, John Dunlop, another Provost, son of a Provost.
John Dunlop, merchant in Glasgow, was a younger son of Provost Colin Dunlop of Carmyle, and was himself Provost in 1794. In 1789 his town residence was on the east side of Queen Street, and he afterwards, in 1793, bought a house and garden in Virginia Street which had been long occupied by George Oswald of Scotstoun, and before him by Alexander Spiers of Elderslie.
John Dunlop was a man of taste, and, taking advantage of a fine situation and beautiful wood, made Rosebank one of the very sweetest places on the Clyde. He was a wit and a poet as well, and wrote several pieces, among which are the beautiful songs "Here's to the year that's awa," and "O dinna ask me gin I lo'e ye." He was afterwards Collector of Customs at Bo'ness and Greenock, and died 4th September 1820. His son, John Colin Dunlop, Advocate, was many years Sheriff of Renfrewshire, and was well known as the author of the "History of Fiction" and other works of merit. He died unmarried on 26th January 1842, an only child, and his father's direct line terminated with him. Rosebank had been sold in 1801 to David Dale.
David Dale was one of the most respected citizens of Glasgow at the end of last and beginning of this century. He was born at Stewarton in 1739, where his father was a small shopkeeper. He began life as a weaver, first at Paisley, and then at Hamilton, and came to Glasgow when in his twenty-fourth year. There, in Hopkirk's Land, in a small shop in the High Street, (1) five doors above the Cross, he began business as a dealer in French yarns. He was very successful in this trade. In 1783, when the Royal Bank first established an agent in Glasgow, he received the agency. He founded, and along with his son-in-law Robert Owen, he long carried on the large cotton mills at New Lanark. And he was engaged in several other manufacturing concerns. But by method and industry he was able to undertake much besides his own multifarious business. He was a magistrate in 1791 and 1794, and gave much time and money to the various charitable and religious institutions of the city. Originally a Churchman, he latterly became a Dissenter, and along with several other friends formed a Congregational Church in Greyfriars' Wynd. (2) "Though a decided sectarian, he was altogether destitute of that bigotry which too often belongs to such bodies, offering at all times his purse and his support to every Christian scheme, by whatsoever clerical party it might have originated." So writes Dr. Strang in his "Clubs of Glasgow."
His townhouse, still standing, was at the south-west corner of Charlotte Street, but towards the close of his life he spent much of his time at Rosebank, in the quiet and beauty of which he much delighted. He died in 1806, aged eighty-six.
Rosebank was afterwards acquired by the Caledonian Railway Company, by whom it was divided into two parts. One of these was bought by Thomas Gray Buchanan of Scotstoun, whose property and residence of Wellshot adjoined. The other, including the house, was bought by the Messrs. Dunlop of the Clyde Iron Works, who immediately afterwards sold almost the whole of their purchase to John Bain of Morriston, and his representatives are now [1870] the proprietors.
After the Dales abandoned it as a residence, Rosebank was long the summer retreat of our venerable townsman, Mr. George Burns.
The Burns have been settled here for more than a century, and have yielded an unbroken line of respected and worthy citizens, a clan (in spite of the proverb) with no clan-jamfrie.
JOHN BURNS was admitted Burgess and Guild Brother of Glasgow on 20th October 1768, and his name appears in the first Glasgow Directory as teacher of English. He was also author of a good English Dictionary, and of several educational works of repute in their day. And he set his family a pattern of piety and diligence which they have not failed to copy. He came from near Stirling, and was of the same stock with the well known Dr. Burns, minister of Kilsyth. The family name was originally Burn. John Burns' elder brother was Burn of the Haugh. He himself owned the little property of Corntown, near Stirling. By his wife, Janet Young, daughter of William Young of Risk, (3) he left an only son.
The REV. JOHN BURNS, D.D., of the Barony, born near Stirling on 13th February 1744, old style, died (4) at Glasgow 29th February 1839. He was long the father of the Church of Scotland, and he served a Glasgow cure longer than any minister on record, having been sixty-nine years in the Barony, four of them as assistant to the Rev. Lawrence Hill, and sixty-five as minister. (5) The queer Barony Church was built for him by the landward heritors in 1798. For two hundred years before that, the Barony congregation had met in the crypt of the High Church, an eerie place for worship, which the quick eye of Sir Walter caught for a famous scene. Dr. Burns was a pious and faithful minister in those dreary old moderate days. Almost alone among his brethren, he was a friend to the Anti-Slavery Society, and to the Bible Society and to foreign missions, and he deserves the honour, usually assigned to Raikes of Gloucester, of having originated Sunday schools. (6) Raikes began about 1782. But Dr. Burns, almost immediately after coming to the Barony, in 1774 or 1775, opened a "Sabbath Night School" in the Calton (then part of the parish) and taught there himself. The Barony, which from the feuing of the glebe is now one of the best livings in Scotland, did not, for many years of Dr. Burns' time, yield much over £150 a year. This included an allowance in lieu of a manse, (7) and the rent of the glebe, let for ten guineas to a cowfeeder. Dr. Burns married Elizabeth Stevenson (of the family now represented by Stevenson Hamilton of Fairholm), and had seven sons and two daughters. Of the daughters, Elizabeth married David MacBrayne, and was mother of our townsmen John Burns, David, and Robert MacBrayne. Of the seven sons four grew up: John, Allan, James, and George.
I. JOHN BURNS, M.D., F.R.S., and member of the Institute of France, long one of our leading practitioners and most respected citizens, first private Lecturer here on anatomy, first Professor of Surgery in our University, and author of several excellent works both medical and religious, born at Glasgow 13th November 1775, drowned in the Orion 18th June 1850. (8) He married Isabella, daughter of Rev. John Duncan of Alva, and had 1) John, of the 78th Highlanders, afterwards Lieutenant-Colonel of the 2nd Royals, born in 1806, and died in service at the Cape in 1853 unmarried. (9) 2) Allan, a rising physician, who was born in 1819, and was cut off in 1843 by typhus fever, caught from a poor patient. He had married Catherine Bogle, daughter of Archibald Bogle (of the Shettleston family) and Margaret Kennedy of Auchtifardle, but he left no family.
II. ALLAN BURNS, M.D., a surgeon of brilliant promise, born 1781, died 1813, cut off in his thirty-second year through a puncture got in dissecting. His favourite pupil, Granville Sharp Pattison, has a short memoir of him, prefixed to an addition of some of his writings, which were translated for text-books on the Continent. He was himself a favourite pupil of Sir Astley Cooper's, who chose him when quite young for an appointment to the Russian Court. A huge diamond ring, which the Empress gave him on his leaving, is in the possession of his nephew, John William Burns.
III. JAMES BURNS of Bloomhill and Kilmahew, born 1788, died 6th September 1871, a partner in the Cunard Company and in G. & J. Burns, a good man, and a good friend to the Free Church. He married, first, Margaret Smith (daughter of William Smith of Muirbank), by whom he had no children; and, second, Margaret Shortridge (daughter of William Shortridge, of the old and complicated Spreull-Shortridge family, and his wife Elizabeth Yuille of Darleith). By her he left an only child, John William Burns, who has added to his patrimony the fine estate of Cumbernauld, the ancient possession of the Flemings.
IV. GEORGE BURNS of Wemyss Bay, the youngest child and only survivor of the family, born 1795, well known as founder of the great shipping firm of G. and J. Burns, and as one of the founders of the Cunard Company. The "Iona Route" with its elaborate connections, which has opened up the glories of our West Highlands, was also his doing, and he worked it for some years, on a less splendid scale, but entirely on the same plan as we have it to-day from his successors, David Hutcheson & Co. He married in 1822 Jane Cleland, daughter of the eminent statist, Dr. James Cleland, by Margaret Rodger, daughter of James Rodger, merchant in Glasgow. Mrs. George Burns was truly a "woman full of good works and alms-deeds which she did." She brought to these the energy and through-put that she inherited from her father. And she had graduated under Dr. Chalmers. Of the famous band of Christian workers whom that great master trained she was almost the last survivor, and no unworthy representative. After a long life of active piety and benevolence, retaining to the last a rare union of the freshness of youth with the wisdom of age, she died at Wemyss House on 1st July 1877, in her eighty-fourth year. Her sons are John Burns of Castle Wemyss, and James Cleland Burns of Glenlee.
The Murdochs of Glasgow
There are few of the old Glasgow families who deserve better of the city than the Murdochs, and to pass them over without some notice, however imperfect, would be a notable omission in this book.
The Murdochs have always stood well in Glasgow, but it was during last century that they and their relatives were in the plenitude of their power and usefulness, and during the '15 and the '45 they were "the pilots who weathered the storm." They had a long tack of power. From the time when Robert Rodger was Bailie in 1699, onward for three quarters of a century, there was almost constantly either a Rodger, or a Murdoch, or a Cochrane, or a Buchanan, or a Dunlop, or a Donald, or a Bogle, or a Speirs, either on the civic throne or in the magistracy.
Patrick Murdoch, a merchant in Glasgow, descended from the old Rentallers on the Archbishopric, was born in 1627. He married Margaret Gemmil, and had a very large family, the majority of whom we must dismiss without comment. One of the younger sons was Zacrie, who (by Elizabeth his wife, daughter of Robert Rodger, a worthy citizen, who was Bailie in 1699, and Provost in 1707 and 1712) was the father, besides many other sons and daughters, of Zecharias, afterwards one of the towns' officials, and keeper during the '45 of the "town's impost books."
Peter Murdoch, merchant and sugar refiner in Glasgow, Patrick's son and Zacrie's elder brother, was born in 1670, and married, 1696, Mary Luke, daughter of John Luke of Claythorn. In 1711, and at intervals till 1727, he served as Bailie; and in 1730 and 1731 he was Provost. He was an excellent and useful citizen. He had a large family. His eldest daughter, Janet, married Andrew Cochrane of Brighouse, the famous Provost in 1744 and 1745, who carried the city with honour through the danger of the Highland Invasion, and who afterwards, along with his relative Bailie George Murdoch, succeeded by his skill and firmness in recovering from the Government compensation for the town's losses.
Provost Cochrane is commemorated in Cochrane Street and in a monument in the Cathedral. But his best memorial is to be found in the "Cochrane correspondence," where the present generation would do well to study what a Glasgow Magistrate was in days of old. One does not know whether to admire most his courage and contempt for the enemy, or the prudence and wisdom he displayed in carrying the town through the crisis of '45, and particularly during its occupation by the Highlanders. He was also a thorough merchant, and he had a knowledge, very rare in his day and not common in our own, of the science of trade. He was of material service to Adam Smith in his great work, and the younger merchants of his day owned that he had done much to encourage them to enlarged views and extended operations. Provost Cochrane left no descendants.
Margaret Murdoch, another of Provost Peter's daughters, married the Rev. John Logan of New Kilpatrick. Martha, a third daughter, married Archibald Buchanan of Auchentorlie (see Mount Vernon). The Provost's eldest son was Peter.
Peter Murdoch was born in 1784. He married Margaret, youngest daughter of Sir Archibald Stewart of Blackhall, Bart.
He was father of another Peter Murdoch born in 1734, died at Auldhouse in 1817.
Grandfather of James Murdoch, born in 1762, married Fanny, daughter of John Wallace of Kelly, and died at Roseneath in 1841.
Great-grandfather of Peter Murdoch of Langbank, born 1795, an old Waterloo officer, and latterly, like Peter I., a sugar refiner in Glasgow; married Barclay, daughter of George Brown of Capilrig,
And was great-great-grandfather of James Barclay Murdoch, the present accomplished representative here of the old and honoured race of the Murdochs of Glasgow.
John Murdoch of Rosebank, another son of old Peter I., was born in 1709. He succeeded his brother-in-law, Andrew Cochrane, as Provost, and was an excellent citizen. By his marriage, in 1732, with Margaret, daughter of William Lang, merchant in Glasgow, he had two daughters, Margaret and Ann. Margaret married Thomas Miller, afterwards Sir Thomas Miller of Glenlee, Bart., and had issue - 1) William, the second Baronet, afterwards Lord Glenlee; and 2) Jessy, the wife of John Dunlop of Rosebank. Ann married John Wallace of Cessnock, and died about 1754 without issue.
Other well known members of the Murdoch family are George Murdoch, Bailie in 1744 and 1747, Dean of Guild 1750 and 1751, and Provost 1754 and 1755. He it was who, along with Provost Cochrane, went to London in the beginning of 1749 to claim compensation for the town's losses during the Rebellion. After about six months very uphill work they succeeded, and on the 14th June 1749 it is recorded that they received from "the Magistrates and Council for themselves and in name of the Community, . . . their most hearty thanks." His daughter married John Bogle of Hamilton Farm, whose daughter, Martha, was wife of Colin Dunlop of Carmyle (see Tollcross.) Another and later George Murdoch was Provost in 1767, and died at Frisky Hall in 1796. In 1768 the first Jamaica Street Bridge was erected, and he laid the foundation stone. His daughter, Margaret, married George Yuille of Darleith, the grandfather of Andrew Buchanan Yuille, now of Darleith, an old and esteemed citizen of Glasgow.
Provost John Murdoch, in 1750, built the first house in Argyle Street, that at the east corner of Dunlop Street, long well known as the Buck's Head Inn. It was a fine specimen of good old-fashioned architecture. Provost Colin Dunlop of Carmyle's house, next door east, is still standing, though now in a sadly degraded state, with a Cooking Depot in the fine old drawing room. Provost Murdoch died in his house in 1776, and it was soon afterwards sold to Thomas Hopkirk, merchant in Glasgow. His son, James of Dalbeth, disposed of it in 1790 to Colin M'Farlane, vintner, who made it into an Inn, and so it continued till our own days. There used to be a nice jolly looking Buck's Head over the door, and the whole appearance of the place was comfortable and social. But now the only memento of this excellent house of entertainment is an animal of the deer order, perched in an uncomfortable attitude, and looking very much out of place, away at the top of the cheap clothing establishment which has replaced the old Hostelry.
(1) The rent of this shop was £5. But this was too much, David thought, and he sublet half to a watchmaker for 50s. This half was resumed in 1783, and formed the first Glasgow office of the Royal Bank of Scotland. The bank remained there for some years, till they removed to the premises in the south-east corner of St. Andrew's Square, still recognisable by the two square slabs in the pavement on which the two sentry boxes stood.
(2) This was generally known as the "Candle Kirk," from having been erected at the expense of Archibald Paterson, a candle-maker. Here Mr. Dale was very many years an active member, and himself constantly conducted the services. For this he suffered much ridicule and insult, but he lived these down; and, when he died, the magistrates, and town's officers with their halberts, and a great crowd of citizens, followed the good man's remains to the Ramshorn Kirk-yard.
In Chambers' Biographical Dictionary there is an excellent sketch of his life and labours. It is by the late Andrew Liddell, one like-minded with David Dale, and associated with him in many good works. A characteristic sketch of David Dale from "The Morning Walk," is given in Stuart's Glasgow, and also in "Glasghu Facies."
(3) Janet Young had been a staunch adherent of the Rev. Ebenezer Erskine of Stirling, one of the four outed ministers of 1733. She continued a Seceder even after her marriage to an Established Churchman. But she afterwards quietly seceded from the Secession (as others have done) from being served too often, not with "the grain by which a man may live," but with diatribes against the Establishment. It was not on such husks as this that Ebenezer Erskine fed his people, nor yet Thomas Chalmers, his.
(4) He remembered as a child seeing the Hessians march past his father's house towards the finish of the Rebellion in 1746.
(5) At a soiree of the Barony Congregation held in the City Hall, on 13th December 1876, five successive ministers of Barony were present, or represented, on the platform: 1) Dr. J. Marshall Lang, the worthy present minister, inducted in 1873; 2) Professor George Macleod, brother of Dr. Norman Macleod, inducted in 1851; 3) Mr. Robert Black, brother of Dr. William Black, inducted (as assistant and successor) in 1829; 4) Mr. John Burns, grandson of Dr. John Burns, inducted in 1774; 5) Mr. Lawrence Hill, great-grandson of Mr. Lawrence Hill, inducted in 1750. The Rev. Henry Monteith Hamilton, minister of Hamilton, great-grandson of Mr. Hill's predecessor, Dr. John Hamilton, was to have been present, but was detained. He would have carried us back to 1737.
(6) At least, on this side of the Atlantic. A little before the middle of last century, Ludwig Hacker, at Ephrata in Pennsylvania, had a Sunday School in connection with a small body of German Seventh Day Baptists. This school was broken up by the war in 1777, and the school-room was turned into a military hospital. A Sunday School is said to have been held at Catterick in Yorkshire about 1763.
(7) In the Directory for 1789 John Burns is down as living in Duncan's land, High Street, and the minister of the Barony, close by "second flat New Castlepennis land east side High Street." This was nearly opposite the old Grammar School Wynd. Dr. Burns afterwards moved to a land in George Street that got the name of "the Holy Land," from the number of ministers settled there: Dr. Burns, and Dr. Balfour of the outer High, Mr. Macleod of the Chapel of Ease, Mr. Williamson, his colleague, and Mr. Mushet of Shettleston.
(8) Dr. Burns' appearance must be still familiar to many of us, the long white hair, the bright face, the trig figure, the quaint costume, collarless coat, knee breeches, black silk stockings, shoes and buckles. He was the last man here who stuck to this old fashion. The Hunterian Museum has a fine portrait of him so dressed. It is one of Graham Gilbert's best works, and evidently, by the attitude and other details, challenges comparison with Sir Joshua's picture of William Hunter, that hangs in the same room.
(9) Colonel Burns died of an illness, the result of fatigue and exposure in the Kaffir War. Strangely enough the place where he was struck down was "Burns' Hill," a mission station that had been founded from Glasgow, and named after the good minister of the Barony. "Lovedale," another, and now very important station, founded at the same time, bears the honoured name of Dr. Love of Anderston.
Back to Contents