Ruchill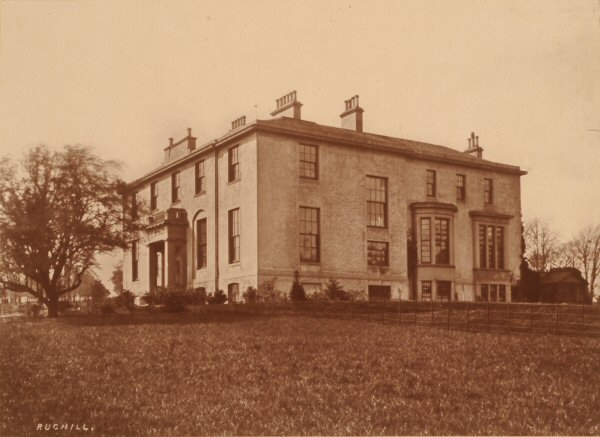 THE property of William James Davidson, Esq., is situated in the Barony parish of Glasgow and county of Lanark, and is about three miles distant from the Cross.
Early in the seventeenth century the Peadies were a considerable family in Glasgow, and about the middle of it James Peadie was in possession of Ruchill, or Roughill, as it was then called. He was a leading merchant in Glasgow, Dean of Guild in 1691, and Provost in 1692 and 1697. He was a partner in the Eastern Sugar-house, and, along with John Anderson of Dowhill and others, was the first who brought "a loadning of cherry sack to Glasgow."
He was succeeded by his son, James Peadie, who was Dean of Guild in 1720 and 1726, and Provost in 1727. M'Ure, in his "Endless Genealogies," says of him that "James Peadie, younger of Roughill, late Provost of this city, now deceast, whose death was much lamented by the inhabitants of this city," married Margaret Govan, daughter of John Govan of Hugginfield, "and has issue, viz., John Peadie, now of Roughill, who was married to Mrs. Margaret Stuart, sister-german to Sir Michael Stuart of Blackhall, Bart., who lately died, and left only one son to be heir to an opulent estate."
In 1718 James Peadie acquired from Lawrence Crawford of Jordanhill part of the lands of Garrioch, and Easter and Wester Gairbraid. These lands had been sold previously by Ninian Hill of Lambhill, with consent of Mary Crawford, his wife, to Lawrence Crawford. They still form a part of the estate of Ruchill, but a considerable part of Garrioch has been acquired by Government for the new barracks. (1)
Provost Peadie died before 1730, and was succeeded by his son, John Peadie, (2) who was in possession about six years only, having died in 1736. James Peadie, his son, a child of six years old, was the next laird of Ruchill, but he did not long enjoy it, as the following extract from the "View of the Merchants' House of Glasgow" proves:- "The Exers. of James Peadie of Ruchill, who died 20th July 1740, in ye tenth year of his age, gave Twenty pounds Sterling, for the use of ye Poor of the Merchants' Rank."
On the death of this boy, Ruchill passed to his five aunts as heiresses portioners, from whom, in 1749, Allan Dreghorn, merchant in Glasgow, bought it. He died in 1764, and left it to his nephew, Robert Dreghorn, better known as "Bob Dragon." (3) Bob Dragon died in 1804, when his sister Elizabeth succeeded. On her death in 1824, Ruchill became the property of her niece, Isabella Bryson Dennistoun.
This lady was the eldest daughter of James Dennistoun of Colgrain, by his second wife, Margaret Dreghorn, sister of Robert and Elizabeth Dreghorn, successively of Ruchill. She had married, in 1804, Gabriel Hamilton Dundas of Westburn and Duddingston, by whom she had a numerous family.
In 1835 the Hamilton Dundases sold the estate to James Davidson, merchant in Glasgow, (4) and on his death it became the property of his son, the present owner.
The original house is supposed to have been built about 1700, and fronted west. About the beginning of this century a large addition was built to the end of it, and the house then fronted south. When Mr. Davidson bought it, he re-faced the old house, and built at the back. There has been no alteration since.
[1878]
The Dreghorn Family
The Dreghorns were not an old Glasgow stock. They came, and after three generations they vanished. But they were well known folk while they lasted. The founder of the family was
ROBERT DREGHORN I., born 1680, died 1742. Like his son after him, he is commonly designated "wright in Glasgow." But trade was not so subdivided then as now, and the Dreghorns were both wrights and plumbers, and were extensive timber and lead merchants as well, and, whether or not reckoned of the merchant rank, they were citizens of credit and renown. Robert I., as early as 1714, when he was only 34, had spare capital to work coal in the great Govan field, whose wealth after five generations seems still inexhaustible. He had also a "heugh" on the Camlachie field, in which more than one Glasgow family has sunk its fortunes. He was repeatedly Deacon of the Wrights, and was Deacon when M'Ure wrote in 1736, and to him and his brother Deacons, with Deacon Convener James Drew at their head, M'Ure inscribes his record of the good service done by "their renowned ancestors, the Trades of Glasgow," in saving the High Kirk from the hand of the spoiler in 1579. Robert I. left two sons, Allan and Robert.
I. ALLAN DREGHORN of Ruchill, born 1706, died 1764. He followed his father's business, and to good account. He was leading partner in the great Smithfield Iron Co. He was one of the six original partners of the famous old Ship Bank. In 1745 he was one of the six Commissioners chosen to treat with the rebels (see Mount Vernon). In 1749 he bought Ruchill. In 1752 he built the Dreghorn Mansion in Great Clyde Street. And the same year he astonished the Town by appearing in his own carriage, a ponderous structure built by the hands of his own workmen in his own woodyard hard by. It was the first private carriage Glasgow had seen. (5) What clusters of little boys must have peered at it through his iron railings! How the women must have set down their stoups to stare as it rumbled up the Stockwell, and the carters on the Garscube Road have pulled to one side as it jolted past to Ruchill! Allan Dreghorn married Bessie Bogle, daughter of Robert Bogle third of Shettleston and Jean Carlyle, but he had no children, and, under certain provisions for "Lady Ruchill" (who survived till 1767), he left as his heir his nephew, Robert III., the only son of Robert I.'s younger son.
II. ROBERT DREGHORN II. of Blochairn, born 1708, died 1760. Robert II. aimed at something above the paternal and fraternal joining and plumbing, and was a shipowner and a merchant in the Virginia trade, then in all its glory. In 1752 he bought the estate of Blochairn, which had belonged to the old Glasgow family of the Spreulls, and which his descendants still own. By his wife, Isabella Bryson, he left two daughters, Elizabeth, who succeeded to Ruchill but died unmarried, and Margaret, the second wife of James Dennistoun of Colgrain, and one son,
ROBERT DREGHORN III. of Ruchill and Blochairn, the well known "Bob Dragon." The memory of this poor man - poor amidst great wealth - still lingers here. Some old folks may even yet remember his strange figure, tall, gaunt, ill-favoured in feature and expression, stalking our streets day after day, silent and alone : and a younger race may see his likeness in Kay's "Morning Walk." By inheritance from his father and his uncle, by trading, and by hoarding, he acquired a fortune that was then enormous, and that would be considerable even now; and, as one of those awful Virginia Dons whose red cloaks dazzle us even at this distance, and owner of a great town mansion and not one but two country seats, he was a man of note. But wealth and position brought him neither happiness nor popularity. Naturally of a melancholy temperament, he fell latterly a prey to the miser's delirium tremens, the horror of dying of want. And by his ill looks, his cold manners, his strange lonely ways, his love of money, and his character (deserved or undeserved) for profligacy, he was half hated, half feared, and "Bob Dragon's" name (like "Marlbrook's") was a power to hush little boys and girls with. He died on 19th November 1804 in his house in Clyde street. (6)
He had never married, and his fortune passed to his sisters, and after them to his nieces, the four Miss Dennistouns. These young ladies were reckoned the greatest heiresses of their day, and one after another made brilliant marriages. Isabella Bryson married Gabriel Hamilton Dundas of Westburn and Duddingstone. Janet Baird married Hugh MacLean of Coll. Elizabeth Dreghorn married Sir Duncan Campbell of Barcaldine. Mary Lyon married Sir William Baillie of Polkemmet. Ruchill fell to the Hamilton Dundases, who sold it to Mr. Davidson : Blochairn fell to the Baillies, who still own it.
(1) These are a vast improvement, physically and morally, on the old barracks in the Gallowgate. But one may be allowed a passing pang at seeing turned to other uses the immemorial Place d'Armes of Glasgow. The now empty barracks, the first built here, only date from 1795. But they were built on "the Butts," a range of vacant ground devoted in old days to the "Wappenschawing" and archery practice of the citizens.
(2) Provost Peadie had another son who was drowned in a well near the house at Ruchill. The child was stretching over it to look into a bird's nest on the other side, when he lost his balance and fell in.
(3) The key of the old cellar at Ruchill was a wonderful article, about a foot long. Bob Dragon was very careful not to allow it out of his custody. After protracted sittings at table, although his head was tolerably clear, his legs occasionally refused to do their office; and when new supplies of wine were wanted, he used to mount his butler's back, and, armed with this formidable instrument, proceed to the cellar himself.
(4) James Davidson of Ruchill was twice married. By his first wife, Elizabeth Gardner, his surviving children are Agnes and William James, now of Ruchill. By his second wife, Mary Wilsone, there is one surviving son, Charles Henry Davidson.
(5) Luxury spread fast even in those days.. There are three Coachmakers in the first Directory (1783).
(6) A long but not very accurate notice of "Bob Dragon" and his family will be found in "Glasgow Past and Present," vol. III. See also Strang's "Clubs," &c. His likeness and a view of the Dreghorn Mansion are given in Stuart and in "Glasghu Facies."
THE DREGHORN MANSION, still standing in a mutilated state on Clydeside, at the south-east corner of Ropework Lane, deserves some notice. It cannot vie in historic interest with the famous Shawfield Mansion, the scene of the Pretender's melancholy Court and of the most notable riot in our annals. But its story, which includes a very fair riot of its own, is worth telling. And it is, or rather was, a good specimen of the first-class Glasgow mansions of last century. Of these not one is now left entire. Two others are still standing. Lainshaws, the finest of them all, is bedded in the Exchange, but it is only to be found by looking for it. No. 51 Argyle Street is Provost Colin Dunlop's house in the Westergate, but it has been sadly "altered to suit tenants." The others are all gone - the Shawfield Mansion at the West Port : the Virginia Mansion that looked down Virginia Street : Milton's house, that looked down Queen Street from amid its tall rookery : Busby's house in Queen Street : Hillington's in Jamaica Street : Provost Murdoch's in the Westergate : and the rest of them, those roomy and picturesque hotels, entre cour et jardin, with which our old Notables used to enrich our street scenery.
The Dreghorns' was the last of them to be dismantled. It disappeared some twenty years ago, but only by being buried inside a tall furniture warehouse. Had this been removed, it would, only that its wings had been clipped away, have come back to view much as when its splendours first burst on our forefathers. But the Romanists have bought it (by the help, rumour has it, of Lord Bute, the Monte Christo of his new sect), and within the last year or two it has been so altered that Allan Dreghorn would scarcely recognise it: only his fine old drawing-room he would find just as he left it.
It was the younger of two such mansions which long stood side by side between the Water Port and Ropework Lane, and from amid shrubs and trees, looked across the silver Clyde to the green fields of Gorbals and away to Cathkin Braes and Neilston Pad. The elder of these two houses (taken down in 1829) was rising amid the awe of the citizens when M'Ure wrote in 1736. "Lastly," he says, winding up his Homeric catalogue of the glories of Glasgow, "Bailie John Craig has built, and is yet building, a stately house of curious workmanship, beautifully enclosed with several workhouses, shades, and storehouses, with a garden and summer parlour of fine hewen stone, so that no carpenter or joyner in the kingdom has its parallel."
This challenge to the carpenters and joyners of the Kingdom was taken up in Glasgow itself. The Bailie had migrated from the Bridgegate. And from the Bridgegate his neighbour, Allan Dreghorn, followed him to Clydeside, and between the "stately house of curious workmanship" and "the town's great and magnificent hospital" built the fine old mansion which has outlived them both. The two men were in the same trade, and may have been rivals : or there may have been a rivalry between the two wives : if there was, Mrs. Bailie Craig must have been finally extinguished by the Dreghorn carriage.
After Bob Dragon's death Ruchill was the family residence, and the old town house was shut up. By-and-by the whisper grew that it was haunted. Lights had been seen, strange sounds heard within - evidently Bob Dragon still hung about his old quarters. The ghost was not laid till 1812, when the house was opened, and the cellars were found piled feet deep with grains of malt. Smugglers had taken possession of the empty eerie place as an illicit distillery, and had left the bulky refuse behind. After this, George Provand, a colour maker, made bold to take the Dreghorn Mansion as his house and workshop. But he found worse trouble than ghosts. That happy thought, the Anatomy Bill, had not then been suggested : the public mind was constantly stirred by wild stories of body-snatchings, and of murders done (as murders afterwards were done by Burke and Hare) to supply the surgeon's table : and somehow poor Provand was suspected of using his premises as a depot for the horrid trade. It is said some red paint had run into the gutter from below the door of his yard, and had been taken for the blood of his victims. The end of it, at any rate, was, that on Friday, the 17th February, 1822, a furious mob attacked the house, broke the windows, burst the doors, gutted the place, and tossed the furniture into the Clyde. They could not find Provand himself, or they would no doubt have killed him. But they abused his son and his servant to the peril of their lives, and some gentlemen who tried to calm their fury were little better served. Bailie Lawrence Craigie had to fight his way backwards to the attic, defending himself with the leg of a table, and probably saved his life by barricading himself in, and escaping through the window by the help of two sheets knotted together. Procurator Fiscal Wilson, Bailie Mitchell (the silversmith), his son, Alexander Mitchell (our late regulator of town's clocks), and others were roughly handled : and the riot was only quelled by the help of the Riot Act and the soldiers, horse and foot. As before with the Shawfield Riot, and since with the Chartist Riots, the town was responsible for a heavy loss of property, and the Magistrates offered a reward of 200 guineas for the discovery of the ringleaders. Five of these were convicted at the next circuit, and sentenced to fourteen years transportation, and one of them, Richard Campbell, to be also whipped through the town at the cart's tail. This sentence was carried out on 8th May 1822, twenty lashes each at the Jail, the Stockwell foot, the Stockwell head, and the Cross. From that day to this no one here has been punished in this way, but garotters and wife-beaters may force us to yoke the cart again.
Since that time, the old house has had a quiet time of it. James Galloway, auditor of the Burgh Court and builder of Galloway's Court in Glassford Street, occupied it for a short time : he gave it up, it was said, because his family found it, from its associations, an uncomfortable place to live in. It was afterwards rented, and then bought, as a furniture store by the Smiths. And from them it passed to its present owners, the Romanists.
They already owned Allan Dreghorn's woodyard, where his carriage was built. It was just west of the Town's Hospital, which was just west of the mansion. On Allan's death, in 1764, his timber business was carried on by Michael Bogle, his partner and Allan Scott of Cowlairs, and, after various changes of firm, James Scott, Allan's son, sold the yard in 1815 to the Romanists, who built St. Andrew's Chapel on its site. Thus, by their subsequent purchase, the old house and the old yard, after a separation of more than a century, have come together again.
Back to Contents